THE REEFER MADNESS ERA

EDUCATIONAL PROPAGANDA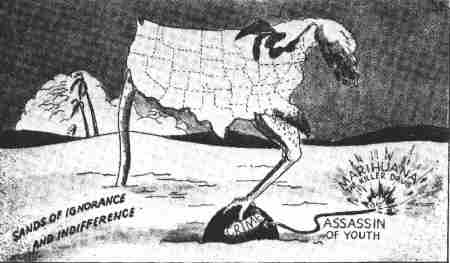 ---
ORAL EDUCATIONAL PROPAGANDA (the blind leading the blind)
---
While most people readily identify physical things, things that they can touch and feel, such as textbooks, newspaper articles etc. However, much of the Reefer Madness era propaganda was in fact oral in nature. Examples:
A young High School girl would be assigned a class project to report on the evils of Medical Marihuana etc.
A young boy would give a talk before his class about its evils.
Students would be treated to a high school play dealing with the subject of the Weed of Madness.
A police officer would give a talk, (in front of a whole school auditorium) on the evils of the "Killer Drug."
Etc.
Below are some examples of the oral propaganda as it effected the public school systems. Please understand that these are but a couple of examples – A look over various historical newspapers and school catalogs show just how common the practice of Reefer Madness educational lectures actually was. [see our museum's newspaper Index ]


---
JOE SCHMUCKER
---

The Marihuana Menace -- [No known copies are in existence]
By Capt. Joseph M. Schmucker of the Williamsport Police Department. Five pages total
Dec. 22, 1938 Gazette Bulletin

Publishing Pamphlet on Marihuana
Capt. Joseph M. Schmucker Writes About Evils of Weed. --- To Distribute Copies In Schools.
Capt. Joseph M. Schmucker of the Williamsport Police Department who for the past year has been off giving lectures on the evils of marihuana to high schools, temperance unions and other civic groups throughout the state. Announced last night he has prepared a five page pamphlet entitled "The Marihuana Menace.". . . Montoursville High School and the county W.C.T.U. It is Schmucker's aim to have a copy sent to all schools in the state and later to distribute the pamphlet to all who may desire them. They will be free of charge he said. . . .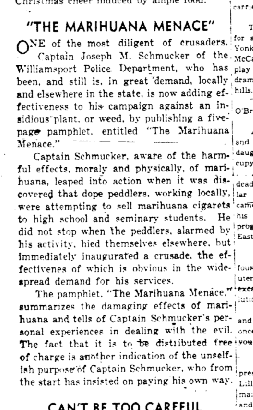 [The Gazette Bulletin Dec 23, 1938]


---
EDUCATIONAL PROPAGANDA (Mr. Hamlin Educator)
---
The following information all came from the Ohio State Archives in Columbus Ohio. Other than these letters, we know nothing about Mr. Hamlin who worked as a supervisor at the State Department of Education, division of Health and Narcotics. But he does provide a good example of how busy Educators were giving lectures on the subject of the Evils of Marihuana. [Warning, transcriber errors are likely, please request original documents if quotations are to be made]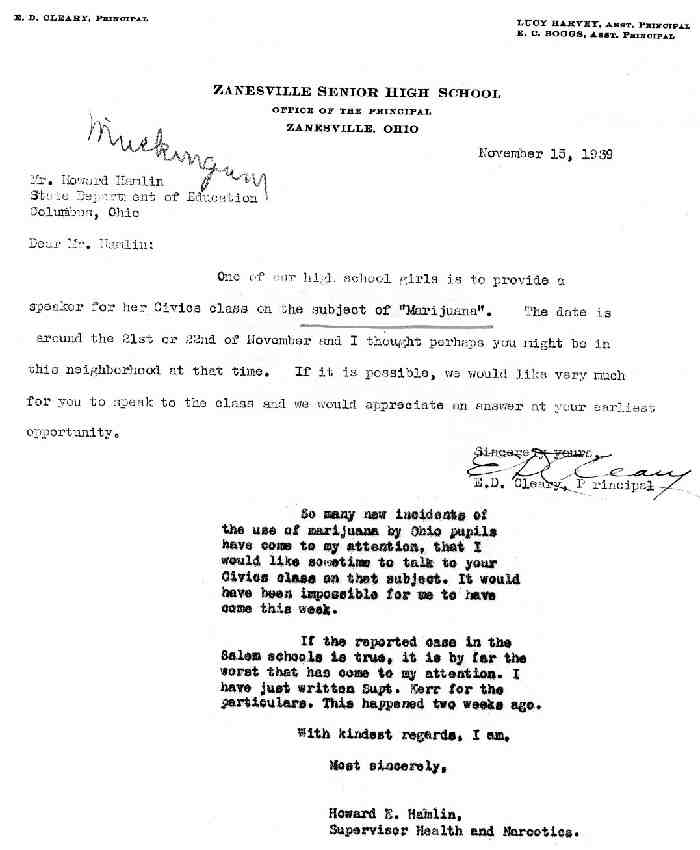 E.D. Cleary, Principal -- Lucy Harvey, Asst. Principal -- E.C. Boggs, Asst. Principal
Zanesville Senior High School
Office of the Principal
Zanesville, Ohio
November 15, 1939

Mr. Howard Hamlin
State Department of Education
Columbus, Ohio

Dear Mr. Hamlin:
One of our high school girls is to provide a speaker for her Civics class on the subject of "Marijuana". The date is around the 21st or 22nd of November and I thought perhaps you might be in this neighborhood at that time. If it is possible, we would like very much for you to speak to the class and we would appreciate an answer at your earliest opportunity.
Sincerely yours,
(signed) E.D. Cleary, Principal

[Reply latter]
So many new incidents of the use of marijuana by Ohio pupils have come to my attention, that I would like sometime to talk to your Civics class on that subject. It would have been impossible for me to have come this week.

If the reported case in the Salem schools is true, it is by far the worst that have come to my attention. I have just written supt. Kerr for the particulars. This happened two weeks ago.

With kindest regards, I am, Most sincerely,

Howard E. Hamlin,
Supervisor Health and Narcotics.
Office of the Educational Adviser
Civilian conservation Corps
Company No. 3528, Camps SC3-24
Eaton, Ohio
Jan 7, 1939

Mr. H. E. Hamlin
State Department of Education
State Office Building
Columbus, Ohio

Dear Mr. Hamlin,
It will be our pleasure to have you present your illustrated talk on, Harmful Use of Marahuanjana(sic) and Narcotics", at this camp, if and when you happen to be at any of the schools near here, (Eaton, Camden, or West Alexandria, Ohio).
Gratefully yours,

(signed) Forrest R. Nagley
Camp Educational Adviser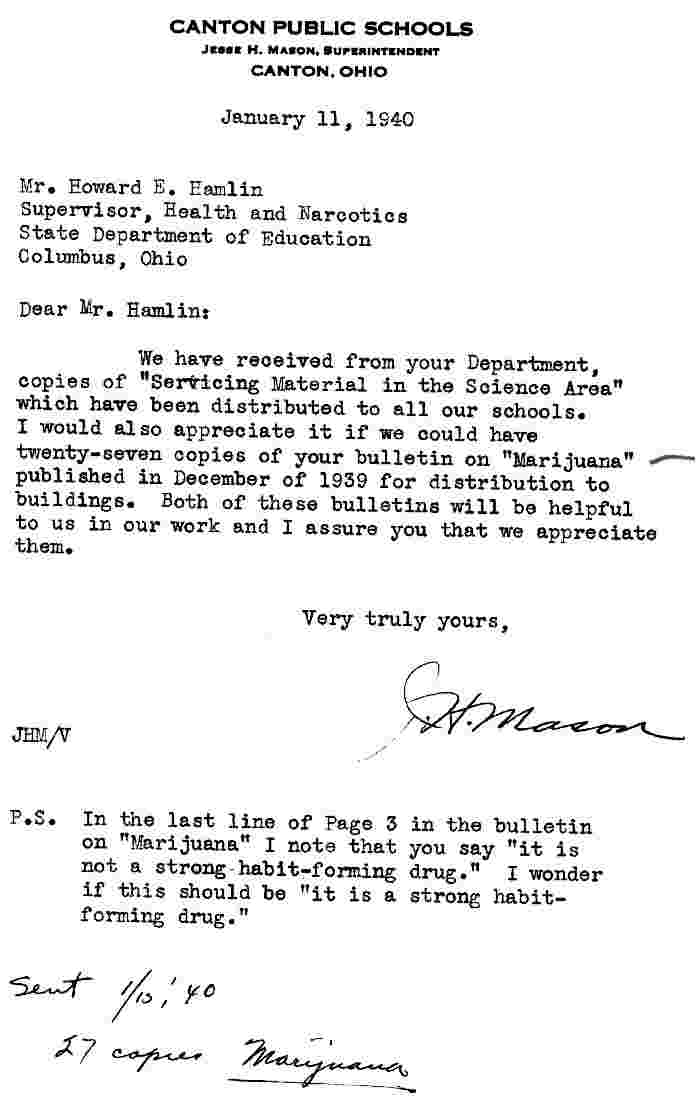 Canton Public Schools
Jesse H. Mason, superintendent
Canton, Ohio
January 11, 1940

Mr. Howard E. Hamlin
Supervisor, Health and Narcotics
State Department of Education
Columbus, Ohio

Dear Mr. Hamlin:
We have received from your Department, copies of "Servicing Material in the Science Area" which have been distributed to all our schools. I would also appreciate it if we could have twenty-seven copies of your bulletin on "Marijuana" published in December of 1939 for distribution to buildings. Both of these bulletins will be helpful to us in our work and I assure you that we appreciated them.

Very truly yours,
(signed) J. H. Mason

P.S. In the last line of Page 3 in the bulletin on "Marijuana" I note that you say "it is not a strong habit-forming drug." I wonder if this should be "it is a strong habit-forming drug."
LEAFLETS AND PAMPHLETS
(During The Reefer Madness Era)
---

WANT TO KNOW MORE:
=====================
Due to space / download time considerations, only selected materials are displayed. If you would like to obtain more information, feel free to contact the museum. All our material is available (at cost) on CD-Rom format.
CONTACT PAGE


---
---