ALABAMA
(During The Reefer Madness Era)
ANSLINGER'S GORE FILE PAGE

---
HOT TAMALE IN ALABAMA
Name: John flowers - Location: - Birmingham Ala. - Date: - May 29, 1936
What the Narc's were claiming
In Birmingham, Ala., a hot-tamale salesman had pushed his cart about town for five years, and for a large part of that time he had been peddling marijuana cigarettes to students of a downtown high school. His stock of the weed, he said, came from Texas and consisted, when he was captured, of enough marijuana to manufacture hundreds of cigarettes. --- American Magazine "Marijuana, assassin of youth" By H.J Anslinger - July 1937
NEWSPAPER ACCOUNTS:
The Anniston Star
[S] - May 29, 1936 p 1 - "Dope Found" -- Birmingham Detectives Find Marijuana On Tamale Peddler" - Birmingham, Ala., May 29--- (UP) -- City detectives last night arrested John flowers, about 30, Birmingham hot tamale peddler and discovered about five pounds of marijuana, dope weed, in his possession. A tin of Marijuana cigarets was also found, flowers they said, will be turned over to federal authorities and be charged with violating the Federal narcotics Act.

MUSEUM COMMENTS
For those of you who are interested in the nuance of this case, we recommend the following webpage --- The legend of the HOT TAMALE
[Key-finder - Case #AL01]



---
ARREST IN MOBILE
Name: Fred Johnson - Location: - Mobile Ala. - Date: - Dec 13, 1935
What the Narc's were claiming
On December 13, 1935, police at Mobile, Alabama (police officials) arrested Fred Johnson and found 43 marihuana cigarettes in his possession Johnson was sentenced to pay a fine of $100,00 or serve 90 days at hard labor. --- ILLICIT TRAFFIC IN MARIHUANA - aka Gore File
NEWSPAPER ACCOUNTS:
MOBILE PRESS REGISTER
[S] - Dec 15, 1935 p13 - "News Briefs" "Charged with violating the city marijuana act, Fred Johnson, 67 St. Emanuel Street, was fined $101 and costs or 90 days at hard labor by Acting Recorder Norville R. Leigh II Saturday. Johnson was alleged by police to have had a quantity of "muggles" in his possession at the time of his arrest. Johnson admitted his guilt.

MUSEUM COMMENTS
Nothing special or goryie about this case OTHER than it somehow made its way unto Anslinger's Gore File.
[Key-finder - Case #AL02]



---
ASSAULT/MARIHUANA ARREST
Name: Sanada Golden - Location: - Birmingham, Al. - Date: - Jan 23, 1937
What the Narc's were claiming
Birmingham, Alabama. January 23, 1937. Sanada Golden arrested with dangerous weapon and possession marihuana. --- Box9, File7 - PennState Collection

Sanada Golden, Birmingham, Alabama. January 23, 1937. Arrested and arraigned before Judge of Court of Misdemeanors and felonies and held for the State Grand Jury in default of $500, bond. This individual was arrested for assault with weapon and on searching his person the marihuana (8 ozs. and 12 cigarettes) was found. Both charges were placed against Golden. Arrested by city detectives Osborne and Lewis. --- Box9, File7 - PennState Collection

1937 -- M Assaulted police officers with dangerous weapon while under influence of marihuana. Arrested --- Article by James C. Munch; "UN Bulletin on Narcotics"-1966 Issue 2

1937 - S. Golden - m - Assaulted police officers with dangerous weapon while under influence marihuana. Arrested --- 6th conference report - INEOA 1965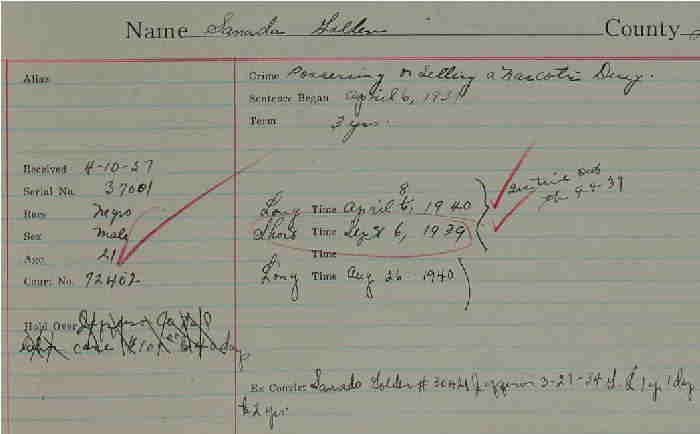 NEWSPAPER ACCOUNTS:
NONE

MUSEUM COMMENTS
We were not able to locate any newspaper accounts of the incident -- HOWEVER, we were able to obtain the court clerk entries on this case, which can be used as a starting point for researchers. In fact its the only proof we have that he was even arrested at all, and it makes no mention him "Assaulting a Police Officer" at all, only that he was arrested for Marihuana possession.
[Key-finder - Case #AL03]



---
---

SOME THOUGHTS ABOUT ALABAMA'S
MEDICAL CANNABIS HISTORY:
Although Alabama today has some of the toughest anti-Medical Cannabis laws on the books today, at one time its medical use was (like it was in all other states) quite common. The following prescription gives credence to that: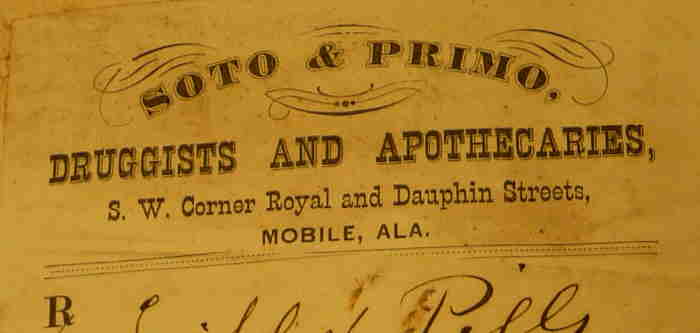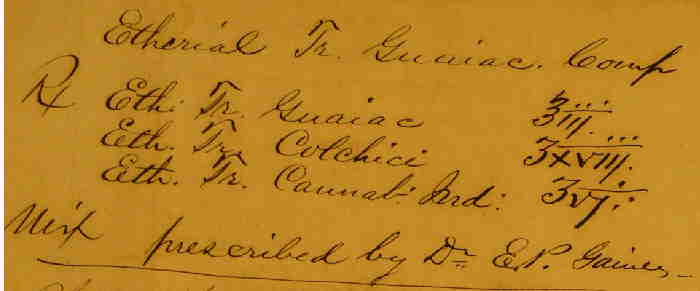 [ For visual effect, this picture composed of two different Alabama medical prescriptions ]


However, we should also not be beguiled into thinking that all of Alabama's Doctors were doing nothing more then writing Medical Cannabis prescriptions to anyone and everyone that they were coming into contact with. The truth be told, "before the coming of the Reefer Madness Era", Cannabis was nothing more (nor nothin gless), then just another medicine that pharmacists had on hand. With nothing special being thought about it; A factor that of and by itself is quite revealing!

It appears that (or so the narc's would have us believe), that all of Alabama's Doctors were so poorly trained that they failed to notice that their patients were running around grabbing axes and chopping people to death. Nor that scaled clad young girls were jumping out of fifth story windows due to (again according to the narc's) the effects of Medical Cannabis; --- now also known as The Weed of Madness! And of course, our government would never lie to us, so Alabama must truly have had some real lousy Doctors back then. However, fear not, for like the Golden Knights of the Tripple-K, the narcotics police would soon ride in and come to Alabama's rescue. And through their diligent efforts would come forth, the states anti-Medical Marihuana laws, which of course was instituted to Protect the Children.

The problem with the law was that it still allowed Doctors to prescribe Medical Marihuana (as Cannabis was not being called), to there patients. But fear not, that little loop-hole would soon be closed and now anyone caught using it, even if its to say their lives, was but in jail where (according to the narc's) they belonged. Remember it's for the Children.

PHARMACEUTICAL MANUFACTURING:
Unfortunately, Alabama (as a state) has never been noted for its pharmaceutical manufacturing Industries. However, it did have one major exception; The Mobile Drug Co. And while it seems to have been primarily a wholesale drug distributor as oppose to a manufacturer, still it did carry some in-house private labels and well as did some if its own compounding (mixing together) of its own medicines. And YES it made use of Medical Cannabis. If the 'Druggist Red Book' (a pharmacy trade catalog) is to be believed, it made quite a bit of use of it.

The firm itself was taken over by the Dorr Drug Co. in 1959 but had stopped making use of Medical Cannabis way back in 1937. The founder's son, Dr. Eichold, would later on help create a pharmaceutical Museum in Mobile Al.



---
ALABAMA'S TAX STAMP FIASCO: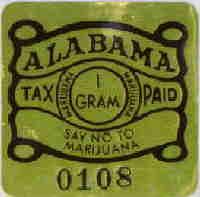 In case your wondering, NO, that tax stamp on the left is not a joke. OK, maybe a sick one, but not a real joke. It seems that some judge somewhere ruled that it was perfectly legal to tax illegal activities (aka growing Medical Cannabis), IF certain conditions applied. Meaning a green light was turned on for "Tough on Crime" states like Alabama, to create one of the stupidest taxing programs imaginable.

On on paper one can see how it sounded about right. The state would raise tax monies, by forcing ALL Medical Cannabis using "Drug Lords" to buy Marihuana Tax Stamps, or face additional charges if arrested. But as most (ah) "Drug Lords" didn't feel it proper to buy these stamps. This meant that those arrested now faced extra prison time, which in turn meant that the state taxpayers had to pick up the prison costs of an extra year or so.

Thus instead of raising more tax revenue, the program quickly turned into a sort of big time, 'Greek Tragedy' for everyone. However, if it's any consolation, it appears that these tax stamps went over real big with stamp collectors. So at least some good did come out it.


---

ALABAMA NEWSPAPER INDEX:

BIRMINGHAM AGE HERALD:
[e]- Aug. 22, 1935]- Editorial (emphasized the need to control marihuana) [NWR]

ANNISTON STAR :
[S] - AnnistonStar1923-08-19p15- "Mexican Dope is Lure to Rodents in New Orleans"
[S] - AnnistonStar1931-01-18p11 - "War Started on Marijuana" (New Orleans) UP
[S] - AnnistonStar1931-03-07p5- "A New Name"
[S] - AnnistonStar1932-12-15p3- short
[S] - AnnistonStar1933-10-19p1- "Funeral Services For Ax Victims Is to be Held Today" Victor Licata
[S] - AnnistonStar1934-03-31p2- "In New York" short
[S] - AnnistonStar1934-08-25p1- "Marijuana Smokers Threaten Informant" Atlanta Gore File
[S] - AnnistonStar1935-07-25p4 - Editorial section - "Should Have Facts" (NWR)
[S] - AnnistonStar1936-04-20p3 - Photo - Blue Mountain Miss.
[S] - AnnistonStar1936-04-24p1 - "Dope Ring Broken" (New Orleans) Gore File Case
[S] - AnnistonStar1936-10-04p13- "Dope Farm Found"
[S] - AnnistonStar1937-06-04p9 - "Marijuana In Schools" [NWR]
[S] - AnnistonStar1937-12-02p13 - "Border Watch Pinches Flow of marihuana"
[S] - AnnistonStar1937-12-17p4 - "danger of Dope" [nwr]
[S] - AnnistonStar1938-01-25p1 - "Narcotic Law Charge Placed Against Three"
[S] - AnnistonStar1938-02-03p1 - "Marijuana arrest" (Pittsburgh)
[S] - AnnistonStar1938-02-10p1 - "Their Lives At Stake" - Picture Ethol Soho
[S] - AnnistonStar1938-02-17p1 - Short, court report - 5 yr for sales
[S] - AnnistonStar1938-02-28p4 - Editorial Section - Reefers Go To School"
[S] - AnnistonStar1938-03-09p1 - "Smash Drug Ring"
[S] - AnnistonStar1938-04-22p1 - Faces Murder - Gore File Case
[S] - AnnistonStar1938-07-03p4 - "The Family doctor"
[S] - AnnistonStar1938-10-23p1 - "James Godwin Back in Jail Facing Death"

THE CULLMAN BANNER:
[S] - CollmanBanner1938-06-24p7 - Traveling With the Vagabond"

THE CULLMAN DEMOCRAT:
[S] - CollmanDemocrat1938-06-24p7 - Marijuana Crop Is Destroyed by Agents"

DOTHAN EAGLE :
[S] - DothanEagle1934-07-26p1- "Liquor Cache Seized From Old Fortress" nwr
[S] - DothanEagle1936-04-28p4 - "Editorial Section - BAN MARIJUANA AT ONCE! "- rowell
[S] - DothanEagle1936-04-28p4 - "Federal Raids On wide Front Fill Up Jails"


---





WANT TO KNOW MORE:
=====================
Due to space / download time considerations, only selected materials are displayed. If you would like to obtain more information, feel free to contact the museum. All our material is available (at cost) on CD-Rom format.
CONTACT PAGE


---
---