THE GOLDEN SNITCH
(Narc Informers in California)


THE CASE OF THE (REAL) GOLDEN SNITCH
(PAID INFORMERS ASSAULTED)

NOTE This museum DOES NOT advocate violence and we strongly support ONLY peaceful political change. HOWEVER there is also a funny bone over here.

It seems that the Harry Anslingerís narcotics police started to go nutís over why a couple of their paid INFORMERS were accosted. Their conclusion --- Why of-course, it must have been because of the effects of Medical Cannabis, THE WEED OF MADNESS. Thatís why it happened.



---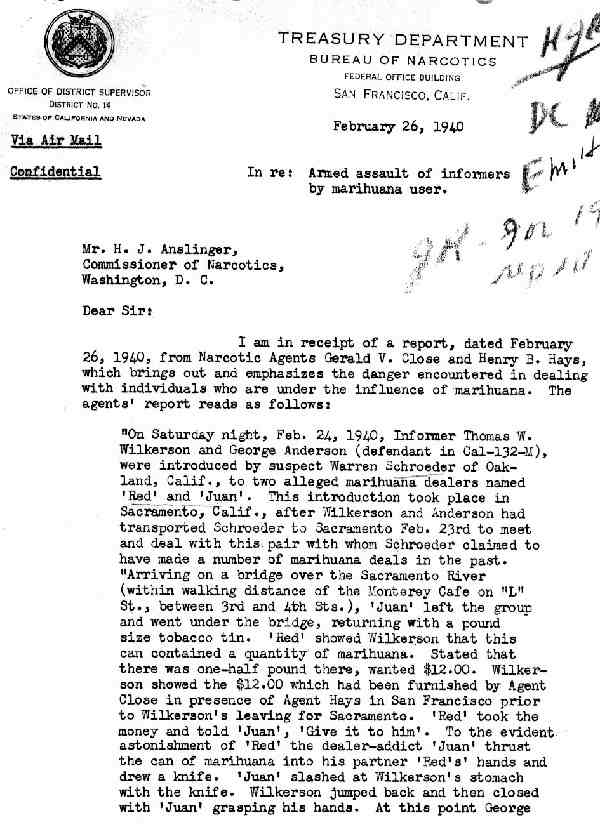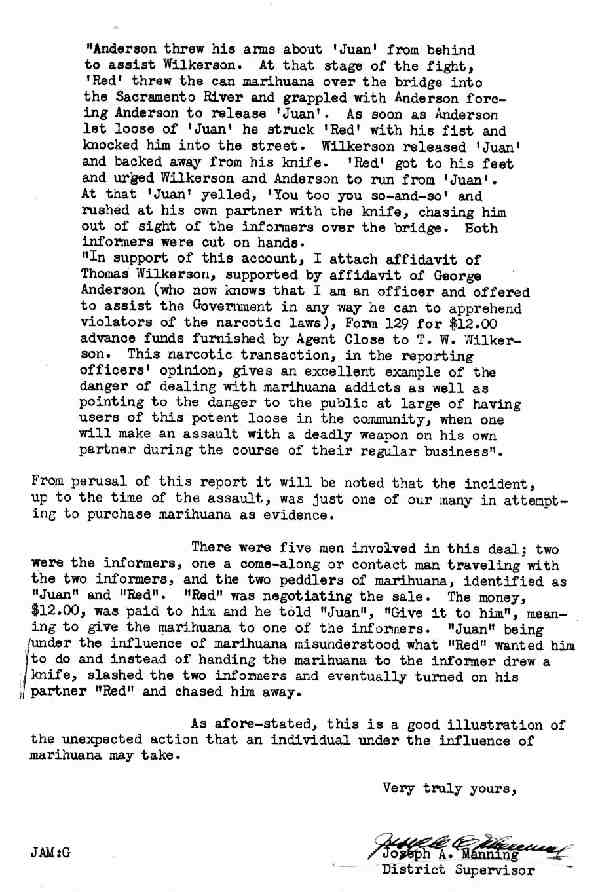 [As per the National Archives]


==============================

TREASURY DEPARTMENT
BUREAU OF NARCOTICS
FEDERAL OFFICE BUILDING
SAN FRANCISCO, CALIF.

OFFICE OF DISTRICT SUPERVISOR
DISTRICT No. 14
STATES OF CALIFORNIA AND NEVADA


February 26, 1940
Via Air Mail Confidential
In re: Armed assault of informers by marihuana user.

Mr. H. J Anslinger,
Commissioner of Narcotics,
Washington, D. C.

Dear Sir:
I am in receipt of a report, dated February 26, 1940, from Narcotic Agents Gerald V. Close and Henry B. Hays, which brings out and emphasizes the danger encountered in dealing with individuals who are under the influence of marihuana. The agents' report reads as follows:

"On Saturday night, Feb. 24., 1940,, Informer Thomas W. Wilkerson and George Anderson (defendant in Cal-132-M), were introduced by suspect Warren Schroeder of Oakland, Calif., to two alleged marihuana dealers named 'Red' and 'Juan'. This introduction took place in Sacramento, Calif., after Wilkerson and Anderson had transported Schroeder to Sacramento Feb. 23rd to meet and deal with this pair with whom Schroeder claimed to have made a number of marihuana deals in the past. "Arriving on a bridge over the Sacramento River (within walking distance of the Monterey Cafe on "L" St.) between 3rd and 4th Sts.), 'Juan' left the group and went under the bridge, returning with a pound size tobacco tin. 'Red' showed Wilkerson that this can contained a quantity of marihuana. Stated that there was one-half pound there, wanted $12.00. Wilkerson showed the $12.00 which had been furnished by Agent Close in presence of Agent Hays in San Francisco prior to Wilkerson's leaving for Sacramento. 'Red' took the money and told 'Juan', 'Give it to him'. To the evident astonishment of 'Red' the dealer-addict 'Juan' thrust the can of marihuana into his partner 'Redísí hands and drew a knife. 'Juan' slashed at Wilkersonís stomach with the knife. Wilkerson jumped back and then closed with 'Juan' grasping his hands. At this point George

Page 2
"Anderson threw his arms about 'Juan' from behind to assist Wilkerson. At that stage of the fight, ĎRedí threw the can of marihuana over the bridge into the Sacramento River and grappled with Anderson forcing Anderson to release 'Juan'. As soon as Anderson let loose of 'Juan' he struck 'Red' with his fist and knocked him into the street. Wilkerson released 'Juan' and backed away from his knife. 'Red' got to his feet and urged Wilkerson and Anderson to run from 'Juan'. At that 'Juan' yelled, 'You too you so-and-so' and rushed at his own partner with the knife, chasing him out of sight of the informers over the bridge. Both informers were cut on hands.

"In support of this account, I attach affidavit of Thomas Wilkerson, supported by affidavit of George Anderson (who now knows that I am an officer and offered to assist the Government in any way he can to apprehend violators of the narcotic laws), Form 129 for $12.00 advance funds furnished by Agent Close to T. W. Wilkerson. This narcotic transaction, in the reporting officers' opinion, gives an excellent example of the danger of dealing with marihuana addicts as well as pointing to the danger to the public at large of having users of this potent loose in the community, when one will make an assault with a deadly weapon on his own partner during the course of their regular business".

From perusal of this report it will be noted that the incident, up to the time of the assault, was just one of our many in attempting to purchase marihuana as evidence.

There were five men involved in this deal; two were the informers, one a come-along or contact man traveling with the two informers, and the two peddlers of marihuana, identified as ďJuan" and "Red". "Red" was negotiating the sale. The money, $12.00, was paid to him and he told "Juan", "Give it to him", meaning to give the marihuana to one of the informers. "Juan" being under the influence of marihuana misunderstood what "Red" wanted him to do and instead of handing the marihuana to the informer drew a knife, slashed the two informers and eventually turned on his partner "Red" and chased him away.

As afore-stated, this is a good illustration of the unexpected action that an individual under the influence of marihuana may take.
Very truly yours,

Joseph A. Manning
District Supervisor
JAM:G


---
---

WANT TO KNOW MORE:
=====================
Due to space / download time considerations, only selected materials are displayed. If you would like to obtain more information, feel free to contact the museum. All our material is available (at cost) on CD-Rom format.
CONTACT PAGE


---
---