THE ANTIQUE CANNABIS BOOK
Chapter 4 - (2nd Edition)
North Carolina
Pre-1937 MEDICAL CANNABIS USE
IN NORTH CAROLINA
Section 14
The BOONE COLLECTION
-- AN AFTER WORDS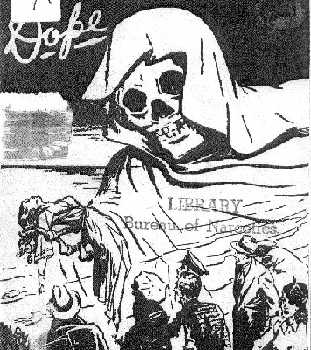 From the Reefer Madness era:



The MTA (Marihuana Tax Act), took effect on Oct. 1, 1937. Placing a one-dollar an ounce transfer tax on the sale of Medical Cannabis (at the height of the great depression), --it essentially outlawed its medical use.

At least this was the case in North Carolina. According to government tax records, there were NO DRUGSTORES in the whole of the State of North Carolina that were registered for the legal sale of Medical Cannais. Thus, we can assume that even the doctors Boone stopped writing prescriptions after this date.

As fate would have it, and to everyone's regret, the Boone collection of prescriptions stops abruptly at the end of September 1937, and it does not pick up again until the middle of 1943, at which point no Cannabis prescriptions were noted.

The lack of evidence makes it a bit hard to determine exactly when the Doctors Boone stopped writing prescriptions for Cannabis. This should not be seen as some part of a conspiracy to deny us access to the history of Medical Cannabis. In all likelihood, some water pipe broke somewhere, and an old box had to be thrown out, etc . .. things like this just happen. However, one can't help but think wistfully about what secrets these missing prescriptions held. [6]

==========
FOOTNOTES:
[6] - at the time of this writing, the museum is attempting to locate the missing prescriptions, but the chances are not very good that they will be located].


---

WANT TO KNOW MORE:
=====================
Due to space / download time considerations, only selected materials are displayed. If you would like to obtain more information, feel free to contact the museum. All our material is available (at cost) on CD-Rom format.
CONTACT PAGE


---
---