ANSLINGER'S ACTS OF TREASON
DURING THE REEFER MADNESS ERA
---
NONE DARE CALL IT TREASON



One of these men is Harry Anslinger, our first drug czar.
The other is Benito Mussolini a fascist Dictator; -- Any Questions?



Was Harry Anslinger an Axis saboteur? Was he guilty of TREASON?

Treason is defined in the United States Constitution (Article III Section 3) as:
"Treason against the United States shall consist only in levying War against them, or in adhering to their Enemies, giving them Aid and Comfort. "
Or more simply put, we defend treason as giving aid and comfort to the enemy (specifically) during a time of war. Which brings up an interesting question; Was Harry Anslinger (our first drug czar) guilty of the crime of treason?

The following documents (located via the National Archives in College Park, Md) at least seem to point in that direction. NOTE THE FOLLOWING:
That the initial letter was written in May of 1944 -- placing it right in the middle of the second world war.


That the Hemp in question had already been grown and was quite literally just sitting around in a farmer's field. -- Translation, no materials or labor (presumably needed elsewhere for the war effort) would have been used.


That there is "no interest in the flowering tops," meaning the only interest in question was Industrial (cloth, paper) in nature.


That the following wording is used, " a far greater hazard to have this stock laying around in the fields than putting it into process." Meaning that even if one believed that Marihuana was "The Weed of Madness" that causes one to go out and kill people. Logic and reason would dictate that the Industrial Hemp in question would be much better hands being processed than just lying around in some farmers field somewhere.


That Government owned hemp mills were (at the same time) processing similar hemp stocks. The only difference here being that a private concern would be processing the stock.
AND Last of all note that even back then, the DEA (then known as the Bureau of Narcotics) had the power to deny licensees to anyone who it simply didn't like or felt threatened by.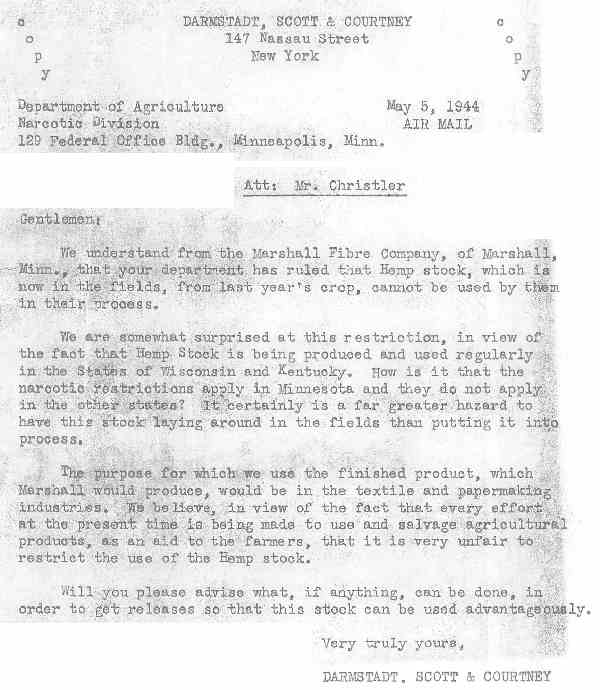 DARMSTADT, SCOTT & COURTNEY
147 Nassau Street, New York
May 5, 1944
Department of Agriculture
Narcotic Division
129 Federal Office Bldg., Minneapolis, Minn.

Att: Mr. Christler
Gentlemen:
We understand from the Marshall Fibre Company, of Marshall, Minn., that your department has ruled that Hemp stock, which is now in the fields, from last year's crop, cannot be used by them in their process.

We are somewhat surprised at this restriction, in view of the fact that Hemp Stock is being produced and used regularly in the States of Wisconsin and Kentucky. How is it that the narcotic restrictions apply in Minnesota and they do not apply in the other states? It certainly is a far greater hazard to have this stock laying around in the fields than putting it into process.

The purpose for which we use the finished product, which Marshall would produce, would be in the textile and papermaking industries. We believe, in view of the fact that every effort at the present time is being made to use and salvage agricultural products, as an aid to the farmers, that it is very unfair to restrict the use of the Hemp stock.

Will you please advise what, if anything, can be done, in order to get releases so that this stock can be used advantageously.
Very truly yours,
DARMSTADT. SCOOT & COURTNEY
The correspondences over this matter seemed to have gone on into the middle of that year.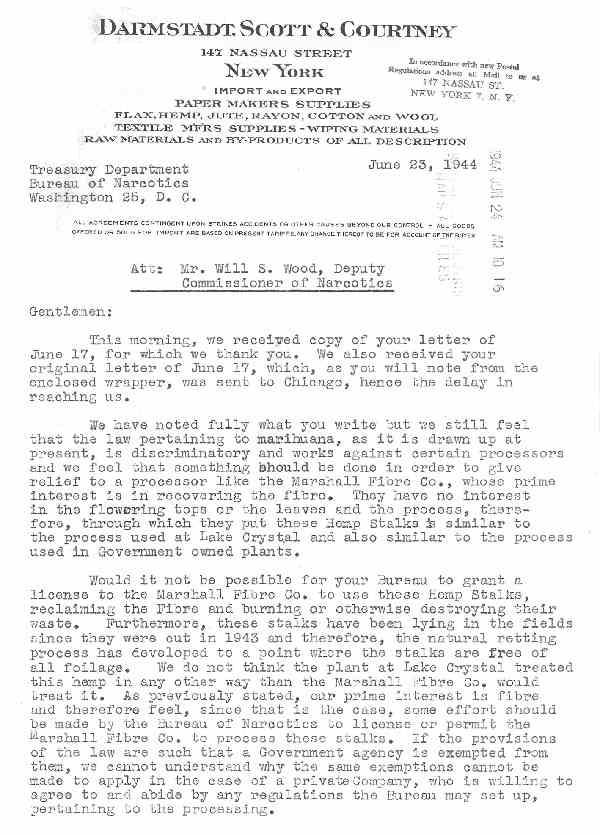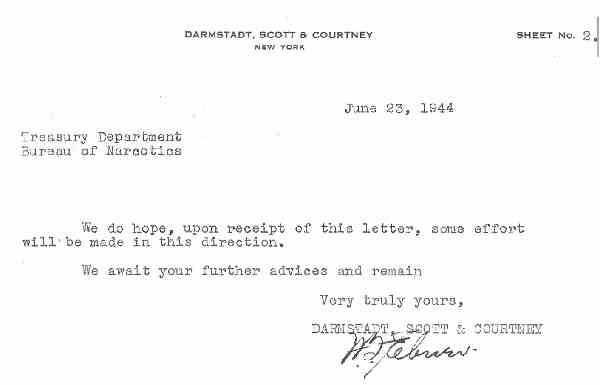 DARMSTADT. SCOOT & COURTNEY
147 NASSAU STREET NEW-YORK IMPORT AND EXPORT PAPER MAKERS SUPPLIES FLAX, HEMP, JUTE, RAYON, COTTON AND WOOL TEXTILE M'F'R'S SUPPLIES - WIPING MATERIALS RAW MATERIALS AND BY PRODUCTS OF ALL DESCRIPTION
June 23, 1944
Treasury Department
Bureau of Narcotics
Washington 25, D. C.
Att: Mr. Will S. Wood, Deputy Commissioner of Narcotics

Gentlemen:
This morning, we received copy of your letter of June 17, for which we thank you. We also received your original letter of June 17, which, as you will note from the enclosed wrapper, was sent to Chicago, hence the delay in reaching us.

We have noted fully what you write but we still feel that the law pertaining to marihuana, as it is drawn up at present, is discriminatory and works against certain processors and we feel that something should be done in order to give relief to a processor like the Marshall Fibre Co., whose prime interest is in recovering the fibre. They have no interest in the flowering tops or the leaves and the process, therefore, through which they put these Hemp Stalks is similar to the process used at Lake Crystal and also similar to the process used in Government owned plants.

Would it not be possible for your Bureau to grant a license to the Marshall Fibre Co. to use these Hemp Stalks, reclaiming the Fibre and burning or otherwise destroying their waste. Furthermore, these stalks have been lying in the fields since they were cut in 1943 and therefore, the natural retting process has developed to a point where the stalks are free of all foliage. We do not think the plant at Lake Crystal treated this hemp in any other way than the Marshall Fibre Co. would treat it. As previously stated, our prime interest is fibre and therefore feel, since that is the case, some effort should be made by the Bureau of Narcotics to license or permit the Marshall Fibre Co. to process these stalks. If the provisions of the law are such that a Government agency is exempted from them, we cannot understand why the same exemptions cannot be made to apply in the case of a private Company, who is willing to agree to and abide by any regulations the Bureau may set up, pertaining to the processing.

We do hope, upon receipt of this letter, some effort will be made in this direction.

We await your further advices(sic) and remain
Very truly yours,
DARMSTADT, SCOOT & COURTNEY
GRANTED, while this hemp processor does not seem to be actively engaged in producing war materials, still in a time of war ANY produced or manufactured goods are obviously of assistance. Also as has already been stated that here we are talking about a situation where the Industrial Hemp had ALREADY been produced and was rotting away in a field somewhere. Thus we must return to our original question; Was Harry Anslinger (by his actions) in effect, "giving aid and comfort to the enemy" in a time of War?

For us the answer is obvious, -- that being that Anslinger was putting his (and those of his co-conspirators) agenda above those of the needs of his country. However we will leave it to the reader to answer that one for him or herself.

---




WANT TO KNOW MORE:
=====================
Due to space / download time considerations, only selected materials are displayed. If you would like to obtain more information, feel free to contact the museum. All our material is available (at cost) on CD-Rom format.
CONTACT PAGE


---
---