THE ANTIQUE CANNABIS BOOK
Chapter 4 - (2nd Edition)
OHIO



Pre-1937 MEDICAL CANNABIS USE IN
OHIO



Ashton Collier's
Cincinnati, OH, corner of McMicken and Ravine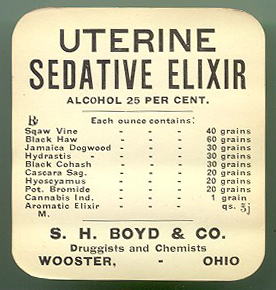 Ashton Collier's CANNABIS, OPIUM & CHLOROFORM Remedy


As per an Internet auctioner:

This neat old remedy is from ASHTON COLLIER'S DRUG STORE in CINCINNATI, OHIO. The drug store was located at the corner of McMicken Ave. and Ravine St. CHLORODYNE was invented by Dr. J. Collis Browne, a physician in the British Indian Army. Its original purpose was in the treatment of CHOLERA. Dr. Browne sold his formula to a pharmacist in Davenport, Iowa who advertised it widely as a treatment for CHOLERA, DIARRHEA, INSOMNIA, NEURALGIA, and MIGRAINES. Its principle ingredients were LAUDANUM (an alcoholic solution of OPIUM), CANNABIS and CHLOROFORM. The product was very popular, and phamacists often made their generic versions for their customers. This is one such example. It is still corked, and is 3.5" tall. The contents have evaporated over the past 100 years, so only a residue remains.





---

WANT TO KNOW MORE:
=====================
Due to space / download time considerations, only selected materials are displayed. If you would like to obtain more information, feel free to contact the museum. All our material is available (at cost) on CD-Rom format.
CONTACT PAGE


---
---