THE ANTIQUE CANNABIS BOOK
Chapter 4 - (2nd Edition)
OHIO
Pre-1937 MEDICAL CANNABIS USE IN
OHIO
---

Cooper Medicine Co.
Dayton Ohio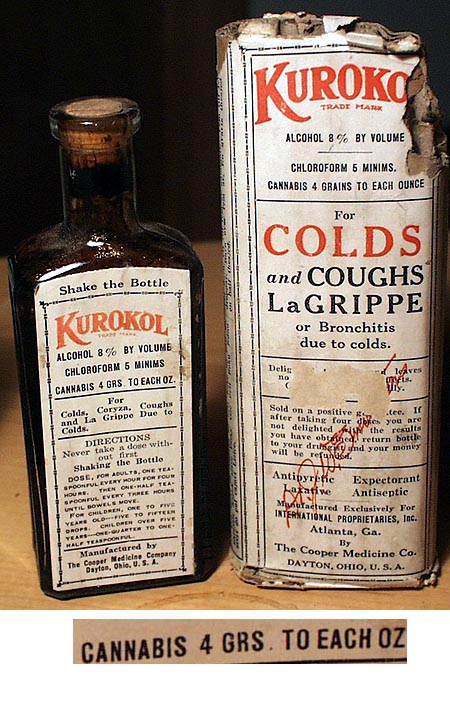 Kurokol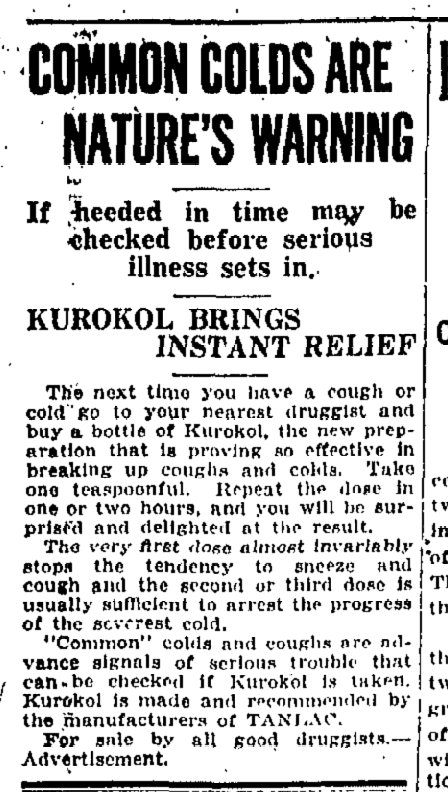 Indianapolis Star 1924-12-10



Cooper Medicine Co. - Dayton Ohio

COMMON COLDS ARE NATURE'S WARNING
If heeded in time may be checked before serious illness sets in.

KUROKOL BRINGS INSTANT RELIEF
The next time you have a cough or cold go to your nearest druggist and buy a bottle of Kurokol, the new preparation that is proving so effective in breaking up coughs and colds. Take one teaspoonful. Repeat the dose in one or two hours, and you will be surprised and delighted at the result.

The very first dose almost invariable stops the tendency to sneeze and cough and the second or third dose is usually sufficient to arrest the progress of the severest cold.

"Common" colds and coughs are advanced signals of serious trouble that can be checked if Kurokol is taken. kurokol is made and recommended by the manufactures of TANLAC.

For sale by all good druggist. ---
Advertisement.



---

WANT TO KNOW MORE:
=====================
Due to space / download time considerations, only selected materials are displayed. If you would like to obtain more information, feel free to contact the museum. All our material is available (at cost) on CD-Rom format.
CONTACT PAGE


---
---