THE ANTIQUE CANNABIS BOOK
Chapter 4 - (2nd Edition)
OHIO
Pre-1937 MEDICAL CANNABIS USE IN
OHIO
---

Schuemann-Jones Co.
Cleveland, OH.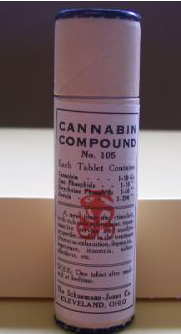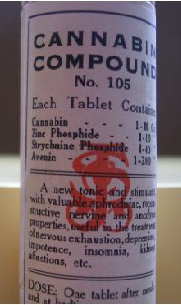 Schuemann-Jones Co.

As per an Internet auctioner :
The Schuemann-Jones Company; Cleveland Ohio --
cannabin compound #105..this is one unusual and rare drugstore container! according to the label, each tablet contained: cannabin (cannabis or marijuana!) 1-10gr; zinc phosphide; strychnine phosphide and avenin. "a new tonic and stimulant with valuable aphrodisiac, reconstructive, nervine and anodyne properties, useful in the treatment of nervous exhaustion, depression, impotence, insomnia, kidney affections....."this rare and unusual cannister is beige. approximately 4 inch tall and 1 inch diameter....appears to be rugged card-board like construction with tin top and bottom. again.....this container is empty. there are no contents dose: one tablet after meals and at bedtime.



---

WANT TO KNOW MORE:
=====================
Due to space / download time considerations, only selected materials are displayed. If you would like to obtain more information, feel free to contact the museum. All our material is available (at cost) on CD-Rom format.
CONTACT PAGE


---
---