REEFER MADNESS

ANSLINGER'S GORE FILE
HARRY ANSLINGER'S GORE FILE 1938 :
---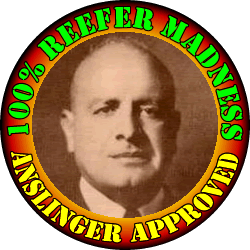 This website has been Anslinger Approved



GORE FILE MENTIONS 1938
As has been shown by other documents (see – www.ReeferMadnessMuseum.org), although we use the term today in the abstract, --- there really was such an animal. And it was anything but abstract. *

This file which was put together by the DEA (then known as the Bureau of Narcotics), at the order of Harry Anslinger (America's first drug czar) himself. Consisted of case examples of bestial criminal acts committed as a direct result of and while under the influence of MEDICAL CANNABIS – also known at the time as "THE KILLER DRUG."

The following (below) is actually an internal letter written by Mr. Anslinger to Secretary Gibbons, and while not actually an integrated part of the gore file itself, it does provide us with a good internal look into what of cases were contained within it. NOTE the date March 1938, well over two years after the Holiday of Horrors affair forced Anslinger to crack down on faked gore file cases as well as doing some fact checking. However, even-so, please keep in mind that many of these case examples were later on disproven or established to have been false.

* NOTE: The museum has actually been able to obtain a actual copy of the file for between Jan 1, 1935 and March 31, 1936)


---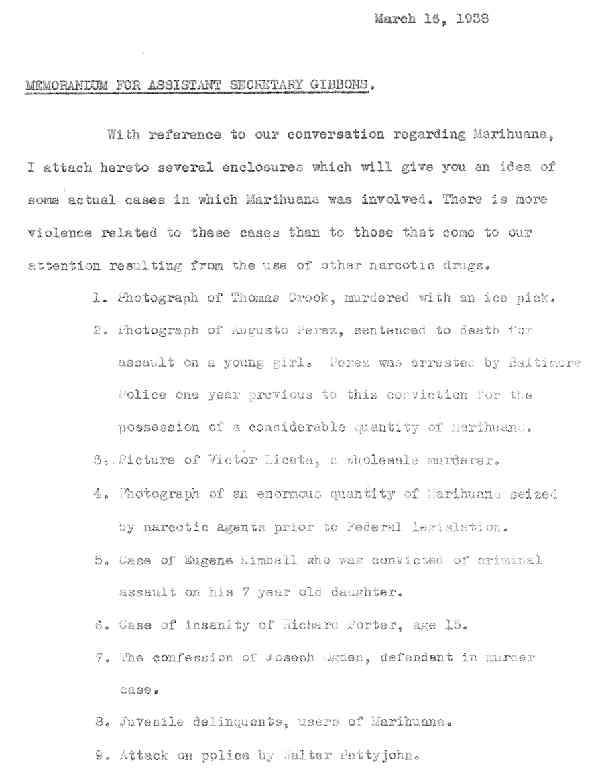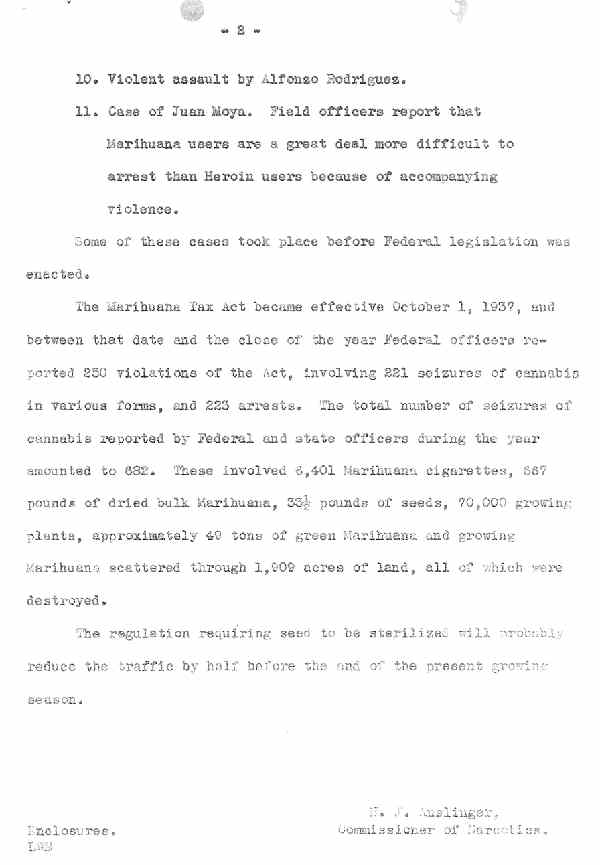 [Source = National Archives, College Park, Md]



March 16, 1938
MEMORANDUM FOR ASSISTANT SECRETARY GIBBONS.
With reference to our conversation regarding Marihuana, I attach hereto several cases in which Marihuana was involved. There is more violence related to these cases than to those that come to our attention resulting from the use of other narcotic drugs.
1. Photograph of Thomas Crook, murdered with an ice pick.

2. Photograph of Augusto Perez, sentenced to death for assault on a young girl. Perez was arrested by Baltimore Police one year previous to this conviction for the possession of a considerable quantity of Marihuana.

3. Photograph of Victor Licata, a wholesale murderer.

4. Photograph of an enormous quantity of Marihuana seized by narcotic agents prior to Federal legislation.

5. Case of Eugene Kimball who was convicted of criminal assault on his 7 year old daughter.

6. Case of insanity of Richard Porter, age 15.

7. The confession of Joseph Ogden, defendant in murder case.

8. Juvenile delinquents, users of Marihuana.

9. Attack on police by Walter Pettyjohn.

10. Violent assault by Alfonzo Rodriguez.

11. Case of Juan Moya. Field officers report that Marihuana users are a great deal more difficult to arrest than Heroin users because of accompanying violence.
Some of these cases took place before Federal legislation was enacted.

The Marihuana Tax Act became effective October 1, 1937, and between that date and the close of the year Federal officers reported 250 violations of the Act, involving 221 seizures of cannabis in various forms, and 223 arrests. The total number of seizures of cannabis reported by Federal and state officers during the year amounted to 682. These involved 6,401 Marihuana cigarettes, 667 pounds of dried bulk Marihuana, 33 1/2 pounds of seeds, 70,000 growing plants, approximately 49 tons of green Marihuana and growing Marihuana scattered through 1,909 acres of land, all of which were destroyed.

The regulation requiring seed to be sterilized will probably reduce the traffic by half before the end of the present growing season.

H.J. Anslinger,
Commissioner of Narcotics.

Enclosures.
LWM





---

WANT TO KNOW MORE:
=====================
Due to space / download time considerations, only selected materials are displayed. If you would like to obtain more information, feel free to contact the museum. All our material is available (at cost) on CD-Rom format.
CONTACT PAGE
---
---