REEFER MADNESS ERA
COMIC BOOKS
DOLL MAN #39

---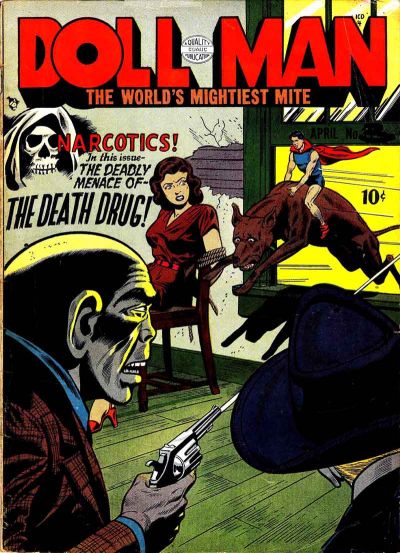 ---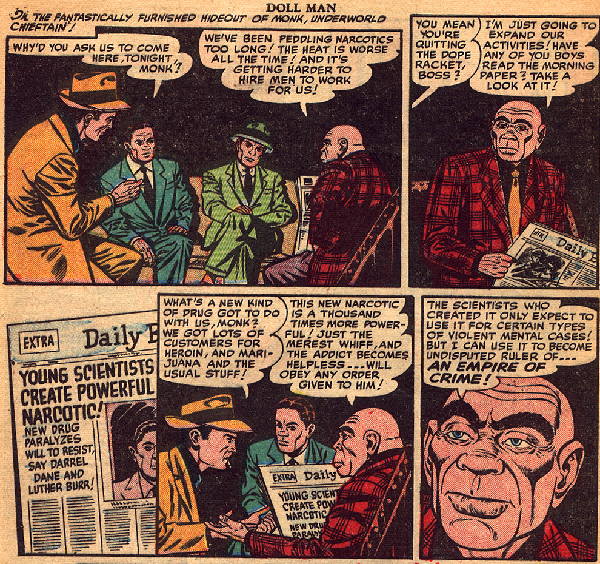 ---
DOLL MAN #39
DATE: April 1952
STORY TITLE: "Narcotics, The Deadly Menace of The Death Drug"
STORY PLOT: While the story is about a New Kind of Plant Drug (Zombie), Marihuana is mentioned, in one panel which reads: "What's a new kind of DRUG got to do with us, monk? We got lots of customers for Heroin, and Marijuana and the usual stuff!" But in general, the story is not worth reading.
CHARACTURES: DOLL MAN (the world's mightiest mite)
FOOTNOTES: [1]- Only mentions Marihuana once."
Publisher: Comic Favorites, Inc., 163 Pratt St. Meriden, Conn.


---

WANT TO KNOW MORE:
=====================
To the best of our knowledge, all reproductions are legal and well within the keepings of the fair use doctoring. Please contact us if you feel if you feel that your material is being illegally used.

Due to space / download time considerations, only selected materials are displayed. If you would like to obtain more information, feel free to contact the museum. All our material is available (at cost) on CD-Rom format.

---
---