VICTOR LICATA
A RUSH TO JUDGEMENT:
Chapter 15

Victor Licata Escapes
[ 1945 – 1950 ]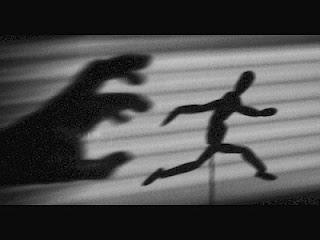 ---
15.1 – Victor Licata Escapes -- 1945 – 1950
On Oct 14, 1945 Victor Licata (and four others patients) escaped from their prison hospital in Chattahoochee.   In the words of the then Florida Governor Caldwell, "It is worse than bad."

Below are several newspaper stories dealing with the incident, note that all other escapes (with the exception of Victor) were quickly recaptured.   --- [Transcriber errors highly likely - For historical references refer to actual articles]
------------------------------------------------------
Tampa Morning Tribune Oct 15, 1945 p1
"5 DANGEROUSLY INSANE ESCAPE CHATTAHOOCHEE
Tampa slayer Among Them, One Caught

Chattahoochee, Oct. 14. --- (Associated Press)—Four criminally insane patients, including Victor Licata, who slew all but one member of his family with a hatchet in 1933, were at large tonight after sawing the bars from windows of their ward at the Florida state hospital here.   Dr. J.H. Rogers, chief physician at the hospital, said they were "very dangerous."

Another inmate who fled with them was captured this afternoon as he got off a truck on the highway about 20 miles south of Tallahassee.   He was almost immediately nabbed by two state highway patrolmen.   He was identified as E.B. Rhea, whose record showed a murder in Polk County.

Two from Tampa
Those still at large are Licata, who was declared insane after killing his father, mother, brother and two sisters with a hatchet in Tampa in 1933; Fred J. Bartik, whose record showed a murder in Orange County, and Edgar Swanson and Woodrow George who had been committed for armed robbery in Tampa.

Dr. Rogers said the men made their escape sometime between midnight and 4 a.m., Sunday.   It was not discovered until about daylight.   They apparently climbed down a ladder made of sheets from their second story ward.   Six inmates who were in the ward did not join them.

Bars Were Sawed
Dr. Rogers said two attendants were on duty in the building, one on the first floor and another in a corridor outside the cellblock on the second floor.   He said they told him they had not heard the bars being sawed.   The physician said he had no idea where the men could have obtained hacksaws.   Dr. Rogers said hospital authorities notified the state highway patrol, officials in nearby towns, sheriffs of the men's home counties and relatives of the fugitives.


-----------------------------------------------------
St. Petersburg Times - Oct 16, 1945 p1 [15A]
Escape of Five Criminal Insane Patients Probed
Tallahassee--- (AP) -- Gov. Caldwell said yesterday he has asked for a full report showing responsibility for the escape of five dangerous inmates of the Florida state hospital criminally insane ward early Sunday morning.

Four of the five men--two of them with murder charges on their records--still are at large.   "It is worse than bad," the governor commented.

AS ALABAMA and Georgia officials were asked to join in the search, Acting Director Olin Hill of the Florida state highway patrol said he had sent out orders for his men to intensify their efforts.

At Chattahoochee, W.D. Rogers, chief hospital physician who was in charge during the illness of Supt. J.H. Therrell, said he still had no clues on the directions taken by the fugitives nor on how they obtained a hacksaw to cut the iron bars of their second-floor window.

He said E.B. Rhea, who fled with the others but was recaptured 20 miles south of Taliahasee Sunday, told him the men had agreed to travel separately and since he was the last man out the window, the others already had gone.   The physician reported Rhea told him one of the others had a key to unlock the cell in which he alone was confined.   The other four were in a ward with six who did not join them.

THOSE STILL AT LARGE ARE:
Victor Licata, who was committed to the hospital after slaying five members of his family in Tampa with a hatchet in October, 1933.

Woodrow George, who was committed Oct. 3, 1941, from Hillsborough County, where charges of armed robbery were pending against him.   He has escaped three times before.   On one occasion he returned a few days later with a gun and was recaptured after he tried unsuccessfully to free all inmates from the criminal building.

Fred J. Bartik, who was admitted to the hospital Nov. 27, 1942 from Orange County, where he had been indicted for first degree murder.   Edgar Swanson, who was sent to the hospital June 2, 1940, from the state prison at Raiford where he was serving a two-year sentence for arson in Palm Beach County.   Rhea was committed to the hospital Dec. 12, 1940, from Polk County, where he had been charged with murder.   He escaped once before, in January, 1944, but was recaptured two days later.


------------------------------------------------------
St. Petersburg Times - Oct 19, 1945 pg 1 [15B]
Another Insane Patient Caught
TALLAHASSEE--- (AP) -- Three of five patients who escaped Sunday from the criminally insane ward of the state hospital at Chattahoochee were back in custody yesterday with the capture of Edgar Swanson, Palm Beach County arsonist.   Swanson was discovered by military police "wandering around the ammunition dump" at Camp Gordon Johnston Wednesday night, Army public relations officials said.

Hatchet-Slayer Victor Licata of Tampa, who killed five members of his family in 1933, and Woodrow George, also of Tampa, still are at large.

Hospital superintendent J. H. Therrell said the fugitives evidently had "inside assistance" in their escape.   They were thought to have obtained the key to a corner cell and sawed the bars from its window to make the break.


--------------------------------------------------
Dothan Eagle - Oct. 19, 1945 p 1 [15C]
Fourth of Five Escaped Insane Patients Caught
CHATTAHOOCHEE FLA (AP), --- The fourth of five men who escaped Sunday from the criminally insane ward of the State Hospital here were recaptured in Climax last night, Chief Physician W.D. Rogers said today.

He reported the chief of police of the South Georgia town arrested Woodrow George.   George was the second of the escaped quintet to be recaptured in Climax.   Police arrested Fred J. Bastik there Tuesday.

Still at large is Victor Licata, who slew five members of his family in Tampa 12-years ago.
MUSEUM NOTES: -- Elsewhere, we have pointed out that some websites are making the claim that Victor Licata had killed a fellow inmate while a patient at the State Hospital.   Yet no one seems to know exactly who the fellow inmate was?   Nor on what date the supposed crime was supposed to have occurred.   Nor for that matter does anyone even know exactly who originally posted the information up on the web.   Which brings suspicions of yet another false Internet rumor, etc.   In writing this book, we have contacted:
The State Hospital in Chattahoochee
Local as well as regional coroners offices
County Sheriffs as well as local police departments
County clerk and Records offices
Florida State Archival libraries
And everyone and everything that we could think of --- None of them have any knowledge of such a death.   Granted, most have lost their older records, etc., but still, it would be a little hard to lose a murder investigation etc.   --- Thus, the only conclusion that we can come up with is that the records never existed in the first place, because there was NO SUCH ANIMAL.   Victor Licata, simply did NOT kill anyone while he was at the State Hospital.

And if anyone needs yet more proof, look at the condition under which the escape took place.   Somehow, one of the inmates got a hold of the keys (this probably was not Victor), after which five prisoners organized themselves and each night (for some unit of time) all met in some central location and began sawing off a set of bars.   When the time came Victor and the four others, simply broke the bars open, and with their bed-sheets created a rope with which they lowered themselves to the ground.

BUT WAIT A MINUTE, if Victor had indeed killed one of their own, --WHY would the other inmates want anything to do with him.   In fact, what was Victor doing sleeping in a communal ward as opposed to being isolated from the others?   After all, if he had killed even one patient while at the hospital, what was there to stop him from killing yet more patients while they sleep?



---
15.2 – Victor Licata; On the Lamb -- 1945 – 1950
On the subject of Victor's escape and there after being able to evade the police for so long is a subject of great wonderment.   A true tribute to the character of the man, who despite the myriad of obstacles set against him, managed to survive for as long as he did.

And indeed, the obstacles were many, just look at the great things that his home town newspaper was saying about him:
Tampa Morning Tribune Oct. 16, 1945 p4
MURDERER ESCAPES
The danger of permitting murderers to evade just punishment by declaring them insane is demonstrated in the case of Victor Licata, of Tampa, who has escaped from the criminal ward at Chattahoochee.

Licata exterminated his entire family---father, mother, two sisters(sic) and a brother --- with a hatchet, back in 1933.   An insanity plea was offered and Licata went to Chattahoochee for life, instead of the electric chair, which should have been his immediate destination.   He was not too insane to participate in a four-man escape, effected by sawing the cell bars.   If not promptly recaptured, Licata will be a menace to the public.   He should have been put in a safe place, via the "hot seat," 12 years ago.
And from what we have been able to tell about him, Victor must have been all too well aware of the fact that half of Tampa would be looking for him.   And as if to make matters worse, according to a modern day article Cigar City (Magazine)- Issue 27 – 2010: [15D]
"An axe-murderer was on the loose.   And, to compound matters, cellmates stated that Victor had recently been talking about his desire to murder every member of his family."
That above statement probably wasn't true, but in any case, there was no way he could ever show up in the Tampa area, thus he headed in the opposite direction.   Now at this point, it should be stated that we do not really know where exactly he was during this time period.   However, (again) according to the Cigar City magazine article:
". . . In August 1950, Victor casually walked into his Cousin Philip's restaurant in New Orleans, telling his cousin that he had been working as a laborer in Louisiana for the past nine months and as a laborer in Texas and Delaware before that.
ONE SCENARIO
Although he only weighed about 120 lbs. at the time, his story is plausible.   This was the period just after the Second World War and America has a great need for laborers of any kind.   Thus, we can at least put together one scenario of what might have happened to him during the missing years.

Victor while mentally autistic still had his family genes (example his brother Anthony was a lawyer etc.) and thus probably (while not being able to express himself) a bit smarter than the average individual.   All the patients had already pre-agreed that their best chance to make good on their escape was to split up right from the first or as quickly as possible.   Victor being the loner type anyway, probably wondered off as soon as he could and started looking for clothes -- Anything that he could find (probably something hanging on a clothes rack) to change out of his prison clothing.

Next, he headed off for the railroad tracks or road.   He knew that come morning the search would start and he wanted to be as far away as possible.   This actually must have been a far easier thing for him to have done back then than it would be today.   Note that the first prisoner was caught some 20 miles away.   Obviously, he must have just jumped on the back of a truck and no one noticed.   Victor must have jumped on to a passing train and away he went.

As he was accustomed to eating very little, he was able to hide until he was well, well away.   In all likelihood the train was heading north.   He got off only a couple of times.   Obviously, he had no money, and because of his size couldn't really rob anyone etc., but he could do a bit of work, clean up a restaurant etc., in exchange for food.   Maybe he even got a job as a dish washer etc.   But Victor ---mentally autistic yes, but a fool no, would read the newspaper stories about how his fellow prisoners had all been caught one by one and thus knew that his only hope was to get away as far as possible, as soon as possible.   Thus, once more he would jump on a train until one day he found his way toward Delaware, where he lucked out.   A permanent job, maybe washing dishes, maybe as a janitor cleaning up a place -- it didn't matter Mr. Vic Lester* (as he now called himself) was free.   Here he would stay for a unit of time until the business (restaurant, whatever) went out of business and he had to leave.

Having few friends who would help him, and quite a few that would make fun of him, he left the area and started looking for work as a laborer anywhere he could get it.   [Note - although there was an FBI report out for his arrest, the FBI never put out a wanted poster] And by now, his appearance had changed a lot; one could look at his old mug shot all day long, but not be able to recognize him.

Thus, Victor found his way into Texas, and later on into Louisiana, where he made a very fatal mistake.

* This author just made up that name, but I feel that the reader gets the general idea, Victor most assuredly would have found a new name for himself.



---
15.3 – Victor Licata IS RECAPTURED – AUGUST 13, 1950
The following is taken directly from the Times-Picayune (a major newspaper in the New Orleans area) and is probably the best first-hand account that we have.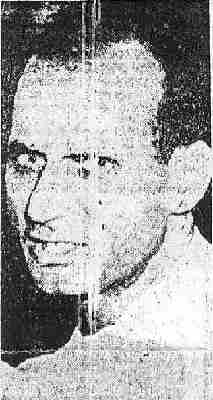 [picture of Victor – age ~36]
------------------------------------------------------------
TIMES-PICAYUNE – Aug 14, 1950 p16
ALLEGED SLAYER OF 5 IS HELD HERE
Victor Licata Held as Fugitive from Asylum
A 38-year-old fugitive from an insane asylum who admitted to police the hatchet slaying of five members of his family in 1932 was arrested at 1140 Decatur at 3:45 p.m. Sunday.

Police identified the man as Victor Licata, no local address, and said he has been sought since 1945 when he escaped from a mental institution at Chattahoochee, Fla.

Licata was arrested by patrolman Albert Npindel and Nick Grimtina for questioning in connection with a $170 robbery from a cousin, Philip Licata of the Decatur at address, three weeks ago.

Police said Licata denied the robbery but admitted that he murdered his mother, father, two brothers and a sister in their home near Tampa, Fla., in Hillsboro County 18 years ago.

Circular Confirms Story.
Licata's statement, police said, is confirmed by an FBI wanted circular on file in the bureau of identification here.   The circulars said he escaped from an institution for the criminally insane on Oct. 15, 1945.

Declaring that he was identified as the "marihuana maniac" after the murders, Licata said he was judged criminally insane after his arrest and confined in the institution.

He said he was declared sane after 12 years in the institution and he escaped when they refused to release him.

Licata said he remembers the hatchet slaying but he does not know why he did it.   He denied that he ever smoked marihuana.

In City Nine Months
He told police he has been in New Orleans about nine months.   Detectives John Meredith and John Crosch Jr. have been assigned to investigate.

Licata said it has been difficult for him to earn a living during the five years he has been at large but he does not welcome being sent back to Florida.

He said it has been necessary for him to leave one job after another because people "would get too nosey and start asking questions." He is an ordinary laborer, he said.

Search for Licata was started . . . [rest of article unreadable]
Note that in the Times-Picayune article (above) he denied having ever used Marihuana, but that the article makes it sound as if he has admitted to having committed the murders.

In terms of the overall story, the following (taken from) Cigar City (Magazine)- Issue 27 – 2010 [15D] seems to provide the most details:
". . . In August 1950, Victor casually walked into his Cousin Philip's restaurant in New Orleans, telling his cousin that he had been working as a laborer in Louisiana for the past nine months and as a laborer in Texas and Delaware before that.   Philip played it cool, fixing Victor dinner and then buying him a few beers at a bar across the street.   He then told Victor that he needed to go home, but asked him to come back the next day.

"I was afraid of him, all right, the way you'd be afraid of any crazy man," Philip later told the media.   "I decided I'd get him to come back the next day and I'd have police waiting for him."

Victor did return the next day and spent three hours talking to the short order cook, but he disappeared before the police arrived, taking with him a bank envelope containing around $180.

But he returned to the restaurant for a third time the following day, and this time his cousin wasn't going to let him get away.   Philip waited for Victor to turn his back and then pounced on him, pinning his tiny cousin to the wall until the police arrived. "
PLEASE NOTE – This museum has attempted to obtain a copy of the police report dealing with this case, BUT it seems that no one (not the police, not the District Attorney's office, not the city clerk, not the archival library system), not no one has an existing copy.   In addition, no other paper work (of any kind) seems to exist.   --- a.k.a. --- It seems that the conspirators did a good job of hiding things.



---
15.4 – SOMETHING SMELLS ROTTEN IN HOLLAND
According to the psychiatric evaluations, Victor Licata had a mental illness diagnosed as 'Dementia Praecox with Homicidal Tendencies.'   Simply put, victor heard voices and wanted to kill people.   BUT if this was true, then it begs the question; -- Why didn't Victor go on a killing rampage while he was free?   Were Victor Licata truly a demented murderer, then logic and reason would dictate that there should have been a whole string of murders between the years 1945 and 1950 – yet nothing.

And granted, while it might have been possible for Victor to have committed a murder or two without being identified, still this seems very unlikely given his mental health issues.   Just recall how he was originally taken into custody; -- at the scene of the crime, making no attempt to move, etc.

Yet, no such murders occurred.   All of which brings up yet another question; --Was Victor a murderer in the first place?


===========
FOOTNOTES:
[15A]-- [article can be found via google] : http://news.google.com/newspapers?nid=888&dat=19451016&id=Gb4wAAAAIBAJ&sjid=pU4DAAAAIBAJ&pg=2535,4635926
[15B]-- [article can be found via google] :
http://news.google.com/newspapers?nid=888&dat=19451019&id=HL4wAAAAIBAJ&sjid=pU4DAAAAIBAJ&pg=3527,4920297
[15C]-- Article can be found via -- http://newspaperarchive.com/dothan-eagle/1945-10-19/
[15D]-- http://www.cigarcitymagazine.com/people/item/horror-in-ybor-city






ON TO THE NEXT CHAPTER
VICTOR LICATA - A RUSH TO JUDGEMENT




---

WANT TO KNOW MORE:
=====================
Due to space / download time considerations, only selected materials are displayed.   If you would like to obtain more information, feel free to contact the museum.   All our material is available (at cost) on CD-Rom format.   Please contact: antiqueCannabisMuseum@yahoo.com


---
---