MICHIGAN
DURING THE REEFER MADNESS ERA

---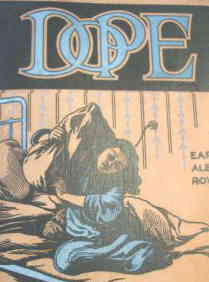 [ This book cover has nothing to do with the main topic at hand here. However, it sort of looks about right ]
---
<!- ======================================== -->

TEENAGE-GIRL RUNAWAY FOUND IN MARIHUANA DEN
NAME: Lillian Matuskenicz - DATE: Feb. 27, 1937 - Location: Detroit, Mi
What the Narc's were claiming
A fifteen-year-old girl was arrested in a marihuana "den" in Detroit to which she had been lured by her male companions. – Survey Graphic (Magazine) April 1938

A fifteen-year-old girl who has disappeared is discovered in a marihuana hangout of young toughs in Detroit. -- Narcotic Agent: by Maurice Helbrant (book) 1941

Not long ago a fifteen-year-old girl ran away from her home in Muskegon, Mich. , to be arrested later in company with five young men in a Detroit marijuana den. A man and his wife ran the place. -- American Magazine "Marijuana, Assassin of Youth" By H.J Anslinger - July 1937

In Detroit, Michigan, a fifteen-year-old girl was picked up with five men in a marihuana den. 'This pretty and attractive youngster had run away from her home in a near-by small town, where she had first learned to use "Mary Warners" while attending school. -- "Assassin of Youth" (Book) 1954 By Robert Devine

In Detroit, Michigan, a fifteen-year-old girl was picked up with five men in a marihuana den. This pretty and attractive youngster had run away from her home in a near-by small town, where she had first learned to use "Mary Warners" while attending school. Had I space in these pages to give in detail the incredibly sordid stories describing the experiences of girls who run away from home to co-habit with the most debauched and degraded scum of black, white and yellow humanity, my readers would be shocked beyond measure. -- Moloch Of Marihuana (1945) Robert James Devine

A 15-year-old Michigan girl ran away from home and was later arrested in a "marihuana den" in Detroit, where she had been lured by her male companions. -- MARIHUANA; The New Dangerous Drug (pamphlet) by Frederick T. Merrill 1950 version
---
<!- ======================================== --> WHAT THE NEWSPAPER ACCOUNTS WERE SAYING: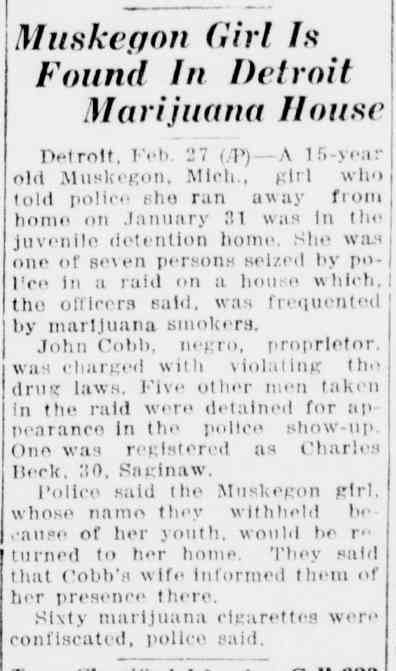 Escanaba Daily Press Feb. 28, 1937p2
"Muskegon Girl Is Found In Detroit Marihuana House"
Detroit -- Feb 27 (AP) -- A 15-year old Muskegon Mich., girl who told police she ran away from home on January 31 was in the Juvenile detention home. She was one of seven persons seize by police in a raid on a house which the officers said, was frequented by marijuana smokers. John Cobb, negro, proprietor was charged with violating the drug laws, five other men taken in the raid were detained for appearance in the police show-up. One was registered as Charles Beck, 30, Saginaw
Police said the Muskegon girl, whose name they withheld because of her youth, would be returned to her home. They said that Cobb's wife informed them of her presence there.
Sixty marijuana cigarettes were confiscated, police said.
[Key-finder - Case#MI13_RunawayGirl]


---
<!- ======================================== --> WHAT ANSLINGER'S BUREAU OF NARCOTICS WAS SAYING:

Michigan - 1937 - M and 6 others, M. and F., age 21-23, arrested Detroit, Michigan for rape, theft, grand larceny. Arrested -- Article by James C. Munch; "UN Bulletin on Narcotics"-1966 Issue 2

1937 - H. Thatcher / A. Gates - M - And 6 others, M and F, ages 21-23, arrested Detroit, Mich. for rape, theft, grand larceny. - Arrested - - 6th conference report - INEOA 1965

Detroit, Michigan. October 1, 1937. Henry Thatcher, Arthur Gates and six others, male and female, arrested for possession. Ages 21 to 25. Defendants have long criminal records for robbery, rape, grand larceny. --Box9, File7 - PennState Collection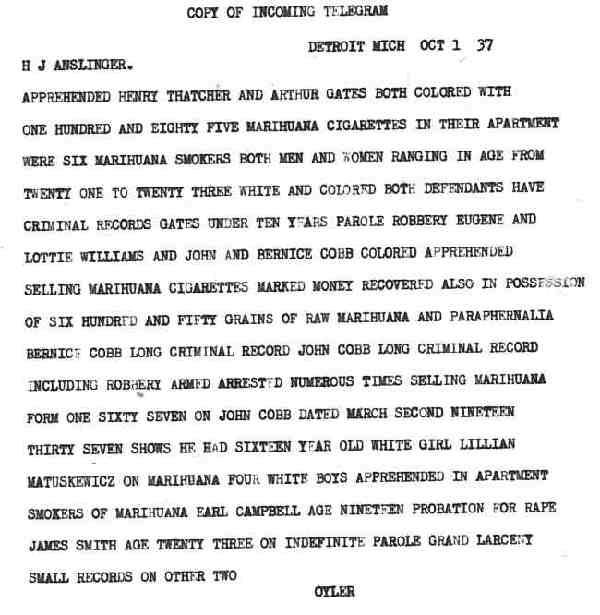 [Photo Doctored for Faster Download Time ]
Detroit Mich Oct 1 37
H.J Ansligner
Apprehended Henry Thatcher and Arthur Gates both colored with one hundred and eight five marihuana cigarettes in their apartment were six marihuana smokers both men and women ranging in age from twenty one to twenty three white and colored both defendants have criminal records gates under ten years parole robbery Eugene and Lottie Williams and John and Bernice Cobb colored apprehended selling marihuana cigarettes marked money recovered also in possession of six hundred and fifty grains of raw marihuana and paraphernalia Bernice Cobb long criminal record John Cobb Long criminal record including robbery armed arrested numerous times selling marihuana from one sixty seven on John Cobb dated march second nineteen thirty seven shows he had sixteen year old white girl Lillian Matuskenicz on Marihuana four white boys apprehended in apartment smokers of marihuana earl Campbell age nineteen probation for rape James smith age twenty three on indefinite parole grand larceny small records on other two.
Oyler --- Box3, File3 - PennState Collection
---
<!- ======================================== --> MUSEUM COMMENTS:
As embarrassing as this is, we (as a museum) must apologize to Mr. Anslinger for the numerous times that we claimed this case didn't happen. And this was not without good reason, for many, many years despite a good faith effort on our part, we simply couldn't find anything. And as we know Anslinger lied, boy how he lied. And as we have established that many of his examples of "Crimes Committed" while under the influence of Marihuana were total fabrications. We just figured that this must be one of them. But then by shear accident we stumbled into this newspaper article (See above).

And as it fits the description right to a "T", we must assume that this is the case Anslinger himself was talking about.


---






WANT TO KNOW MORE:
=====================
Due to space / download time considerations, only selected materials are displayed. If you would like to obtain more information, feel free to contact the museum. All our material is available (at cost) on CD-Rom format.
CONTACT PAGE


---
---