THE MYSTERY OF MINNESOTA'S

"HIDDEN HEMP HISTORY"
BEFORE THE COMMING OF THE MARIHUANA LAWS


<!- ======================================== -->
---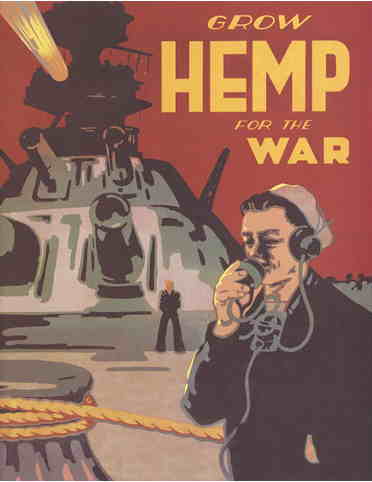 ---
THE MYSTERY OF MINNESOTA'S "HIDDEN HEMP HISTORY"

By now we all know that censorship and the Marihuana laws go hand-in-hand. In fact, itís even official; -- It even appears that the narcís are required by law to lie. As one website so well put it:
ďResponding to a request by U.S. Rep. Ron Paul (R-TX), the General Accounting Office (GAO), the investigative arm of Congress, yesterday gave the White House Office of National Drug Control Policy (ONDCP) unfettered permission to mislead the public in the name of opposing drug legalization.Ē
It seems that (a) the narcís were caught lying during one of their maneuvers, (b) Congressman Ron Paul (this was back in 2005) asked the GAO why these lies were being told (at tax payers expense), and (c) the GAO wrote back essentially saying that under federal law, it was ok if not mandatory for the narcís to lie.

Which brings us to the history (the hidden history that is) of Minnesotaís Industrial Hemp Industry. Which as the reader will note at one time was quite significant. But one to which no one seems to be able to locate any historical records on. [ Even the Internet has nothing to say about the subject ] And while we have no proof, no smoking gun, it appears that someone, somewhere out there, did a good job of hiding it. A very good job; ---- simply put, despite numerous inquiries on our part, other than the documents found via the National Archives, weíve been able to find nothing on the subject, NOTHING. It was as if a great cataclysm occurred one day and everything dealing with the subject was simply banished.

Yet as these documents obtained via the National Archives (College Park, Md) show, Minnesota at one time had quite an Industrial Hemp fiber industry going. But that was before the coming of the Marihuana Laws. -- [All photo's doctored for quicker download times]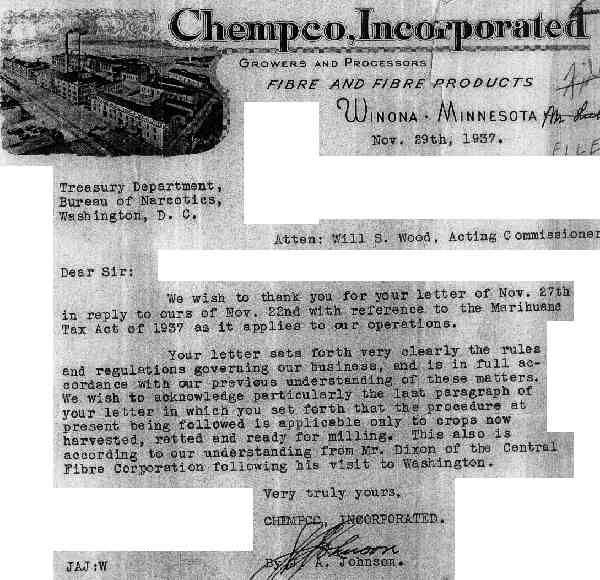 Chempco, Incorporated
Growers and Processors
FIBER AND FIBRE PRODUCTS
Nov. 29, 1937
Atten: Will S. Wood, Acting Commissioner

Dear Sir:
We wish to thank you for your letter of Nov. 27th in reply to ours of Nov. 22nd with reference to the Marihuana Tax Act of 1937 as it applies to our operations.
Your letter sets forth very clearly the rules and regulations governing our business, and is in full accordance with our previous understanding of these matters. We wish to acknowledge particularly the last paragraph of your letter in which you set fourth that the procedure at present being followed is applicable only to crops now harvested, retted and ready for milling. This also is according to our understanding from Mr. Dixon of the Central Fibre Corporation following his visit to Washington.
Very truly yours
CHEMPCO, INCORPORATED.
(singed) J. S. Johnson.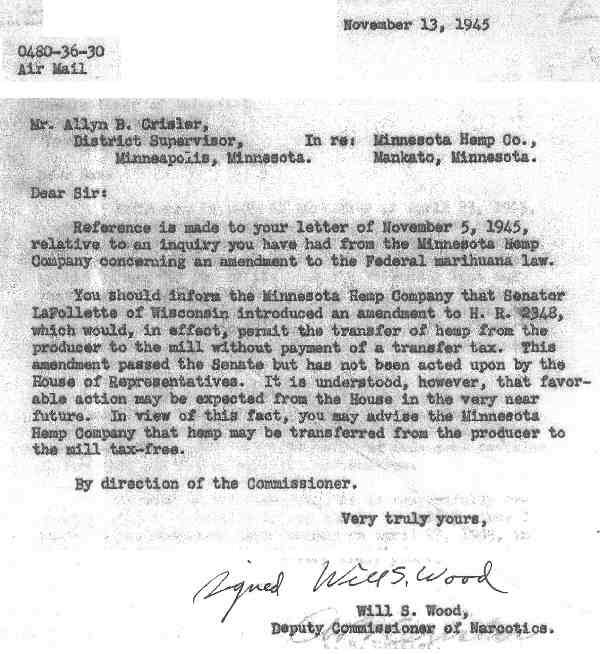 Mr. Ally B. Crisler,
District Supervisor,
Minneapolis, Minnesota
In re: Minnesota Hemp co.,
Mankato, Minnesota.

Dear Sir:
Reference is made to your letter of November 5, 1945, relative to an inquiry you have had from the Minnesota Hemp Company concerning an amendment to the Federal marihuana law.
You should inform the Minnesota Hemp company that Senator LaFollette of Wisconsin introduced an amendment to H.R. 2348, which would, in effect, permit the transfer of hemp from the producer to the mill without payment of a transfer tax. This amendment passed the Senate but has not been acted upon by the House of Representatives. It is understood, however, that favorable action may be expected from the House in the very near future. In view of this fact, you may advise the Minnesota Hemp Company that hemp my be transferred from the producer to the mill tax-free.
Be direction of the Commissioner.
Very truly yours

Will s. Wood,
Deputy Commissioner of narcotics.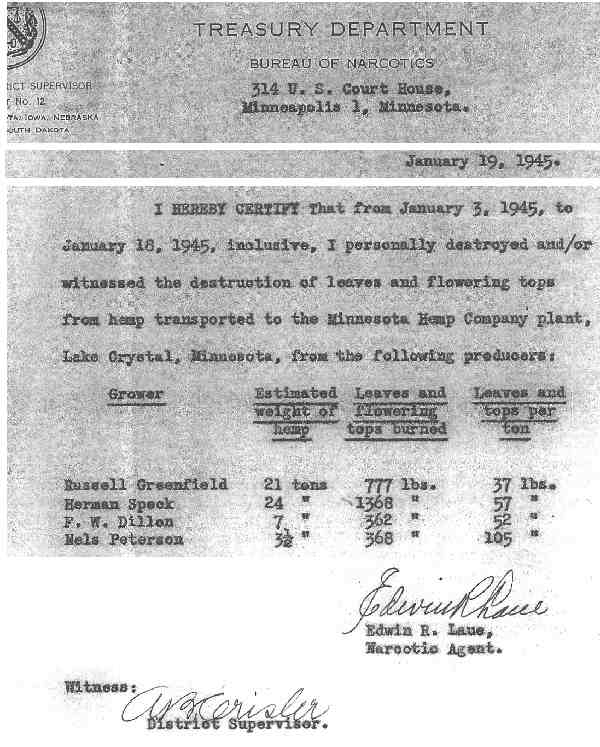 TREASURY DEPARTMENT
BUREAU OF NARCOTICS
314 U.S. Court House
Minneapolis 1, Minnesota

January 19, 1945

I HEREBY CERTIFY That from January 2, 1945, to January 18, 1945, inclusive, I personally destroyed and/or witnessed the destruction of leaves and flowering tops from hemp transported to the Minnesota Hemp Company plant, lake Crystal, Minnesota, from the following producers:


Grower
Estimated Weight
of Hemp
Leaves and flowering
tops burned
Leaves and tops
per ton
<!- ========================================= -->
Russell Greenfield
21 Tons
777 lbs
37 lbs
<!- ========================================= -->
Herman Speck
24 Tons
1,368 lbs
57 lbs
<!- ========================================= -->
F.W. Dillon
7 Tons
362 lbs
52 lbs
<!- ========================================= -->
Nels Peterson
3.5 Tons
368 lbs
105 lbs

(signed) Edwin R. Laue
Narcotic Agent
---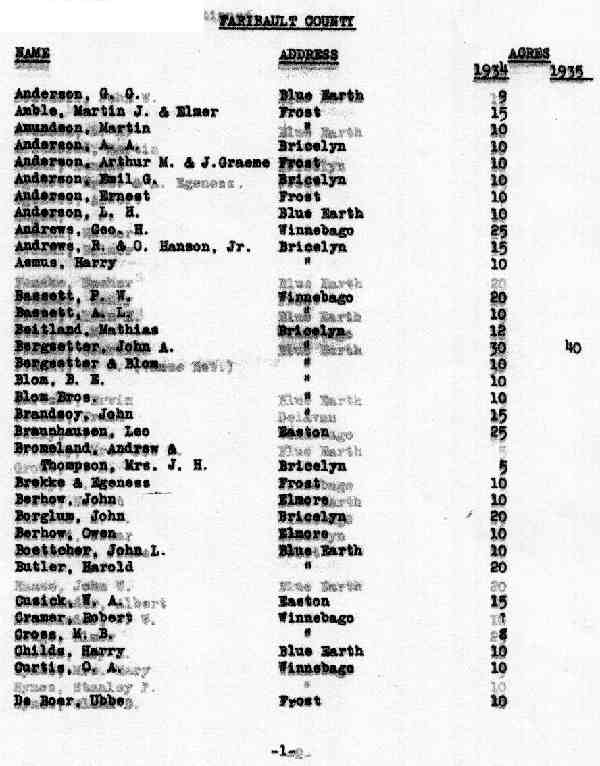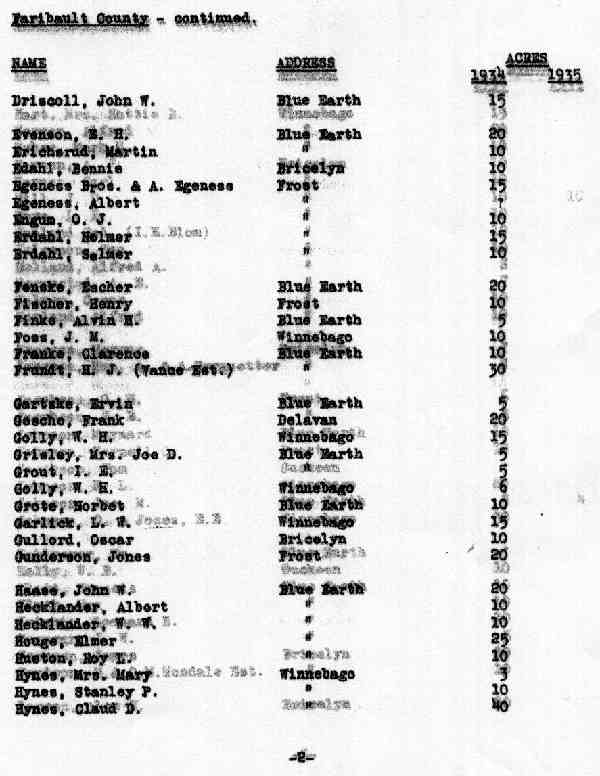 So as can be seen, Minnesota did indeed have an Industrial Hemp growing industry at one time. Even if (mysteries of great mysteries), much of it seems to have been lost to the sands of time.


---




WANT TO KNOW MORE:
=====================
Due to space / download time considerations, only selected materials are displayed. If you would like to obtain more information, feel free to contact the museum. All our material is available (at cost) on CD-Rom format.
CONTACT PAGE


---
---