MEDICAL CANNABIS

NEW YORK
HISTORICAL MEDICAL CANNABIS
BEFORE THE COMING OF THE ANTI-MEDICAL CANNABIS LAWS
---
Swan & Co. Manufacturing Chemists - New York
[Source = Pharmaceutical trade catalog - poor copy]

As per an Internet Auctioneers website:

RARE AND FASCINATING "A LIST OF PHARMACEUTICAL SPECIALTIES WITH PRICES".
PREPARED BY "SWAN AND COMPANY, MANUFACTURING CHEMISTS", NEW YORK.
A FIVE PAGE, TWO SIDED ACCORDION FOLD OUT PAMPHLET. OFFERS MEDICATIONS THAT CAN CURE VIRTUALLY ANYTHING. AGE CIRCA 1890.

Some contents are:
"Cannabis Comp. A nerve tonic for the treatment of Sexual Exhaustion, Insomnia, Melancholia, Chlorosis, Neuralgia, etc."
"Gonorrhea. For the treatment of Dropsy, Cystitis, Prostatitis, etc."
"Hydrastine Comp. For the treatment of Anemia, Debility, Chlorosis, Leukemia, etc."
Many other remedies are offered in the other panels. Size is 6.00 by 3.25 inches folded. In good condition. The cover seam is the only one that is not fully intact, but it's still attached.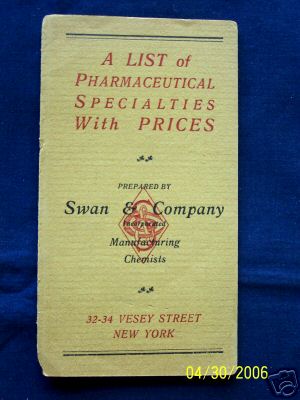 MEDICAL CANNABIS NEW YORK
BACK
---




WANT TO KNOW MORE:
=====================
Due to space / download time considerations, only selected materials are displayed. If you would like to obtain more information, feel free to contact the museum. All our material is available (at cost) on CD-Rom format.
CONTACT PAGE


---