HISTORICAL MEDICAL CANNABIS

TEXAS
(BEFORE THE COMING OF THE ANTI-MEDICAL MARIHUANA LAWS)
PAGE 1
---

CANNABIS PRESCRIPTIONS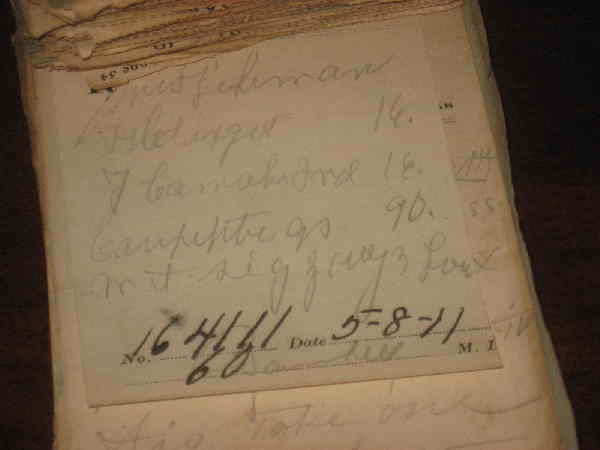 [CANNABIS PRESCRIPTION]


Rx 164,111 Fluid Cannabis Indica
The prescription is for: Fld. Ext. ergot and Fl Cannabis Indica added to caripeptic

Taken from the " Tristram Pharmacy," of Brenham Tx . The top inscription of this prescription (covered over and thus not shown) would read:


Take this to Telephone 34
JOS. TRISTRAM, JR.
Druggist and Chemist
South side Courthouse Square
BRENHAM TEXAS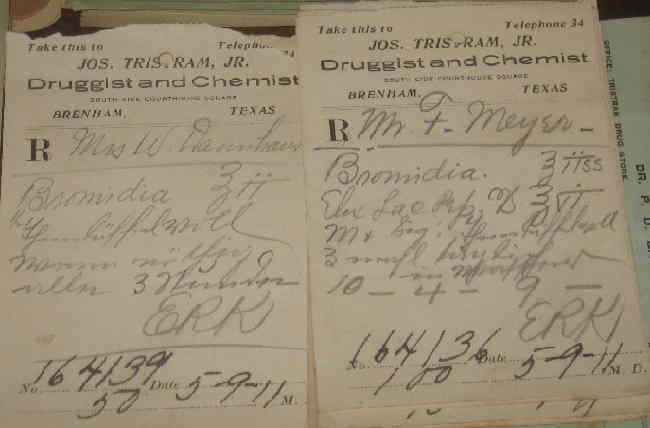 [CANNABIS PRESCRIPTION]


TWO PRESCRIPTIONS FOR BROMIDIA
Two prescriptions other prescriptions for BROMIDIA, taken from the same pharmacy collection. (bromidia is a product that contained cannabis indica!) Rx 164,139 and 164,136. Note that ALL of these prescriptions were filed between May 04, 1911 and June 09, 1911 and also note that phone number No.34. -- not that many phone lines back then.



---
MORE FROM the TRISTRAM DRUGSTORE
Note that this prescription was written in the 1920's.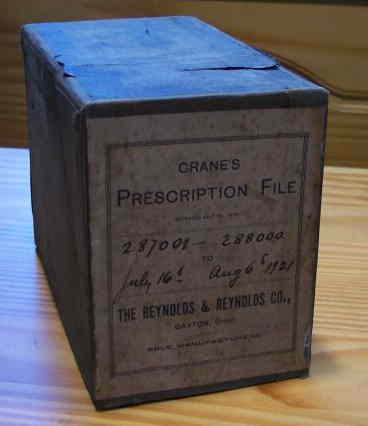 As per the internet auctioneers write up:

1921 Crane's Rx File 1000 Tristram Prescriptions! Texas
The Reynolds & Reynolds Co.,
Dayton, Ohio
Rx 287,001 -- 288,000

Tristram Pharmacy
11 Alamo Avenue
Brenham, Texas

The pharmacist would punch a hole in the top center of each prescription and file in order on this long metal peg. There's a heavy-duty paper divider placed at each 100 prescriptions!

These prescriptions are terrific! One of the best ways to learn how to decipher the prescriptions is to spend a couple hours looking through this stack with a National Formulary or United States Pharmacopoeia from the 1920s!

I didn't have the time to go through and look over these scripts, however while I was photographing and fanning the scripts for display I noticed RX 287554 for cannabis indica!!!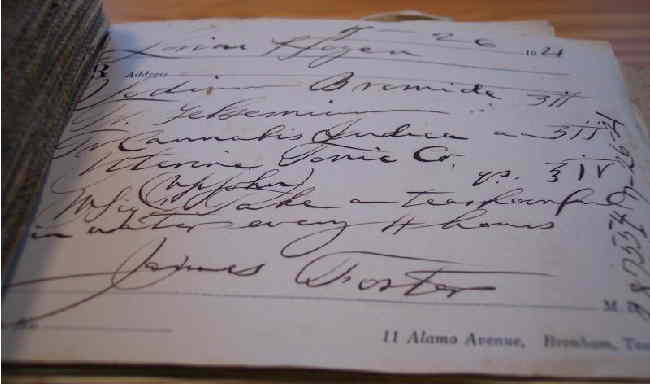 [CANNABIS PRESCRIPTION - era 1920's]
---
STAR DRUGSTORE; Galveston, Texas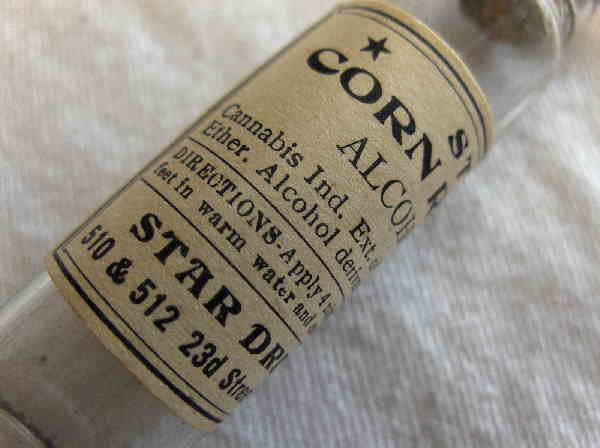 [Texas Compounded Corn Remedy]



As per the wording of an Internet Auctioneer:
"Up for auction is a small corn remedy bottle/vial from the famous Star Drug Store in Galveston, Texas. One interesting and highly desirable aspect about this item is that it lists Cannabis Ind. as one of the primary ingredients !!!

Height is about 2-1/2 inches to top of cork, diameter is about 5/8 inches.

I purchased several of these labeled bottles from a salvage guy who was involved in the massive Hurricane IKE cleanup in September 2008 that devastated the Texas gulf coast region. He discovered these in a flooded out warehouse in the Galveston wharf area close to the actual Star drugstore original location on 23rd Street.

I thought I'd sold all of these a couple years ago but found another 3 stuck inside some storage totes I had.

GET a piece of Galveston's early history NOW while you can as there simply couldn't be too many more of these lying around after all the destruction this city has experienced. I guess I bought 20 or so from this same salvage guy, this is all I've ever seen offered up for sale.



GUARANTEED to be the REAL DEAL !!!

NOTE: This Bottle is EMPTY - NO CONTENTS REMAIN !!!
---

In case the reader is wondering what the last few sentences have to do with the object up for sale. It is a sad but true situation that as many as half the (so-called) Medical Cannabis Antique bottles out on the market today (antique stores, internet auction sites, etc) are forgeries." And given the fact that old Cannabis Antiques command such a premium in the marketplace today, an understandable situation which (if the narcotics police have their way) will be with us for quite some time to come.

This internet auctioneer here is thus addressing this issue, by quickly stating where she obtained the medicines and under what circumstances. -- Note, although the labels appear to be in very good condition (a little too good to be true if you know what we mean). Still they do appear to be about right and given the factors involved in how they were located, we believe that they are the legitimate article.

The very last sentence "no contents remain . . " deals with a myriad of legal factors. An empty bottle is legal, but a bottle with contents inside, might attract the attention of the narc's etc., and we all know what that means.



---
---

WANT TO KNOW MORE:
=====================
Due to space / download time considerations, only selected materials are displayed. If you would like to obtain more information, feel free to contact the museum. All our material is available (at cost) on CD-Rom format.
CONTACT PAGE


---
---