THE ANTIQUE CANNABIS BOOK
Chapter 4 - (2nd Edition)
Virginia



VIRGINIA
DURING THE REEFER MADNESS ERA



Section II - The controversy begins:
Perhaps the best way to define the issue and the internal (within the DEA) controversy that it created is to simply allow the DEA (then known as the Bureau of Narcotics) own internal memo's to speak for themselves.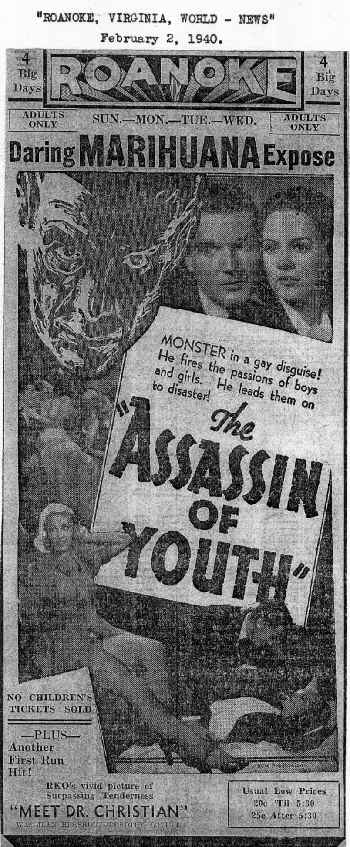 The Assassin of Youth - Roanoke World News
February 6, 1940
Commissioner of Narcotics,
Washington, D.C.
In re: Moving picture film entitled "Assassin of Youth."

Sir:
This will supplement my letter of February 2, 1940 regarding the above subject.

The attached clipping taken from the "Roanoke World News," Roanoke, Virginia, under date of February 2, 1940, is self-explanatory.

Agent Rocchiccioli will, no doubt, submit a letter report within a few days indicating his adherence to your memorandum of October 31, 1938. Respectfully,

B.M. Martin,
District Supervisor.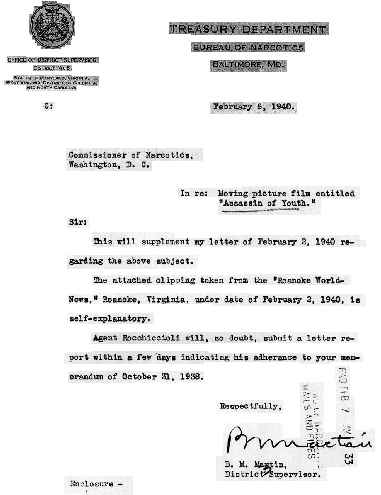 The Assassin of Youth - Roanoke World News

Next Page
---

WANT TO KNOW MORE:
=====================
Due to space / download time considerations, only selected materials are displayed. If you would like to obtain more information, feel free to contact the museum. All our material is available (at cost) on CD-Rom format.
CONTACT PAGE


---
---