REEFER MADNESS

ANSLINGER'S GORE FILE
GORE FILE CASE INVESTIGATIONS
DURING THE REEFER MADNESS ERA
---
DOROTHY DERENE
---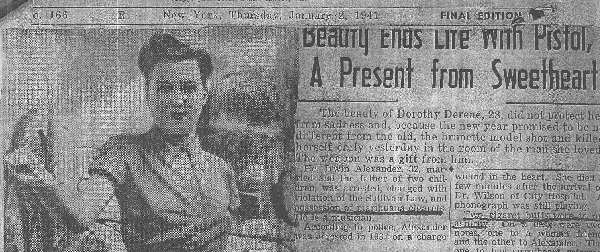 <!- ============================================================ -->
---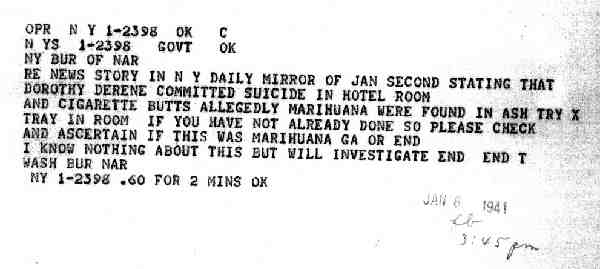 OPR N Y 1-2398 OR C
N YS 1-2398 GOVT OK
NY BUR OF NAR
RE NEWS STORY IN N Y DAILY MIRROR OF JAN SECOND STATING THAT
DOROTHY DERENE COMMITTED SUICIDE IN HOTEL ROOM
AND CIGARETTE BUTTS ALLEGEDLY MARIHUANA WERE FOUND IN ASH TRY X
TRAY IN ROOM IF YOU HAVE NOT ALREADY DONE SO PLEASE CHECK
AND ASCERTAIN IF THIS WAS MARIHUANA GA OR END
I KNOW NOTHING ABOUT THIS BUT WILL INVESTIGATE END END T
WASH BUR NAR
NY 1-2398 *60 FOR 2 MINS OR

Jan 6, 1941

<!- ============================================================ -->
---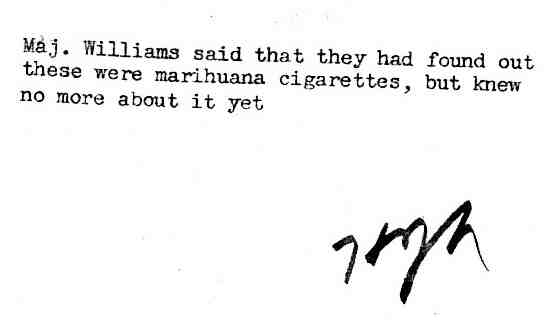 Maj. Williams said that they had found out these wee marihuana cigarettes, but knew no more about it yet
<!- ============================================================ -->
---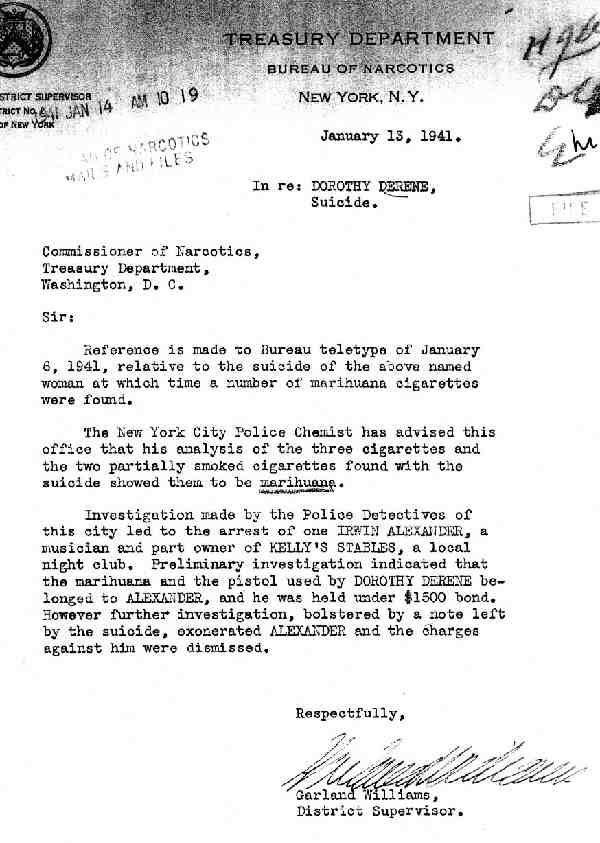 TREASURY DEPARTMENT
BUREAU OF NARCOTICS
NEW YORK, N. Y.

OFFICE OF DISTRICT SUPERVISOR
DIISTRICT No. 2
STATE OF NEW YORK
January 13, 1941.

In re: DOROTHY DERENE,
Suicide.

Commissioner of narcotics,
Treasury Department,
Washington, D. C.

Sir:
Reference is made to Bureau teletype of January 6, 1941, relative to the suicide of the above named woman at which time a number of marihuana cigarettes were found.

The New York City Police Chemist has advised this office that his analysis of the three cigarettes and the two partially smoked cigarettes found with the suicide showed them to be marihuana.

Investigation made by the Police Detectives of this city led to the arrest of one IRWIN ALEXANDER, a musician and part owner of KELLY'S STABLES, a local night club. Preliminary investigation indicated that the marihuana and the pistol used by DOROTHY DERENE belonged to ALEXANDER, and he was held under $1500 bond. However further investigation, bolstered by a note left by the suicide, exonerated ALEXANDER and the charges against him were dismissed.
Respectfully,

Garland Williams,
District Supervisor.




---
ANSLINGER'S GORE FILE INVESTIGATIONS
BACK
---




WANT TO KNOW MORE:
=====================
Due to space / download time considerations, only selected materials are displayed. If you would like to obtain more information, feel free to contact the museum. All our material is available (at cost) on CD-Rom format.
CONTACT PAGE


---