REEFER MADNESS

ANSLINGER'S GORE FILE
GORE FILE CASE INVESTIGATIONS
DURING THE REEFER MADNESS ERA
---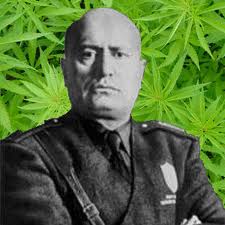 [ Anslinger who looks a lot like Benito Mussolini ]


ANSLINGER'S GORE FILE
---- AFTERMATH OF THE "HOLIDAY OF HORRORS"
After the events of the "Holiday of Horrors Affair", Harry Anslinger (no fool he) probably figured out that he couldn't keep on, talking about criminal cases; ---Allegedly consisting of bestial crimes committed while under the influence of Medical Marihuana, that he actually KNEW NOTHING ABOUT. And even worst, some of which were now turning out to have been totally fabricated works of fiction. Thus he is forced (probably driven more by the fear of exposure than anything else), into making a major turning point in HOW THE WHOLE OF HIS REEFER MADNESS campaign was to be managed. One can think of it as an epiphany moment or a major milestone in the history of the Reefer Madness Era.

Remembering that before the "Holiday of Horrors Affair", Anslinger and his Bureau or Narcotics, seems to have done NO ACTUAL fact checking concerning those cases he had added to his gore file. Relying instead on simple word of mouth statements made by other officials, rumors (some true, some false), on Newspaper headlines, and at times even articles found in (ah) Crime Detective genre magazine articles. All of which made for great S-H-O-C-K-I-N-G stories, but very little accuracy.

NOW, Anslinger was forced by circumstances to issue instructions that (this museum can only presume) ran something as follows:
A quick review of his old cases was to be done, with removal of those fabricated ones MOST to cause embarrassment – eg. , the Eureka Axe Murderer, the Tylczak prison brake case, etc.


All new criminal cases that were to be added to his gore file would now be investigated by his field agents for technical accuracy.


While the words (aka here-say) of Local Police officials would be taken into account, documentation would also now be required.


Stories as appearing in True Detective genre magazines would now no longer be accepted unless confirmed by his agents.


Newspaper articles or reports were also to be investigated or confirmed.
Although we do not have copies of the actual circular memos sent out at this time, we know from references made by other internal correspondences that they were sent out at around this time period. In addition, it was also about this time that the following wording made its way into the Bureau's own Field Manual.
FIELD MANUAL OF THE BUREAU OF NARCOTICS
Issued July 1, 1938, (Revised Oct 1, 1939)
Section 30.
MARIHUANA TAX ACT:
(4) Marihuana in Its Relationship to Crime:
In order that the Bureau may have the benefit of all available information regarding the extent to which the use of marihuana is responsible for crime, District Supervisors and field officers are instructed to keep in close touch with State and local officials for the purpose of obtaining and submitting to the Bureau detailed reports in all cases involving violation of local marihuana laws reported by State and municipal enforcement officers wherein crimes were committed under the influence of marihuana. Separate reports are not required for cases reported on Form 100 but the information should be included as a case history in the closing paragraph of the case report, giving the age of the defendant, the length of time addicted, if an addict, previous criminal record, and any information of interest in respect of the relationship between marihuana and crime.
[courtesy DEA Library, Alexandra Va.]
The wording clearly requires Anslingers field agents to report back to him on ANY AND ALL Marihuana/Criminal cases for possible inclusion into his Gore File. HOWEVER (as will soon be shown), this also created a nightmare of it's own for the Bureau or Narcotics and its Gore File. For upon investigation, most of these new cases started to fall apart, one by one; --- Some with hilarious results.


<!- =========================================== -->
---
EXAMPLES OF A FALSE REPORT:
In case the reader is thinking that Anslinger probably went a little overboard on this matter; -- THINK AGAIN. It is our opinion that he didn't go far enough. For instance, let's look at this internal DEA (then known as the Bureau of Narcotics) correspondence.

<!- ============================================ -->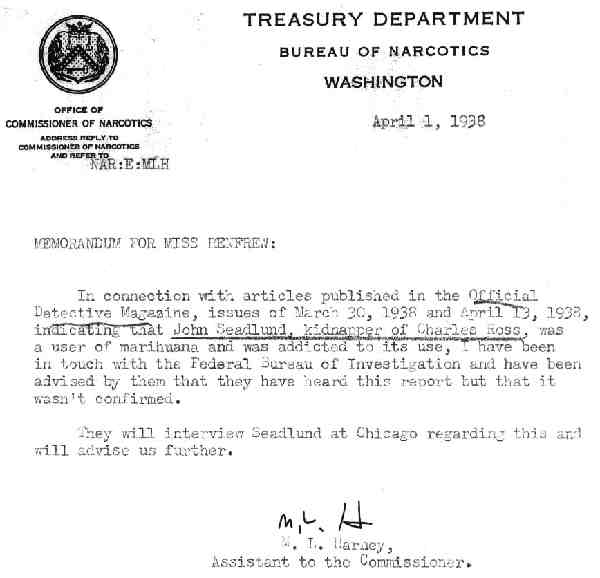 April 1, 1938
Office of Commissioner of Narcotics
MEMORANDUM FOR MISS RENFREW:
In connection with article published in the Official Detective Magazine, issues of March 30, 1938 and April 13, 1938, indicating that John Seadlund, kidnapper of Charles Ross, was a user of marihuana and was addicted to its use, I have been in touch with the Federal Bureau of Investigation and have been advised by them that they have heard this report but that it wasn't confirmed.

They will interview Seadlund at Chicago regarding this and will advise us further.
M.L. Harney,
Assistant to the Commissioner.
Before the Holiday of Horrors, the Bureau would have simply chucked this case up to another Marihuana Addict and without even thinking twice would have added it to the gore file as yet more proof that Medical Marihuana was indeed an instigator of violent crimes. Now more inquiry was needed. HOWEVER, the problem was that as more inquiries were made, fewer and fewer gore file cases could be found.

The following Newspaper articles serve as a good example of the problems they now faced. One can almost see these poor Narc's longing for the good old days when anything and everything could be quoted.


<!- =========================================== -->
---
EXAMPLES OF FALSE NEWSPAPER REPORTS:
The following (dealing with a false marijuana seizure in Texas) is given as example:
TREASURY DEPARTMENT
BUREAU OF NARCOTICS
SAN ANTONIO, TEXAS
August 8, 1936
Re: Circular Letter No. 354 - Marihuana seizures.
Commissioner of narcotics,
Washington, D.C.
Dear Sir:
Reference is made to your letter of July 31, 1936, requesting that a Form 167 be submitted to cover a seizure of marihuana report in the Dallas paper to have been made on June 25, 1936.

You will find attached hereto a copy of a letter addressed to this office by Narcotic Agent Kenneth C. Rudd advising that no such seizure was made, and that the newspaper story was false.
Respectfully,
(signed) James J. Biggins,
District Supervisor,
District No. 12.
Yes, indeed, one can almost find pity for those poor Narc's.


<!- =========================================== -->
---
LOCAL POLICE AND DISINFORMATION :
But if one thinks that the Newspaper reports were bad, just look at the stories being told local police officials. Their whoppers were so big that one would think they were working for the city of San Jose. Here in the interest of brevity, we will present the documentation without museum comment.

WARNING: Due to the nature of the documentation, expect somewhat longer download times, also note that most actual documents have been doctored for quicker download times. If need for historical purposes, contact the museum for actual computer scans.

And remember, these are but some of the investigations (the ones we've been able to come across) out of the many, many others that must have taken place. Again, one can almost feel sorry for the evil narc's. But in any case, the "Holiday of Horror's Affair", surly must be seen as a major milestone within the Reefer Madness Era.



---




WANT TO KNOW MORE:
=====================
Due to space / download time considerations, only selected materials are displayed. If you would like to obtain more information, feel free to contact the museum. All our material is available (at cost) on CD-Rom format.
CONTACT PAGE
---
---