REEFER MADNESS

ANSLINGER'S GORE FILE
GORE FILE CASE INVESTIGATIONS
DURING THE REEFER MADNESS ERA
---
THE AARON WIGGINS CASE
<!- ============================================ -->
---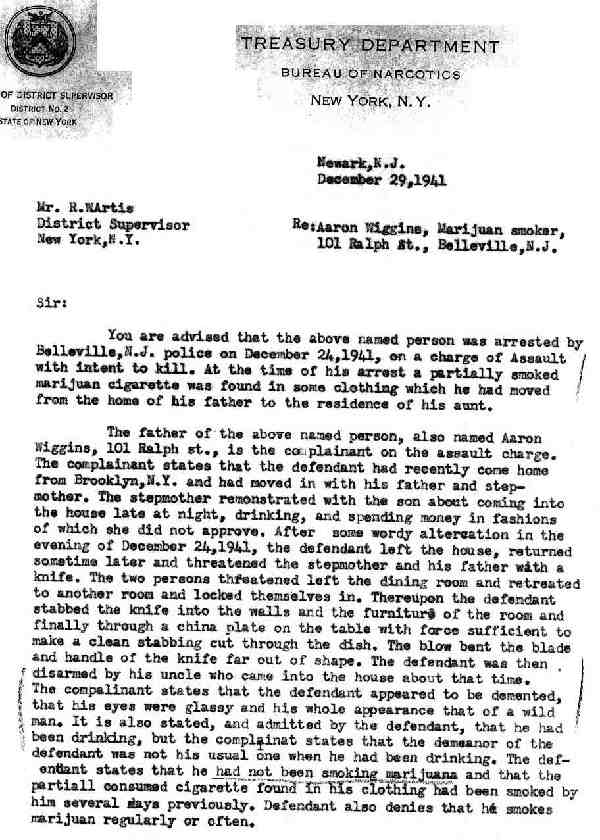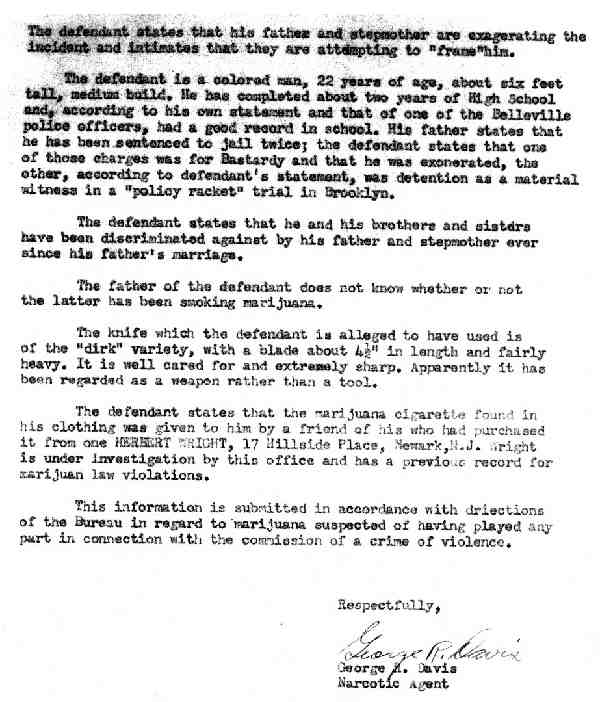 Treasury Department
Bureau of Narcotics
New York, N.Y.

Office of district Supervisor
District No. 2
State of New York

Newark, N.J.
December 29, 1941
Re: Aaron Wiggins, Marijuana smoker,
101 Ralph St., Belleville, N.J.

Mr. H.W. Artis
District Supervisor
New York, N.Y.

Sir:
You are advised that the above named person was arrested by Belleville, N.J. police on December 24, 1941, on a charge of Assault with intent to kill. At the time of his arrest a partially smoked ,marijuan cigarette was in some clothing which he had moved from the home of his father to the residence of his aunt.

The father of the above named person, also named Aaron Wiggine, 101 Ralph st., is the complainant on the assault charge. The complainant states that the defendant had recently come home from Brooklyn, N.Y. and had moved in with his father and stepmother. The stepmother remonstrated with the son about coming into the house late at night, drinking, and spending money in fashions of which she did not approve. After some wordy alterations in the evening of December 24, 1941, the defendant left the house, returned sometime later and threatened the stepmother and his father with a knife. The two persons threatened left the dining room and retreated to another room and locked themselves in. Thereupon the defendant stabbed the knife into the walls and the furniture of the room and finally through a china plate on the table with force sufficient to make a clean stabbing cut through the dish. The blow bent the blade and handle of the knife far out of shape. The defendant was then disarmed by his uncle who came into the house about that time. The compliant states that the defendant appeared to be demented, that his eyes were glassy and his whole appearance that of a wild man. It is also stated, and admitted by the defendant, that he had been drinking, but the complainat states that the demeanor of the defendant was not his usual one when he had been drinking. The defendant states that he had not been smoking marijuana and that the partiall consumed cigarette found inhis clothing had been smoked by him several days previously. Defendant also denies that he smokes marijuana regularly or often.

Page 2
The defendant states that his father and stepmother are exaggerating the incident and intimates that they are attempting to ""frame" him.

The defendant is a colored man, 22 years of age, about six feet tall, medium build. He has completed about two years of High School and, according to his own statement and that of one of the Belleville police officers, had a good record in school. His father states that he has been sentenced to jail twice; the defendant states that one of those charges was for Bastardy and that he was exonerated, the other, according to defendant's statement, was detention as a material witness in a "policy racket" trial in Brooklyn.

The defendant states that he and his brothers and sisters have been discriminated against by his father and stepmother ever since his father's marriage.

The father of the defendant does not know whether or not the latter has been smoking marijuana.

The knife which the defendant is alleged to have used is of the "dirk" variety, with a blade about 4 ½" in length and fairly heavy. It is well cared for and extremely sharp. Apparently it has been regarded as a weapon rather than a tool.

The defendant states that the marijuana cigarette found in his clothing was given to him by a friend of his who had purchased it from one HERBERT WRITE, 17 Hillside Place, Newark, N.J. Wright is under investigation by this office and has a previous record for marijuan law violations.

This information is submitted in accordance with directions of the Bureau in regard to marijuana suspected of having played any part in connection with the commission of a crime of violence.
Respectfully,

George R. Davis
Narcotic Agent

<!- ============================================ -->
---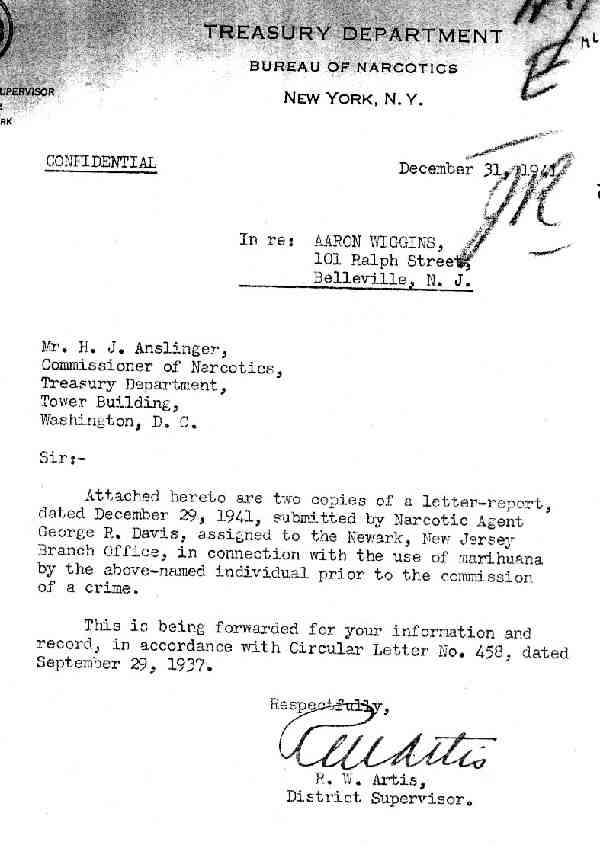 Treasury Department
Bureau of Narcotics
New York, N.Y.

Office of district Supervisor
District No. 2
State of New York
CONFIDENTIAL
December 31, 1941

In re: AARON WIGGINS,
101 Ralph Street,
Belleville, N.J.

Mr. H.J. Anslinger,
Commissioner of Narcotics,
Treasury Department,
Tower Building,
Washington, D.C.

Sir: --
Attached hereto are two copies of a litter-report, dated December 29, 1941, submitted by Narcotic Agent George R. Davis, assigned to the Newark, New Jersey Branch Office, in connection with the use of marihuana by the above-named individual prior to the commission of a crime.

This is being forwarded for your information and record, in accordance with Circular Letter No. 458, dated September 29, 1937.
Respectfully,

R.W. Artis,
District Supervisor,

<!- ============================================ -->
---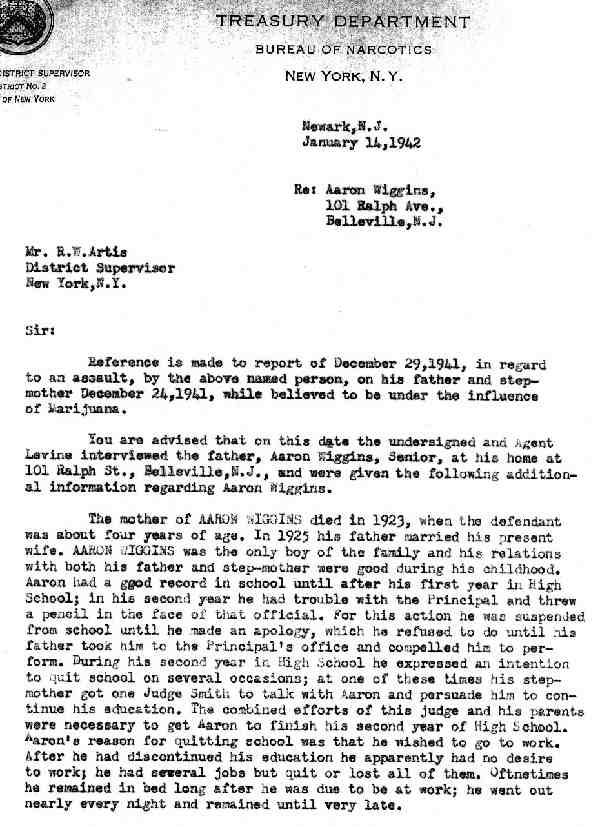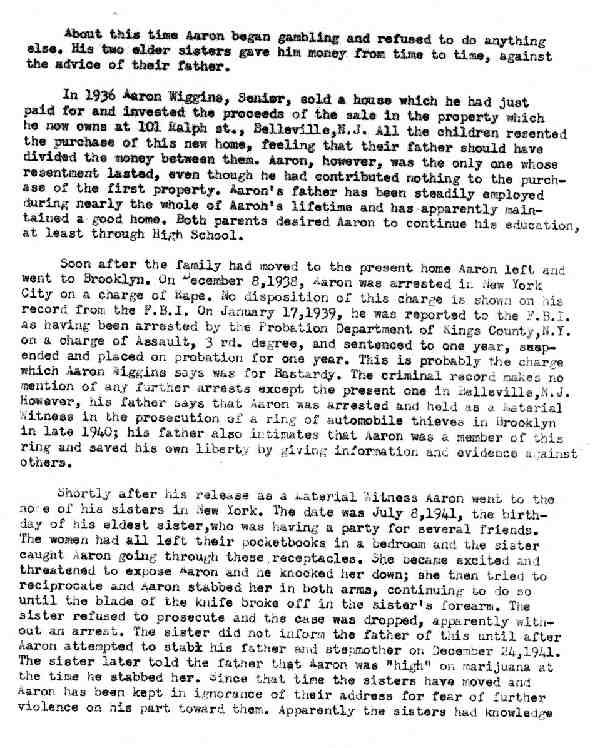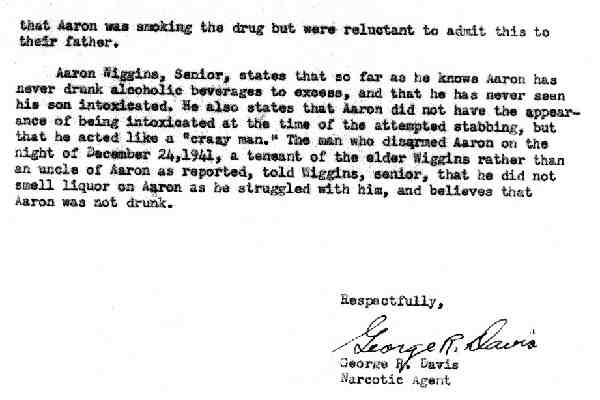 Treasury Department
Bureau of Narcotics
New York, N.Y.
Office of district Supervisor
District No. 2
State of New York
Newark, N.J.
January 14, 1942

Re: Aaron Wiggins,
101 Ralph Ave.,
Belleville, N.J.

Mr. R.W. Artis
District Supervisor
New York, N.Y.

Sir:
Reference is made to report of December 29, 1941, in regard to an assault, by the above named person, on his father and stepmother December 24, 1941, while believe to be under the influence of Marijuana.

You are advised that on this date the undersigned and Agent Levine interviewed the father, Aaron Wiggins, Senior, at his home at 101 Ralph St., Belleville, N.J., and were given the following additional information regarding Aaron Wiggins.

The mother of AARON WIGGINS died in 1923, when the defendant was about four years of age. In 1925 his father married his present his present wife. AARON WIGGINS was the only boy of the family and his relations with both his father and step-mother were good during his childhood. Aaron had a good record in school until after his first year in High School; in his second year he had trouble with the Principal and threw a pencil in the face of that official. For this action he was suspended from school until he made an apology, which he refused to do until his father took him to the Principal's office and compelled him to perform. During his second year in High School he expressed an intention to quit school on several occasions; at one of these times his stepmother got one Judge Smith to talk with Aaron and persuade him to continue his education. The combined efforts of this judge and his parents were necessary to get /Aaron to finish his second year of High School. Aaron's reason for quitting school was that he wished to go to work. After he had discontinued his education he apparently had no desire to work; he had several jobs but quit or lost all of them. Oftnetimes he remained in bed long after he was due to be at work; he went out nearly every night and remained until very late.

Page 2
About this time Aaron began gambling and refused to do anything also. His two elder sisters gave him money from time to time, against the advice of their father.

In 1936 Aaron Wiggins, Senior, sold a house which he had just paid for and invested the proceeds of the sale in the property which he now owns at 101 Ralph st., Belleville, N.J. All the children resented the purchase of this new home, feeling that their father should have divided the money between them. Aaron, however, was the only one whose resentment lasted, even though he had contributed nothing to the purchase of the first property. Aaron's father has been steadily employed during nearly the whole of Aaron's lifetime and has apparently maintained a good home. Both parents desire Aaron toe continue his education, at least through High School.

Soon after the family had moved to the present home Aaron left and went to Brooklyn. On December 8, 1938, Aaron was arrested in New York City on a charge of Rape. No disposition of this charge is shown on his record from the F.B.I. On January 17, 1939, he was reported to the F.B.I. as having been arrested by the Probation Department of Kings County, N.Y. on a charge of Assault, 3rd degree, and sentenced to one year, suspended and placed on probation for one year. This is probably the charge which Aaron Wiggins says was for Bastardy. The criminal record makes no mention of any further arrests except the present one in Belleville, N.J. However, his father says that Aaron was arrested and held as a material witness in the prosecution of a ring of automobile thieves in Brooklyn in late 1940; his father also intimates that Aaron was a member of this ring and saved his own liberty by giving information and evidence against others.

Shortly after his release as a material witness Aaron went to the home of his sisters in New York. The date was July 8, 1941, the birthday of his eldest sister, who was having a party for several friends. The women had all left their pocketbooks in a bedroom and the sister caught Aaron going through these receptacles. She became excited and threatened to expose Aaron and he knocked her down; she then tried to reciprocate and Aaron stabbed her in both arms, continuing to do so until the blade of the knife broke off in the sister's forearm. The sister refused to prosecute and the case was dropped, apparently without an arrest. The sister did not inform the father of this until after Aaron attempted to stab his father and stepmother on December 24, 1941. the sister later told the father that Aaron was "high" on marijuana at the time he stabbed her. Since that time the sisters have moved and Aaron has been kept in ignorance of there address for fear of further violence on his part toward them. Apparently the sisters had knowledge

Page 3
That Aaron was smoking the drug but were reluctant to admit this to their father.

Aaron Wiggins, Senior, states that so far as he knows Aaron has never drunk alcoholic beverages to excess, and that he has never seen his son intoxicated. He also state that Aaron did not have the appearance of being intoxicated at the time of the attempted stabbing, but that he acted like a "crazy man." The man who disarmed Aaron on the night of December 24, 1941, a teneant of the elder Wiggins rather than an uncle of Aaron as reported, told Wiggins, senior, that he did not smell liquor on Aaron as he struggled with him, and believed that Aaron was not drunk.
Respectfully,

George R. Davis
Narcotic Agent

<!- ============================================ -->
---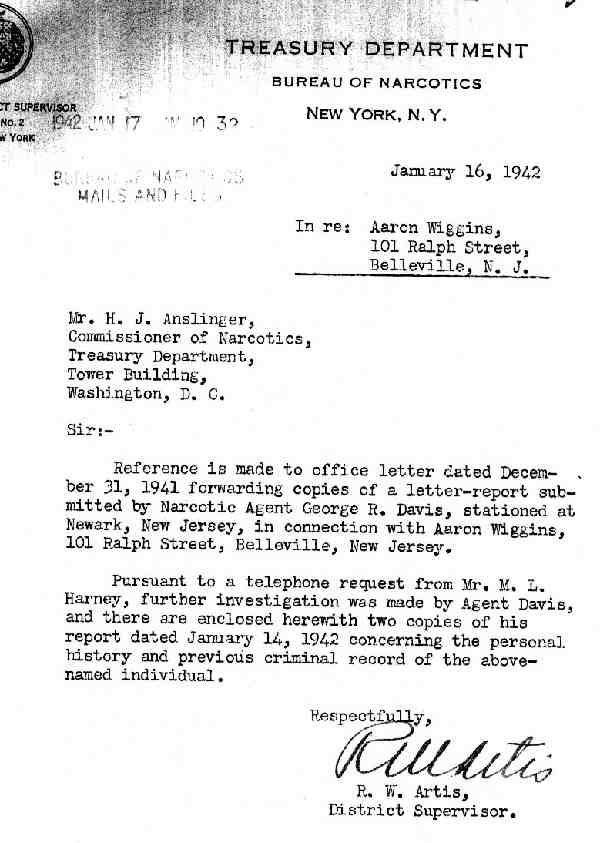 --------------------------------------------------- Treasury Department
Bureau of Narcotics
New York, N.Y.
Office of district Supervisor
District No. 2
State of New York
January 16, 1942

Re: Aaron Wiggins,
101 Ralph Ave.,
Belleville, N.J.

Mr. H. J. Anslinger,
Commissioner of Narcotics,
Treasury Department,
Tower Building,
Washington, D.C.

Sir: -
Reference is made to office letter dated December 31, 1941 forwarding copies of a letter-report submitted by Narcotic Agent George R. Davis, stationed at Newark, New Jersey, in connection with Aaron Wiggins, 101 Ralph Street, Belleville, New Jersey.

Pursuant to a telephone request from Mr. M.L. Harney, further investigation was made by Agent Davis, and there are enclosed herewith two copies of his report dated January 14, 1942 concerning the personal history and previous criminal record of the above-named individual.
Respectfully,

R.W. Artis,
District Supervisor.


---
ANSLINGER'S GORE FILE INVESTIGATIONS
BACK
---




WANT TO KNOW MORE:
=====================
Due to space / download time considerations, only selected materials are displayed. If you would like to obtain more information, feel free to contact the museum. All our material is available (at cost) on CD-Rom format.
CONTACT PAGE


---