REEFER MADNESS

ANSLINGER'S GORE FILE
GORE FILE CASE INVESTIGATIONS
DURING THE REEFER MADNESS ERA
---
THE ROBERT IRWIN CASE
<!- ============================================ -->
---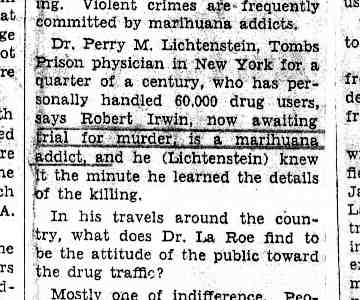 <!- ============================================ -->


TRIPLE MURDER
Name: - Robert Irwin - Date: - June 26, 1937 - Location: - New York City


What the Narc's were claiming
There are probably few in this audience who have not read about the gruesome triple murder by one Robert Irwin last Easter, when he strangled a young woman model and her mother, and killed a boarder with an ice pick. When he was finally caught, they discovered a box containing scores of marijuana cigarette butts under his bed. -- New York Herald Tribune Forum 1938

The press is still publishing stories and pictures of Robert Irwin of New York City who last Easter strangled a young model and her mother and then killed a boarder in the house with an ice-pick. He had set out to kill the model's sister and not finding her had attacked her family. When he was arrested the police found a box filled with cigaret butts under his bed. -- The DAILY OKLAHOMAN Nov. 8, 1938

Newspaper accounts: --- No mention of Medical Marihuana is made
AppletonPostCrescent
[S-1937-06-26 pg.1 ] "Robert Irwin, Suspect in Gedeon Murders, Is Sought By Officials at Cleveland"
ClearfieldProgress
[S- 1937-06-29 pp.1] "Scullery Girl Comes From Here Kitchen to Pot of Gold In New York; Gets Gedeon Reward"
Hammond Times
[S-1937-06-28 pp.1] Triple Slayer Gives Self up in Chicago"
Monessen Daily Independent
[S- 1938-10-26 pp.2 ] Sensational Irwin Murder Case Trial Opens"
Oshkosh Northwestern
[S-1937-04-08 pp. 2 ] "Search for slayer of three turns to Pocono Mountains"
[S-1938-11-15I pp.7] "Irwin Faces Life Prison Term for Killing of Three"
Sheboygan Press
[S-1938-11-15 ] Robert Irwin Slated For Life Imprisonment"

<!- ============================================ -->
---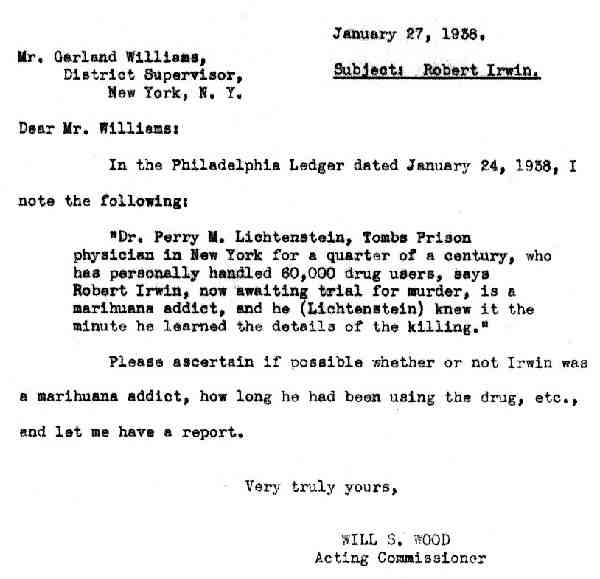 January 27, 1938.
Subject: Robert Irwin.
Mr. Garland Williams:
District Supervisor,
Now York, N. Y.

Dear Mt. Williams:
In the Philadelphia Ledger dated January 24, 1938, I note the following:

"Dr. Perry M Lichtenstein, Tombs Prison physician in Now York for a quarter of a century, who has personally handled 60,000 drug users, says Robert Irwin, now awaiting trial for murder, is a marihuana addict, and he (Lichtenstein) know it the minute he learned the details of the killing."

Please ascertain if possible whether or not Irwin was a marihuana addict, how long he had been using the drug, etc., and lot me have a report.
Very truly yours,

WILL S. WOOD
Acting Commissioner

<!- ============================================ -->
---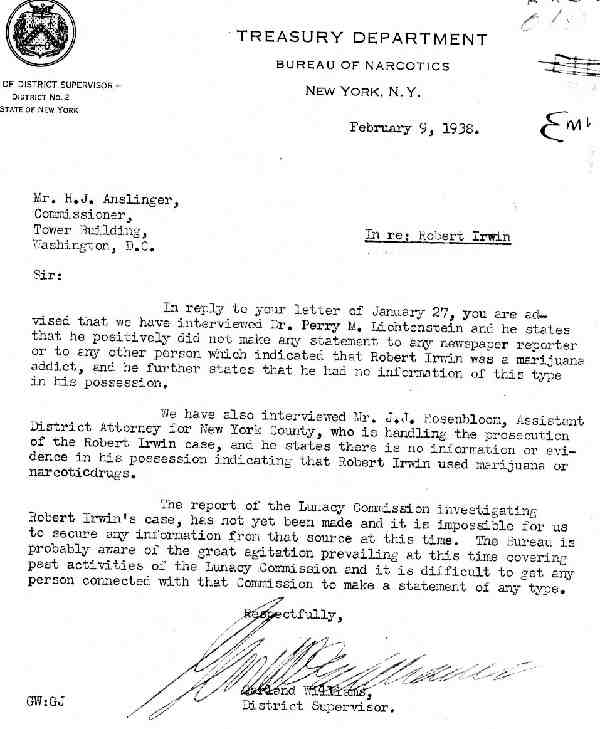 TREASURY DEPARTMENT
BUREAU OF NARCOTICS
NEW YORK, N.Y.

OFFICE OF DISTRICT SUPERVISOR
DISTRICT No. 2
STATE OF NEW YORK
February 9, 1938.

Mr. H.J. Anslinger,
Commissioner,
Tower Building,
Washington, D.C. In re: Robert Irwin

Sir:
In reply to your letter of January 27, you are advised that we have interviewed Dr. Perry M. Lichtenstein and he states that he positively did not make any statement to any newspaper reporter or to any other person which indicated that Robert Irwin was a addict, and he further states that he had no information of this type in his possession.

We have also interviewed Mr. J.J. Rosenbloom, Assistant District Attorney for New York County, who is handling the prosecution of the Robert Irwin case, and he states there is no information or evidence in his possession indicating that Robert Irwin used marijuana or narcotic drugs.

The report of the Lunacy Commission investigating Robert Irwin's case, has not yet been made and it is impossible for us to secure any information from that source at this time. The Bureau is probably aware of the great agitation prevailing at this time covering past activities of the Lunacy Commission it is difficult to get any person connected with that Commission to make a statement of any type.
Respectfully,

Carland Williams,
District Supervisor.


---
ANSLINGER'S GORE FILE INVESTIGATIONS
BACK
---




WANT TO KNOW MORE:
=====================
Due to space / download time considerations, only selected materials are displayed. If you would like to obtain more information, feel free to contact the museum. All our material is available (at cost) on CD-Rom format.
CONTACT PAGE


---