REEFER MADNESS

ANSLINGER'S GORE FILE
GORE FILE CASE INVESTIGATIONS
DURING THE REEFER MADNESS ERA
---
THE JACOB TRATUREK CASE
---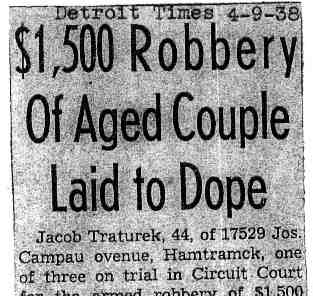 ---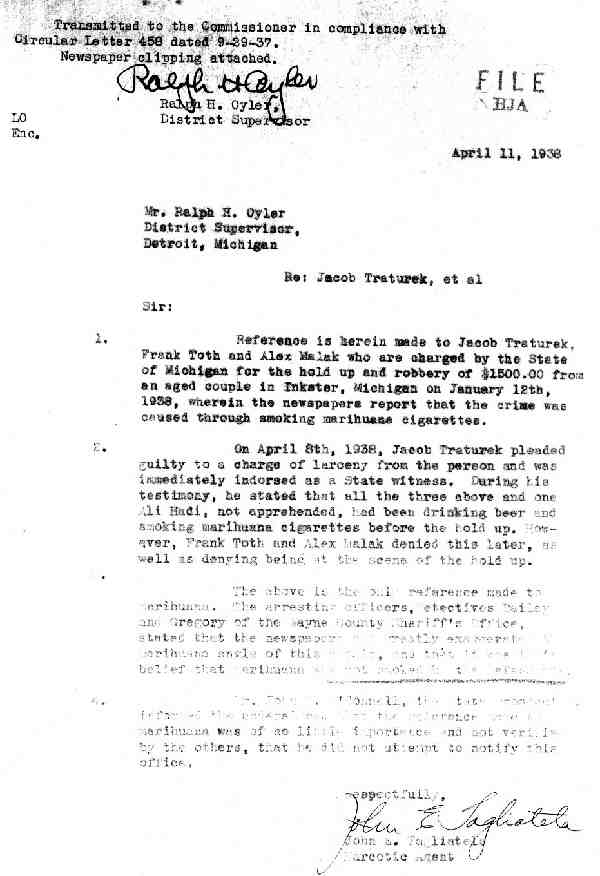 PERSONAL
Transmitted to the commissioner in Compliance with Circular Letter 458 dated 9-29-37.
Newspaper clipping attached.

Ralph H. Oyler,
District Supervisor
April 11, 1938

Mr. Ralph H. Oyler
District Supervisor,
Detroit, Michigan
Re: Jacob Traturek, et al

Sir:
1 Reference is herein made to Jacob Traturek, Frank Toth and Alex Malak who are charged by the State of Michigan for the hold up and robbery of $1500.00 from an aged couple in Inkster, Michigan on January 12th, 1938, wherein the newspapers report that the crime was caused through smoking marihuana cigarettes.

2 On April 8th, 1938, Jacob traturek pleaded guilty to a charge of larceny from the person and was immediately indorsed as a State witness. During his testimony, he stated that all the three above and one Ali Hadi, not apprehended, had been drinking beer and smoking marihuana cigarettes before the hold up. However, Frank Toth and Alex Malak denied this later, as well as denying being at the scene of the hold up.

3 The above is the only reference made to Marihuana. The arresting officers, Detectives Dailey and Gregory of the Wayne County Sheriff's Office, stated that the newspaper and greatly exaggerated the marihuana angle of this affair, and that it was their belief that marihuana was not smoked by the defendants.

4 Dr. John ?. O'Connell, the state prosecutor, marihuana was of so little importance and not verified by the others, that he did not attempt to notify this office.
Respectfully,

John E. Tagliatela
Narcotic Agent


---
ANSLINGER'S GORE FILE INVESTIGATIONS
BACK
---




WANT TO KNOW MORE:
=====================
Due to space / download time considerations, only selected materials are displayed. If you would like to obtain more information, feel free to contact the museum. All our material is available (at cost) on CD-Rom format.
CONTACT PAGE


---