REEFER MADNESS

ANSLINGER'S GORE FILE
GORE FILE CASE INVESTIGATIONS
DURING THE REEFER MADNESS ERA
---
THE William Burenett CASE
---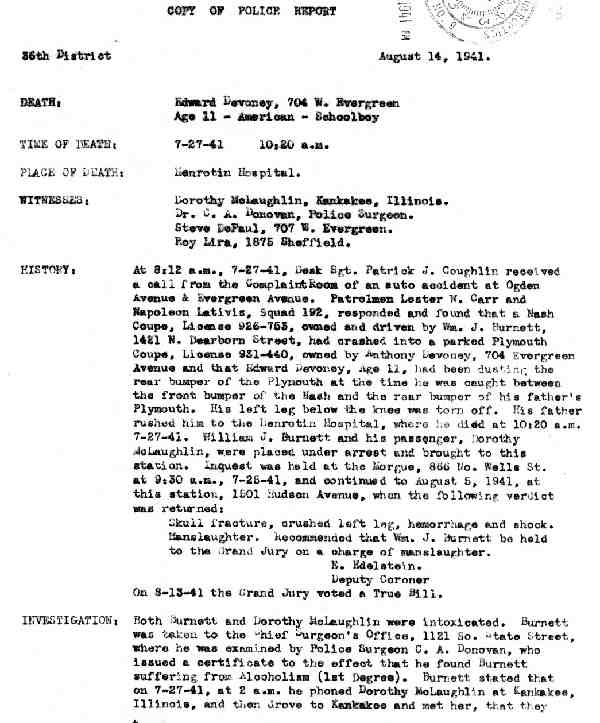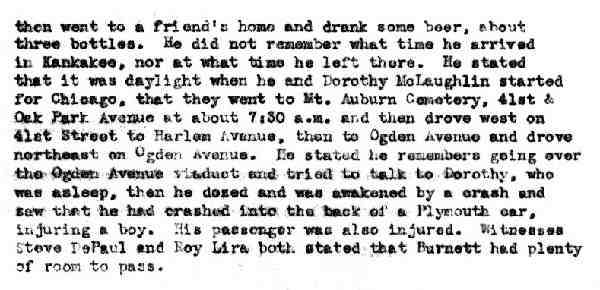 COPY OF POLICE
36th District
August 14, 1941.
DEATH,
Edward Devoney, 704 W. Evergreen
Age 11 Ė American - Schoolboy
TIME OF DEATH:
7-27-41 10:20 a.m.
PLACE OF DEATH,
Henrotin Hospital
WITNESSES:
Dorothy Melaughlin, Kankakee, Illinois.
Dr. C.A. Donovan, Police Surgeon.
Steve DePaul, 707 W. Evergreen.
Roy Lira, 1875 Sheffield.
HISTORY: At 8:12 a.m., 7-27-41, Desk Sgt. Patrick J. Coughlin received a call from the Complaint Room of an auto accident at Ogden Avenue & Evergreen Avenue. Patrolmen Lester W. Carr and Napoleon Lativis, Squad 192, responded and found that a Nash Coupe, License 926-755, owned and driven by Wm. J. Burnett, 1421 N. Dearborn Street, had crashed into a parked Plymouth Coupe, License 931-440, owned by Anthony Devoney, 704 Evergreen Avenue and that Edward Devoney, Age 11, had been dusting the rear bumper of the Plymouth at the time he was caught between the front bumper of the Nash and the rear bumper of his fatherís Plymouth. His left leg below the knew was torn off. His father rushed him to the Henrotin Hospital, where he died at 10:20 a.m. 7-27-10. William J. Burnett and his passenger, Dorothy McLaughlin, were placed under arrest and brought to this station. Inquest was held at the Morgue, 866 No. Wells St. at 9:30 a.m., 7-26-41, and continued to August 5, 1941, at this station, 1501 Hudson Avenue, when the following verdict was returned:

Skull fracture, crushed left leg, hemorrhage and shock. Manslaughter. Recommended that Wm. J. Burnett be held to the Grand Jury on a charge of manslaughter.
E. Edelstein.
Deputy Coroner
On 8-13-41 the Grand Jury voted a True Bill.

INVESTIGATION: Both Burnett and Dorothy McLaughlin were intoxicated. Burnett was taken to the Chief Surgeonís Office, 1121 so. State Street, where he was examined by Police Surgeon C.A. Donovan, who issued a certification to the effect that he found Burnett suffering from Alcoholism (1st Degree). Burnett stated that on 7-27-41, at 2 a.m. he phoned Dorothy McLaughlin at Kankakee, Illinois, and then drove to Kankakoo and met her, that they then want to a friendís home and drank some beer, about three bottles. He did not remember what time he left there. He stated that it was daylight when he and Dorothy McLaughlin started for Chicago, that they went to Mt. Auburn Cemetery, 41st & Oak Park Avenue at about 7:30 a.m. and then drove west on 41st Street to Harlem Avenue, then to Ogden Avenue and drove northeast on Ogden Avenue. He stated he remembers going over the Ogden Avenue viaduct and tried to talk to Dorothy, who was asleep, then he dozed and was awakened by a crash and saw that he had crashed into the back of a Plymouth car, injuring a boy. His passenger was also injured. Witnesses Steve DePaul and Roy Lira both stated that Burnett had plenty of room to pass.



---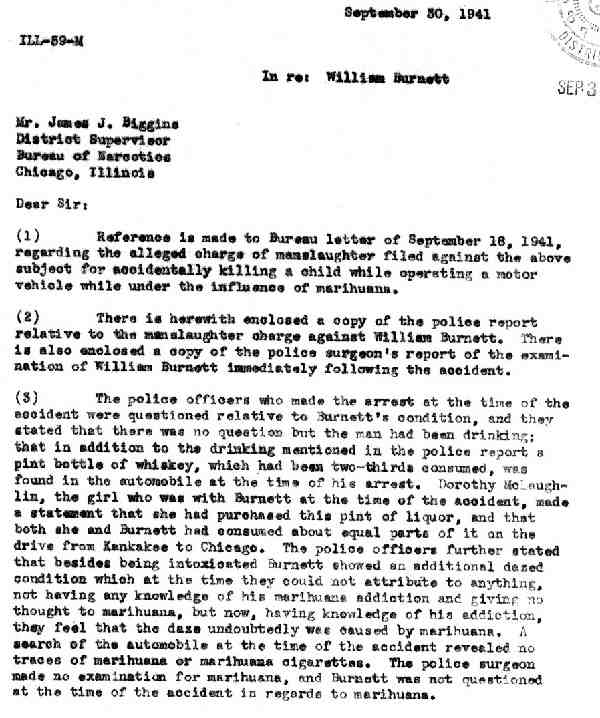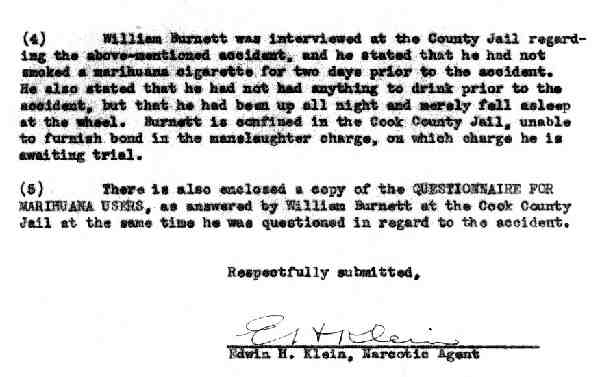 September 30, 1941
ILL-59-M
In re: William Burnett

Mr. James J. Biggins
District Supervisor
Bureau of Narcotics
Chicago, Illinois

Dear Sir:
(1) Reference is made to Bureau letter of September 18, 1941, regarding the alleged charged of manslaughter filed against the above subject for accidentally killing a child while operating a motor vehicle while under the influence of marihuana.

(2) There is herewith enclosed a copy of the police report relative to the manslaughter charge against William Burnett. There is also enclosed a copy, of the police surgeon's report of the examination of William Burnett immediately following the accident.

(3) The police officers who made the arrest at the time of the accident were questioned relative to Burnettís condition, and they stated that there was no question but the man had been drinking; that in addition to the drinking mentioned in the police report a pint bottle of whiskey, which had been two-thirds consumed, was found in the automobile at the time of his arrest. Dorothy McLaughlin, the girl who was with Burnett at the time of the accident, made a statement that she had purchased this pint of liquor, and that both she and Burnett had consumed about equal parts of it on the drive from Kankakee to Chicago. The police officers further stated that besides being interested Burnett showed an additional dazed condition which at the time they could not attribute to anything, not having any knowledge of his marihuana addition and giving no thought to marihuana, but now, having knowledge of his Addition, they feel that the daze undoubtedly was caused by marihuana. A search of the automobile at the time of the accident revealed no traces or marihuana or marihuana cigarettes. The police surgeon made no examination for marihuana, and Burnett was not questioned at the time of the accident in regards to marihuana.

Page 2

(4) William Burnett was interviewed at the County Jail regarding the above-mentioned accident, and he stated that he had no smoked a marihuana cigarette for tow days prior to the accident . He also stated tat he had not had anything to drink prior to the accident, but that he had been up all night and merely fell asleep at the wheel. Burnett is confined in the Cook County Jail, unable to furnish bond in the manslaughter charge, on which charge he is awaiting trial.

(5) There is also enclosed a copy of the questionnaire FOR MARIHUANA USERS, AS ANSWERED BY William Burnett at the Cook County Jail at the same time he was questioned in regard to the accident.
Respectfully submitted,

Edwind H. Klein, Narcotic Agent
Encls.


---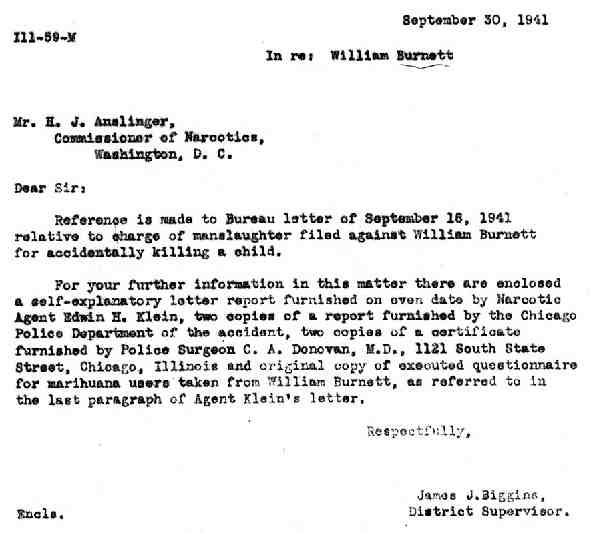 September 30, 1941
Ill-59-M
In re: William Burnett

Mr. H.J. Anslinger,
Commissioner of Narcotics,
Washington, D.C.

Dear Sir:
Reference is made to Bureau letter or Sep 18, 1941 relative to charge of manslaughter filed against William Burnett for accidentally killing a child.

For your further information in is matter there are enclosed a self-explanatory letter report furnished on even date by Narcotics Agent Edwin H. Klein, two copies of a report furnished by the Chicago Police Department of the accident, two copies of a certificate furnished by Police Surgeon C. A. Donovan, M.D., 1121 South State Street, Chicago, Illinois and original copy of executed questionnaire for marihuana users taken from William Burnett, as referred to in the last paragraph of Agent Kleinís letter.
Respectfully,

James J. Biggins,
District Supervisor.

---


COPY
TO WHOM IT MAY CONCERN,
This certified that I have examined William Burenett and found him suffering from alcoholism (1st Degree).
C.A. Donovan, M.D.
Police Surgeon
1121 So. State St.


---
ANSLINGER'S GORE FILE INVESTIGATIONS
BACK
---




WANT TO KNOW MORE:
=====================
Due to space / download time considerations, only selected materials are displayed. If you would like to obtain more information, feel free to contact the museum. All our material is available (at cost) on CD-Rom format.
CONTACT PAGE


---