REEFER MADNESS

ANSLINGER'S GORE FILE
GORE FILE CASE INVESTIGATIONS
DURING THE REEFER MADNESS ERA
---
---
FALSE NEWSPAPER REPORT
DALLAS MORNING NEWS - Dec. 21, 1936
---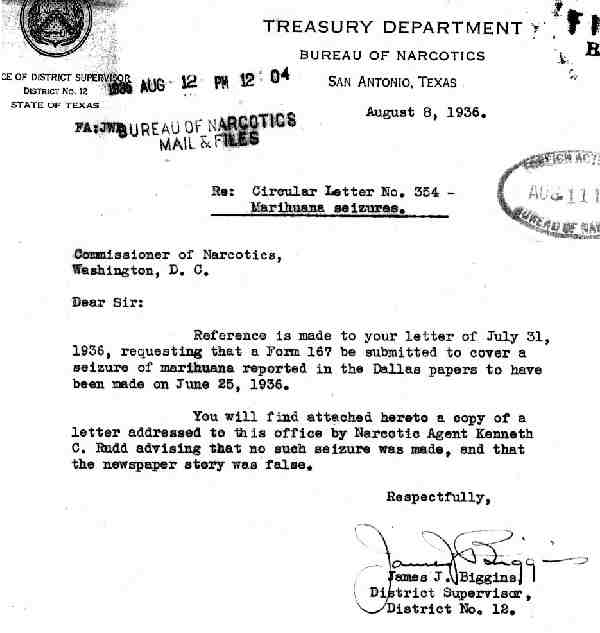 TREASURY DEPARTMENT
BUREAU OF NARCOTICS
SAN ANTONIO, TEXAS
August 8, 1936
Re: Circular Letter No. 354 - Marihuana seizures.
Commissioner of narcotics,
Washington, D.C.
Dear Sir:
Reference is made to your letter of July 31, 1936, requesting that a Form 167 be submitted to cover a seizure of marihuana report in the Dallas paper to have been made on June 25, 1936.

You will find attached hereto a copy of a letter addressed to this office by Narcotic Agent Kenneth C. Rudd advising that no such seizure was made, and that the newspaper story was false.
Respectfully,
(signed) James J. Biggins,
District Supervisor,
District No. 12.



---
ANSLINGER'S GORE FILE INVESTIGATIONS
BACK
---




WANT TO KNOW MORE:
=====================
Due to space / download time considerations, only selected materials are displayed. If you would like to obtain more information, feel free to contact the museum. All our material is available (at cost) on CD-Rom format. Please contact: antique_andy@catholic.org


---