REEFER MADNESS

ANSLINGER'S GORE FILE
GORE FILE CASE INVESTIGATIONS
DURING THE REEFER MADNESS ERA
---
---
THE JACK MORGAN CASE -- MURDER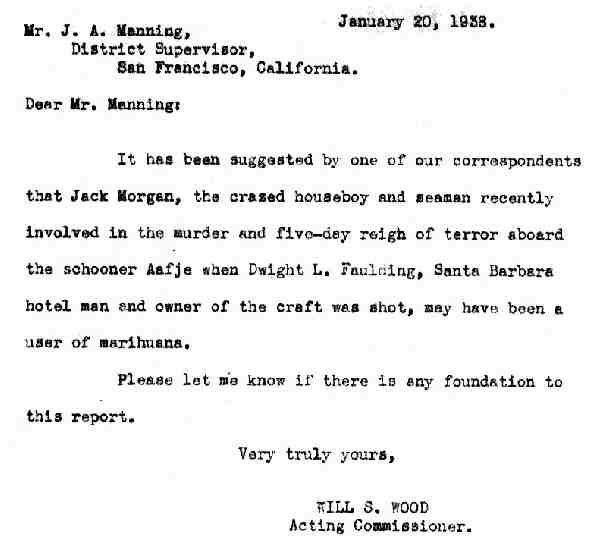 January 20, 1938.
Nar:C
Mr. J. A. Manning,
District Supervisor,
San Francisco, California.

Dear Mr. Manning:
It has been suggested by one of our correspondents that Jack Morgan, the crazed houseboy and seaman recently involved in the murder and five-day reign of terror aboard the schooner Aafje when Dwight L. Faulding, Santa Barbara hotel man send owner of the craft was shot, may have been a user of marihuana.

Please let me know, if there is any foundation to this report.
Very truly yours,

Will S. Wood
Acting Commissioner.


---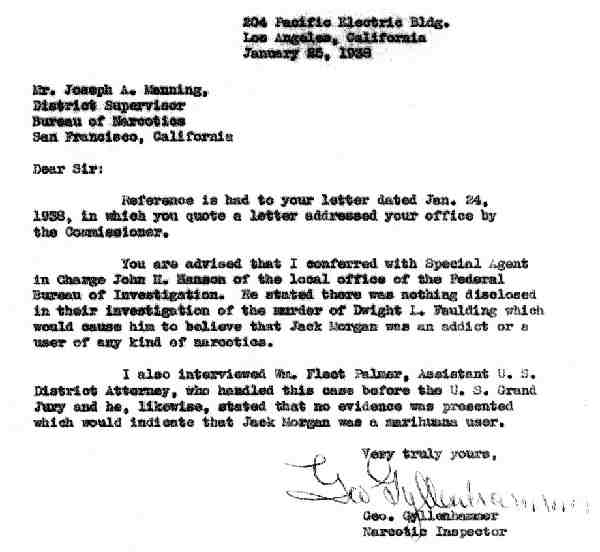 204 Pacific Electric bldg.
Los Angeles, California
January 25, 1938

Mr. Joseph A. Manning,
District Supervisor
Bureau of Narcotics
San Francisco, California

Dear Sir:
Reference in had to your letter dated Jan. 24, 1938, in which your quote a letter addressed your office by the Commissioner.

You are advised that I conferred with Special Agent in Charge John H. Hanson of the local office of the Federal Bureau of Investigation. He stated there was nothing disclosed in their investigation of the murder of Dwight L. Faulding which would cause him to believe that Jack Morgan was an addict or a user of any kind of narcotics

I so interviewed Wm. Fleet Palmer, Assistant U.S. district Attorney, who handled this case before the U.S. Grand Jury and he, likewise, stated that no evidence was presented which would indicate that Jack Morgan was a marihuana user.
Very truly yours,
Geo. Gyllenhammer
Narcotic Inspector

---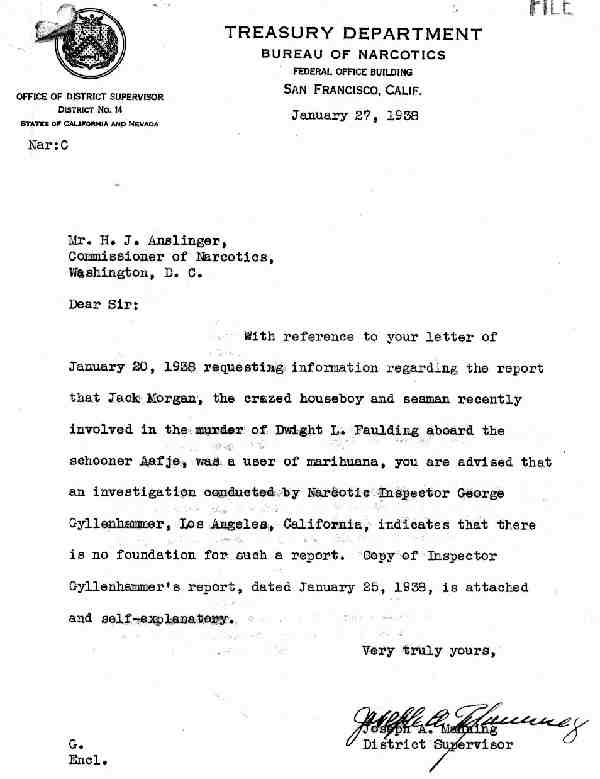 TREASURY DEPARTMENT
BUREAU OF NARCOTICS
FEDERAL OFFICE BUILDING
SAN FRANCISCO, CALIF.
January 27, 1938

OFFICE OF DISTRICT SUPERVISOR
DISTRICT No. 14
STATES OF CALIFORNIA AND NEVADA

Mr. H. J. Anslinger,
Commissioner of Narcotics,
Washington, D. C.

Dear Sir:
With reference to your letter of January 20, 1938 requesting information regarding the report that Jack Morgan, the crazed houseboy and seaman recently involved in the murder of Dwight L. Faulding aboard the schooner Aafje, was a user of marihuana, you are advised that an investigation conducted by Narcotic Inspector George Gyllenhammer, Los Angeles, California, indicates that there is no foundation for such a report. Copy of Inspector Gyllenhammer's report, dated January 25, 1938, is attached and self-explanatory.
Very truly yours,

Joseph A. Manning
District Supervisor



---
ANSLINGER'S GORE FILE INVESTIGATIONS
BACK
---




WANT TO KNOW MORE:
=====================
Due to space / download time considerations, only selected materials are displayed. If you would like to obtain more information, feel free to contact the museum. All our material is available (at cost) on CD-Rom format.
CONTACT PAGE


---