---
---
LESBIAN LOVE - WOMEN STABBED TO DEATH
Name: Miss. Frances Woods / Mrs. Maureen O'Shannon (Victim) Date: April 6, 1938 Location: Los Angeles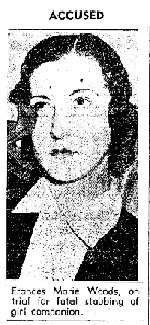 What the Narc's were claiming
1938 - F 28 Prostitute stabbed Mrs. M. O'Shannon for not cooperating Lesbian activities. -- Article by James C. Munch; "UN Bulletin on Narcotics"-1966 Issue 2

1938 - F. Wood - F - 28 - Prostitute stabbed Mrs. M, O'Shannon for not cooperating Lesbian activities. - Arrested -- 6th conference report - INEOA 1965

One of the places where marihuana is prevalent is Los Angeles, with its huge Mexican population, where there are numerous of robbery, holdup, suicide and murder directly traceable to the weed; one woman recently slashed another to death with a pocketknife merely because the victim had expressed disapproval of her friend's interest in marihuana. -- DESIGNS IN SCARLET By Courtney Ryley Cooper 1939



LOS ANGELES TIMES:--April 7, 1938 Pg. 2B
NURSE SEIZED IN STABBING
Waitress Near Death and Woman Held; Row Over marijuana


Near death in General Hospital from knife wounds suffered in a fight with another woman early yesterday, Mrs. Maureen O'Shannon, 33-year-old waitress, assuredly identified Miss Frances Woods, 25-year-old nurse, as her assailant. She told police that the fight started during an argument over marijuana cigarettes. Miss Woods, recently arrived in Los Angeles from Bakersfield, denied that she had attacked Mrs. O'Shannon.

Will Talk In Court "I will do my talking in court," she told questioning officers. According to Radio Officers Compton and Montgomery, Miss Woods was found standing near the form of the wounded woman at 640 East Twenty-eighth street. She assuredly admitted cutting Mrs. O'Shannon and produced a blood-smeared pocket knife, the police said. Later she denied the asserted confession, refused to explain the knife, the reason for her being at the scene or any details concerning the fracas.

Car Parked Near by Miss Wood's expensive car was parked near the scene of the stabbing. She had $180 in her purse. Three knives were in her possession. Miss. O'Shannon, who lived at 2108 South Maple avenue, was given slight chance for recovery.

Newspaper Accounts:
LOS ANGELES TIMES
[Apr 7, 1938. p. A2] Nurse Seized in Stabbing; Waitress Near Death and Woman Held; Row Over Marijuana
[Apr 16, 1938 p.6] Woman Dies Of Stabbing In Quarrel Over Marihuana Gore File
[Apr 19, 1938. p. A8] Nurse to Face Murder Charge; Woman Remanded to Jail Following Stabbing Inquest
[Apr 24, 1938. p. A2] "Slaying Charged"
[Apr 25, 1938. p. A10] "Nurse to Face Slaying charge"
[Jul 13, 1938. p. A2] "Nurse to Plead Self Defense"
[Jul 15, 1938. p. A1] (2 pgs)."Jury Discharged in Girl-Slaying Case"
[Jul 19, 1938. p. A1] Nurse Gets New Trial in Marihuana Slaying
[Aug 31, 1938. p. A8] Nurse to Face New Trial Today; Marihuana Slaying Case Slated for Second Hearing
[Sep 14, 1938 p.11] "Nurse Again Goes on Trial in Fatal Stabbing Case"
[Sep 15, 1938. p. A3] Dying Threat Told at Trial; Stabbing Victim's Wish to 'Get Even' With Nurse Recounted
[See Reefer Madness Newspaper Index pamphlet for more references]


---
POLICE OFFICE KILLED BY MARIHUANA ADDICT
Name: (Victim) Frank Sjolander Date: Dec 1, 1954 Location: Albuquerque, New Mexico


What the Narc's were claiming
1955 Albuquerque, New Mexico - Male With companion J. I. created disturbance in rooming house; they shot and killed policeman F. Sjolander who killed him at same time. I. escaped but caught; tried, guilty.

1955 - J. Spharr, - Albuquerque, New Mexico - M - With companion, J. Isted, created disturbance in rooming house; then shot and killed policeman, F. Sjolander, who killed Spharr same time. Isted escaped but caught; tried, guilty. - Life imprisonment -- 6th conference report - INEOA 1965

1955 - Albuquerque, New Mexico - killed him at same time. I. escaped but caught; tried, guilty. Life imprisonment -- Article by James C. Munch; "UN Bulletin on Narcotics"-1966 Issue 2

NEWSPAPER ACCOUNTS:
RENO EVENING GAZETTE - Reno, Nevada
[S-Dec 1, 1954 pg. 1] "Two Are Killed In Gun Battle"
INDIANA EVENING GAZETTE - Indiana, Pennsylvania
[S-Dec 1, 1954 pg. 16] "Albuquerque Cop slain, 2nd Serious"
[See Reefer Madness Newspaper Index pamphlet for more references]


---
WOMEN MURDERED - STABBED 35 TIMES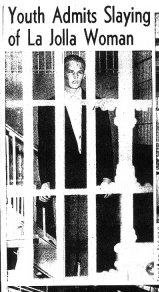 Name: Donald S. Crosby, (age 16) / Mrs. Ida C. Mackeown (Victim) Date: Dec 16, 1952 Location: La Jolla Ca.


What the Narc's were claiming
La Jolla, California - Male 16 Paroled juvenile delinquent, under influence smoking marihuana, murdered Mrs. I. KacKeown, 67, grandmother, inflicting 35 knife wounds. She called him marihuana user and threatened to call police. -- Article by James C. Munch; "UN Bulletin on Narcotics"-1966 Issue 2

1967 -Juvenile delinquent on parole, murdered 67-year old grandmother with 35 stab wounds, while under influence of marijuana. -- The Truth about Marijuana - STEPPING STONE to DESTRUCTION June 1967

? - D. Crosby, - La Jolla, Calif. - M - 16 - Paroled juvenile delinquent, under influence smoking marihuana, murdered Mrs. 1. MacKeown, 67, grandmother, inflicting 35 knife wounds; she called him marihuana user and threatened to call police. Arrested -- 6th conference report - INEOA 1965

NEWSPAPER ACCOUNTS:
LOS ANGLES TIMES
[**]- Dec. 16, 1952 pp 2 "Woman Artist Found Knifed to Death in La Jolla Home"
[**]- Dec 17, 1952 pp 2 "Blames Marijuana - Youth Tells How He Killed Artist"
[**]- Dec. 19, 1952 pp 26 "Murder Hearing Set in La Jolla Slaying"
REDLANDS DAILY FACTS - Redlands, California
[S-Dec 1, 1952 ] "16-Year-Old Youth Admits Killing San Diego Artist"
[S-Dec 17, 1952 ] "Youth Says He Was Doped When He Killed Artist"
[S-Mar 27, 1953 pg. 1] "Boy, 16, May Get Life For Stabbing"
[See Reefer Madness Newspaper Index pamphlet for more references]


---
YOUNG GIRL KILLED

Name: Pablo Rodriguez Date: Dec 8, 1943 Location: Laredo Texas


What the Narc's were claiming
Dec. 8, 1943 life imprisonment was decreed for Pablo Rodriguez of Laredo, Tex., when he was convicted of whipping to death his 10-year-old niece, Guadalupe Flores. She and another niece had been kept in the back yard of the Rodriguez residence in a doghouse-like shack where they were sometimes chained. When Rodriguez was arrested, marihuana cigarettes were found on his person. It was the opinion of officials that he had been a marihuana smoker. -- "UN Bulletin on Narcotics"-1966 Issue 2

NEWSPAPER ACCOUNTS: [Marihuana not mentioned]
RENO EVENING GAZETTE - Reno, Nevada
[S-Nov. 11, 1943 pg. 1] "Crowd Attacks Slayer's Home"


---
TRIPLE MURDER

Name: Robert Irwin Date: June 26, 1937 Location: New York City


What the Narc's were claiming
There are probably few in this audience who have not read about the gruesome triple murder by one Robert Irwin last Easter, when he strangled a young woman model and her mother, and killed a boarder with an ice pick. When he was finally caught, they discovered a box containing scores of marijuana cigarette butts under his bed. -- New York Herald Tribune Forum 1938

The press is still publishing stories and pictures of Robert Irwin of New York City who last Easter strangled a young model and her mother and then killed a boarder in the house with an ice-pick. He had set out to kill the model's sister and not finding her had attacked her family. When he was arrested the police found a box filled with cigaret butts under his bed. -- The DAILY OKLAHOMAN Nov 8, 1938

NEWSPAPER ACCOUNTS: --- No mention of Medical Marihuana is made
APPLETONPOSTCRESCENT
[S-1937-06-26 pg.1 ] "Robert Irwin, Suspect in Gedeon Murders, Is Sought By Officials at Cleveland"
CLEARFIELDPROGRESS
[S- 1937-06-29 pp.1] "Scullery Girl Comes From Here Kitchen to Pot of Gold In New York; Gets Gedeon Reward"
HAMMOND TIMES
[S-1937-06-28 pp.1] Triple Slayer Gives Self up in Chicago"
MONESSEN DAILY INDEPENDENT
[S- 1938-10-26 pp.2 ] Sensational Irwin Murder Case Trial Opens"
OSHKOSH NORTHWESTERN
[S-1937-04-08 pp. 2 ] "Search for slayer of three turns to Pocono Mountains"
[S-1938-11-15I pp.7] "Irwin Faces Life Prison Term for Killing of Three"
SHEBOYGAN PRESS
[S-1938-11-15 ] Robert Irwin Slated For Life Imprisonment"


---
---
---