OKLAHOMA STATE

FINANCIAL IMPACT REPORT
MARIJUANA'S LEGALIZATION - THE COSTS AND BENEFITS TO OKLAHOMA TAXPAYERS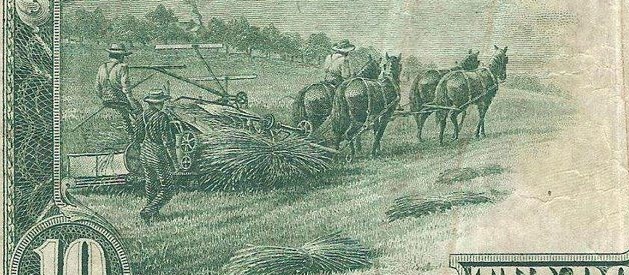 Part of a 1914 Federal Reserve Note Showing Hemp-Farming
---
THE ECONOMIC IMPACT TO OKLAHOMA'S TAX REVENUES
OF LEGALIZING MARIJUANA IN OKLAHOMA
---

1.0 - REPORT SUMMARY:
Legalizing Cannabis, or rather re-legalizing Cannabis, in Oklahoma would bring about significant benefits to Oklahoma's State budget WITHOUT increasing current tax rates. The exact dollar amount (as this report shows) is somewhat hard to predict, but all calculations place it between $100-Million and $300-Million per year, depending upon a wide variety of factors. Some factors would be controllable, such as tax law implementation. However, other factors would not be predictable, such as agricultural weather conditions.

All stated figures used throughout this report reflect very conservative projections of new tax revenues (and/or direct tax savings) that can REALISTICALLY be expected by the State of Oklahoma. It does NOT reflect or figure in the general economic impact (such as job creations, etc.), that also can be expected as a result of re-legalization.



SECTION I
WHY THIS REPORT:
The forces that lead to its creation . . .
2.0 – WHY THIS REPORT:
2.0.1 – DEALING WITH THE GHOUL FACTOR:
2.0.2 – THE OKLAHOMA OPAQUE FACTOR:
2.0.3 – THE NOT JUMPING TO FALSE CONCLUSIONS FACTOR:
2.1 – REFERENCING OUR PRESENT BUDGET DEFICIT:

---

3.0 – WHY MARIJUANA:
3.1 – MORAL VALUES TRUE OR FALSE FACTOR:
SECTION II
HISTORICAL REFERENCES:
A brief look into the background behind the laws . . .
4.0 – HISTORICAL REFERENCES:
4.0 – MISSISSIPPI 1890:
4.0 – ENTER THE BROWN SKIN MARIJUANA'S:
4.0 – RICHARD NIXON AND BRINGING HOME THE BACON:
SECTION III
CALCULATING THE RESIDUAL COSTS:
Examining the negative (financial) impacts . . .
5.0 – LEGALIZATION THE NEGATIVE FINANCIAL IMPACT:
5.1 – CIVIL ASSET SEIZURE LAWS:
5.2 – LOST FEDERAL FUNDING:
5.3 – ADDITIONAL POLICING AND COURT COSTS:
5.4 – ADDITIONAL (State Funded) MEDICAL COSTS:
5.5 – LEGALIZATION AND ITS ECONOMIC LOSERS
5.6 – DUI MOTOR VEHICLE ACCIDENTS:
5.7 – ALCOHOL BEVERAGE COMMISSION:
5.8 – DEPT. OF AGRICULTURE, FOOD AND FORESTRY:
5.9 – CHAPTER SUMMARY:
SECTION IV
THE POSITIVE IMPACTS:
Legalization its positive impact on state financies . . .
6.0 – LEGALIZATION ITS POSITIVE IMPACT On State Finances:
6.1 – DIRECT SALES TAX REVENUES (Marihuana Clubs)
6.2 – PRISON INCARCERATION EXPENSES:
6.3 – PARDON AND PAROLE BOARD SAVINGS:
6.4 – COUNTY COURTS, LOCAL POLICING EXPENSES:
6.5 – DEPT. OF PUBLIC SAFETY:
6.6 – OKLAHOMA BUREAU OF NARCOTICS:
6.7 – STATE ATTORNEY GENERAL'S BUDGET:
6.8 – DEPARTMENT OF HUMAN SERVICES // FOSTER CARE:
6.9 – OKLAHOMA STATE SPONSORED HEALTH CARE COSTS:
6.10 – SECTION SUMMARY:
SECTION V
INDUSTRIAL HEMP - ITS MASSIVE IMPACT:
Industrial Hemp Growth and Agriculture Tax Revenues . . .
7.0 – 7.0 - INDUSTRIAL HEMP GROWTH (Agriculture Tax Revenues)
7.1 – INDUSTRIAL HEMP IN OKLAHOMA - Some Background Notes:
7.2 – A SHORT COURSE ON INDUSTRIAL HEMP GROWTH:
7.3 – NUMBER OF YEARLY PLANTING SEASONS PER ACRE:
7.4 – YIELDS PER ACRE:
7.5 – DEALING WITH MARGINAL CROPLANDS?
7.6 – Competing with Low Cost Importers on the International Market
7.7 – WEATHER & SOIL FACTORS:
7.8 – MIDSECTION SUMMARY:
7.9 – ATTACHING A FINANCIAL FIGURE per acre:
7.9.1 – THE OPTIMIST'S VIEWPOINT:
7.9.2 – SUMMARY/COMMENTS:
7.9.3 – AN EDITORIAL COMMENT AND A WARNING
7.9.4 – SECTION 7 - SUMMARY:
7.10 – NUMBERS OF ACRES:10.1
7.10.1 – ESTABLISH AGRICULTURAL FARMLANDS:
7.10.2 - RANCH LAND CONVERSIONS:
7.10.3 - ESTABLISH BUT FALLOW FARMLANDS:
7.10.4 – AGRICULTURAL PROFITS AND NEW TAX REVENUES:
SECTION VI
INDUSTRIAL HEMP - THE RESIDUAL INDUSTRIES:
A brief look into the Hemp Mills or Processing plants . . .
8.0 – HEMP MILLS/HEMP PROCESSING PLANTS:


1.0 - THE PURPOSE BEHIND THIS WHITE PAPER:
From its very inception of the 'Oklahoma Voters League', numerous individuals have come up to us, asking the same two questions, over and over again.
1. How many individuals are under state incarceration for Marihuana?

2. What is it costing us (as taxpayers) to incarcerate them?
Questions which we've been asking others for some time with no satisfactory answers.   In fact, various inquiries to numerous Oklahoma state governmental agencies indicate that no one, anywhere, seemed to know the answers. Thus the purpose behind this White Paper; to answer these two questions.

---

1.1 - SUMMERY OF FINDINGS:
This report (wherever possible) attempts to avoid moral issues and deals solely with the financial issues involved in the physical incarceration of individuals for Marihuana by the State of Oklahoma. A cost that this report tabulates as realistically being between $28 million and $36.5 million dollars per year, with 32 million per year being the most probable figure.

HOWEVER (as will be shown within these pages), the actual figure could technically range anywhere from $9.5 million all the way up to $88 million (U.S. dollars) per year. And unfortunately, these figures ONLY represent the physical/financial costs of actual prison incarceration by the State of Oklahoma. They DO NOT account for such things as:
Police enforcement time and costs
Court/Time Costs and expenses
County/Local Jail incarceration while awaiting trial etc.
Lost State Taxes (sales, income tax, etc.) revenues of inmates.
Costs of removing children (Child Protective Services) from Medical Marihuana (so they claim) addicted parents
Any form of Federal detention (Military prisons, Federal prisons, ICE or immigration detention facilities, etc.), taking place within the state of Oklahoma.
Parolee monitoring costs and expenses, etc.
The report does dwell a bit into other revenue losses incurred due to incarceration, but ONLY as it relates to the statewide tax revenue streams. These losses however only amount to a little over a million per year, and are somewhat offset by other factors such as "Drug Asset Forfeiture" seizures, prison Industrial labor productivity, etc.



---
ADDENDUM A
An Open Response Letter to Oklahoma's "AAA" . .

ADDENDUM B
Taken from our Second World War, Hemp for Victory report. It consists almost exclusively of mentions taken from old Sear's Catalogs (1890's - 1960's). And shows some of the various consumer uses that hemp cordage was being put to . . .

ADDENDUM C
THE PESSIMISTIC VIEWPOINT:,
Dealing with, it's not going to work, type of reports. .

ADDENDUM D
POST WW-2 GOVERNMENT AD FOR HEMP MILLS . . .

ADDENDUM E
COTTON VERSES INDUSTRIAL HEMP dwelling on the myths . . .
---
Our thanks to:
http://www.okclipart.com/Marijuana-Plant-Clip-Art30dzgaptsj/ AND http://cliparting.com/category/black-white/

---
---