REEFER MADNESS

ANSLINGER'S GORE FILE
HARRY ANSLINGER'S HOLIDAY OF HORROR:
PART I
---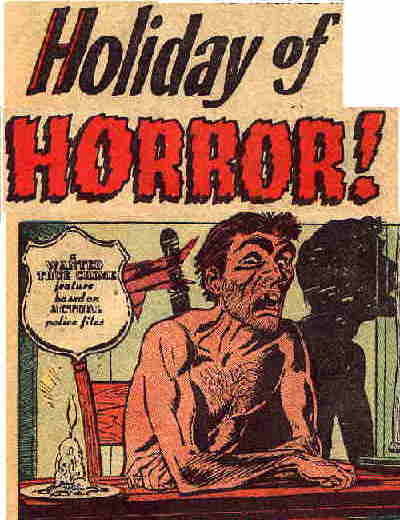 [ Imagine your worst Nightmare has just come TRUE ]



THE DAY ANSLINGER'S WORST NIGHTMARE CAME TRUE
Imagine your worst nightmare had just come true. Now imagine you're Harry Anslinger (America's first Drug Czar) and at the height of the Reefer Madness Campaign; --- IT JUST DID!

In late 1936 a reporter (with credentials) asked Anslinger a stupid yet simple question. One that went something like; "(ah) . . a lot of people are quoting your office as the source of these bestial crime stories. You know the ones involving Marihuana addicts, committing their acts while under the influence. But I can't seem to find any dates or actual names of those involved anywhere? Can you please provide?"

Unbeknown to this one reporter, this one simple question would set off a firestorm within the whole of the Bureau of Narcotics. Quite literally; "B-O-O-M", all hell broke loose in narc land. It seems that no one over there knew either. And now Anslinger was faced with the reality that he didn't even know anything about the very cases that he had so loudly been trumpeting. In fact Anslinger's Gore File can be subdivided into the before and after the "Holiday of Horrors" affair.
BEFORE THE AFFAIR:
Anslinger and his Bureau of Narcotics made no efforts at what we now term, "Fact Checking," but instead relied simply on rumors, here-say (on the part of police officials), and at times even on old newspaper clippings --- ALL without actually checking into the facts behind any of the individual cases themselves.

AFTER THE AFFAIR:
Probably as a result of the "Ginger Color Negro" affair, and his desire not to repeat it. Anslinger now ordered his field agents to do actual investigations into any new cases that hereto now were to be added to his Gore File of crimes committed while under the influence of Medical Marihuana (aka The Killer Drug).
---
WHO WAS THIS MR. HOLIDAY:
His actual name was George Vincent Haliday and on Dec 16, 1935 he sent a letter to the Bureau of Narcotics requisition (ah, I guess) a job. Parts of which read as follows: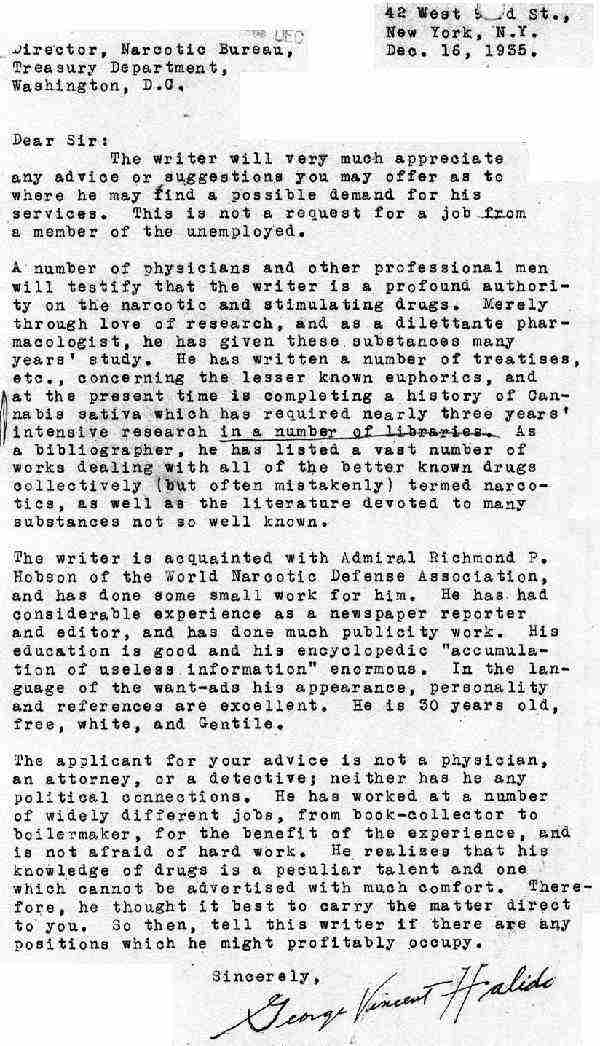 Dec. 16, 1935
Dear Sir:
The writer will very much appreciate any advice or suggestions you may offer as to where he may find a possible demand for his services. This is not a request for a job from a member of the unemployed.

. . . He has written a number of treatises, etc., concerning the lesser known euphorics, and at the present time is completing a history of Cannabis sativa which has required nearly three years' intensive research in a number of libraries. . . .

The writer is acquainted with Admiral Richmond P. Hobson of the World Narcotic Defense Association, and has done some small work for him. He has had considerable experience as a newspaper reporter and editor, and has done much publicity work. His education is good and his encyclopedic "accumulation of useless information" enormous. In the language of the want-ads his appearance; personality and references are excellent. He is 30 years old, free, white, and Gentile.

The applicant for your advice is not a physician, an attorney, or a detective; neither has he any political connections. He has worked at a number of widely different jobs, from book-collector to boilermaker, for the benefit of the experience, and is not afraid of hard work. He realizes that his knowledge of drugs is a peculiar talent and one which cannot be advertised with much comfort. Therefore, he thought it best to carry the matter direct to you. So then, tell this writer if there are any positions which he might profitably occupy.
Sincerely,
(Signed) George Vincent Haliday

Along with his letter he also submitted various letters of recommendation – One of then (below) coming from Admiral Richmond P. Hobson (a very well known big-wig back in the day, as well as) president of the World Narcotics Defense Association.

---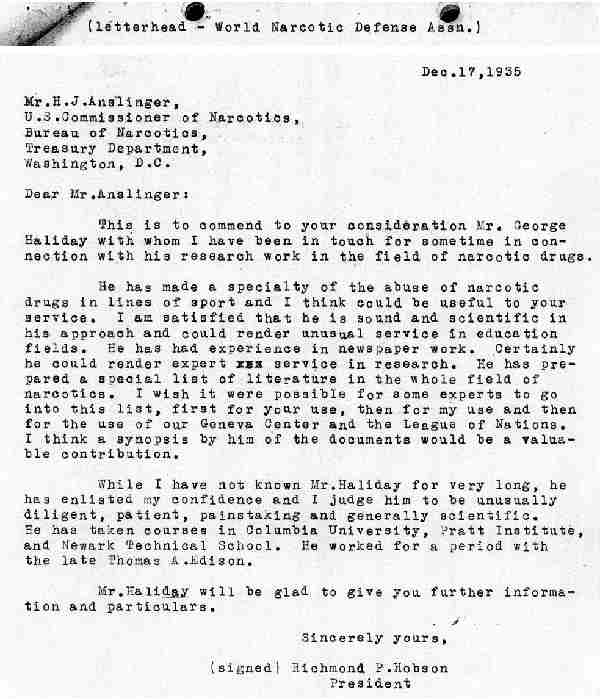 (letterhead - World Narcotic Defense Assn.)
Dec. 17, 1935
Mr. H.J. Anslinger,
U.S. Commissioner of Narcotics,
Bureau of Narcotics,
Treasury Department,
Washington, D. C.

Dear Mr. Anslinger:
This is to commend to your consideration Mr. George Haliday with whom I have been in touch for sometime in connection with his research work in the field of narcotic drugs.

He has made a specialty of the abuse of narcotic drugs in lines of sport and I think could be useful to your service. I am satisfied that he is sound and scientific in his approach and could render unusual service in education fields. He has had experience in newspaper work. Certainly he could render expert service in research. He has prepared a special list of literature in the whole field of narcotics. I wish it were possible for some experts to go into this list, first for your use, then for my use and then for the use of our Geneva Center and the League of Nations. I think a synopsis by him of the documents would be a valuable contribution.

While I have not known Mr. Haliday for very long, he has enlisted my confidence and I judge him to be unusually diligent, patient, painstaking and generally scientific. He has taken courses in Columbia University, Pratt Institute, and Newark Technical School. He worked for a period with the late Thomas A. Edison.

Mr. Haliday will be glad to give you further information and particulars.
Sincerely yours,
(signed) Richmond P. Hobson
President

Other letters of recommendation came from established physicians working in the area of drug addiction. The following being an example: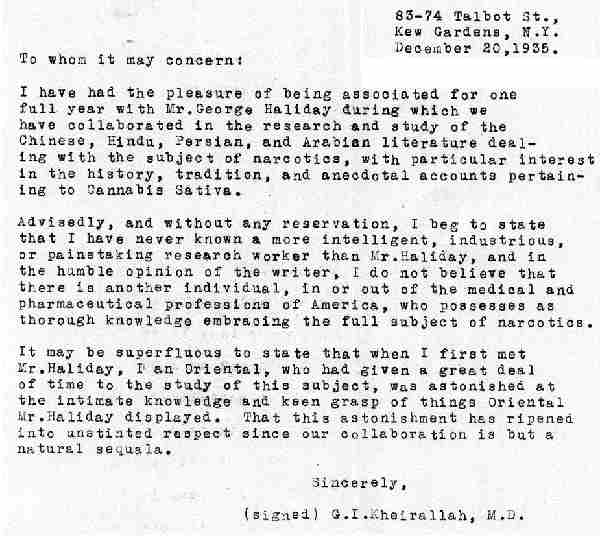 83-74 Talbot st.,
Kew Gardens, N.Y.
December 20,1935.

To whom it may concern:
I have had the pleasure of being associated for one full year with Mr. George Haliday during which we have collaborated in the research and study of the Chinese, Hindu, Persian, and Arabian literature dealing with the subject of narcotics, with particular interest in the history, tradition, and anecdotal accounts pertaining to Cannabis Sativa.

Advisedly, and without any reservation, I beg to state that I have never known a more intelligent, industrious, or painstaking research Worker than Mr.Haliday, and in the humble opinion of the writer, I do not believe that there is another individual, in or out of the medical and pharmaceutical professions of America, who possesses as thorough knowledge embracing the full subject of narcotics.

It may be superfluous to state that when I first met Mr.Haliday, I an Oriental, who had given a great deal of time to the study of this subject, was astonished at the intimate knowledge and keen grasp of things Oriental Mr.Haliday displayed. That this astonishment has ripened into unstinted respect since our collaboration is but a natural sequala.
Sincerely,
G.I Kheirallah, M.D.

NOTE the differences in the dates -- Haliday's letter being written just before the letters of recommendation, which imply that they were NOT generic but were specifically written for Anslinger's personal viewing.

However, in any case (to make a long story short) Anslinger was not able to help (job wise) Mr. Haliday out. However (probably due to these letters of recommendation), Anslinger couldn't quite ignore him either. At least not as a reporter, Haliday was simply too well connected. Thus (unlike in so many other cases) Anslinger simply couldn't ignore his simple, if somewhat naïve question when it came:


---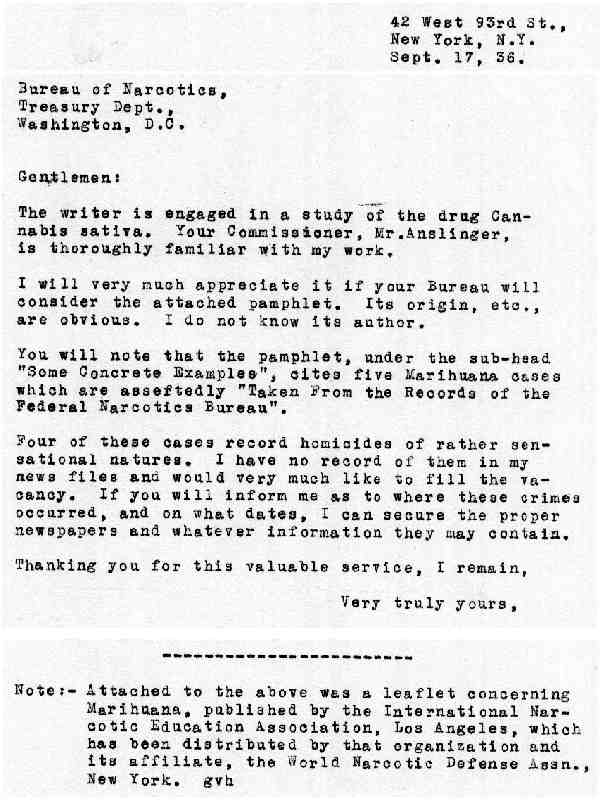 42 West 93rd st.,
New York, N.Y.
Sept. 17, 1936
Bureau of Narcotics,
Treasury Dept.,
Washington, DC.

Gentlemen:
The writer is engaged in a study of the drug Cannabis sativa. Your Commissioner, Mr. Anslinger, is thoroughly familiar with my work.

I will very much appreciate it if your Bureau will consider the attached pamphlet. Its origin, etc., are obvious. I do not know its author.

You will note that the pamphlet, under the sub-head "Some Concrete Examples", cites five Marihuana cases which are assertedly(sic) "Taken From the Records of the Federal Narcotics Bureau".

Four of these cases record homicides of rather sensational natures. I have no record of them in my news files and would very much like to fill the vacancy. If you will inform me as to where these crimes occurred, and on what dates, I can secure the proper newspapers and whatever information they may contain.

Thanking you for this valuable service, I remain,
Very truly yours,

------------------------------
Note:-- Attached to the above was a leaflet concerning Marihuana, published by the International Narcotic Education Association, Los Angeles, which has been distributed by that organization and its affiliate, the World Narcotic Defense Assn., New York. gvh
VIEW THE PAMPHLET

[WARNING: Long Download Time]
ON TO PART II

[DUE TO LONG DOWNLOAD TIMES]
[THIS WEBPAGE HAS BEEN SUBDIVIDED INTO VARIOUS SUBSECTIONS]
---




WANT TO KNOW MORE:
=====================
Due to space / download time considerations, only selected materials are displayed. If you would like to obtain more information, feel free to contact the museum. All our material is available (at cost) on CD-Rom format.
CONTACT PAGE
---
---