REEFER MADNESS

ANSLINGER'S GORE FILE
HARRY ANSLINGER'S HOLIDAY OF HORROR:
PART II
---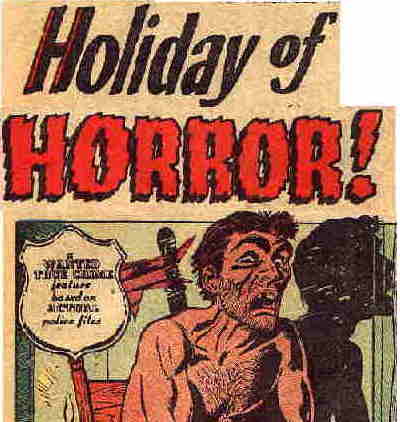 [ Imagine your worst Nightmare has just come TRUE ]
---
AND AT THE BUREAU OF NARCOTICS
--- ALL HELL BREAKS LOOSE:
It seems that for years before this time, Anslinger and his Bureau of Narcotics, had been stirring up a hysteria campaign against the Medical Cannabis plant; now referred to as the Reefer Madness Campaign. For years they had been calling it, "The Assassin of Youth", "The Killer Drug," etc., and as proof they had been touting criminal case after criminal case of bestial crimes committed while under its influence. NOW IT WAS TURNING OUT that the Bureau had veritably no knowledge of the actual FACTS behind their own stories. It seems that they didn't even know if the stories were true or not.

One can only imagine the HORROR that must have been going through Harry Anslinger's mind at the time. His whole Hysteria campaign, the one he had so carefully crafted, was now in jeopardy of going up in smoke, all because of one stupid reporter.

But Anslinger (the evil genius that he was), was not about to panic and jump out of a window. Not when the old, let's stall (delay, delay, delay), and maybe he will go away trick might work. But alas, as can be seen from the following (follow up letter), that trick was not about to work in this case: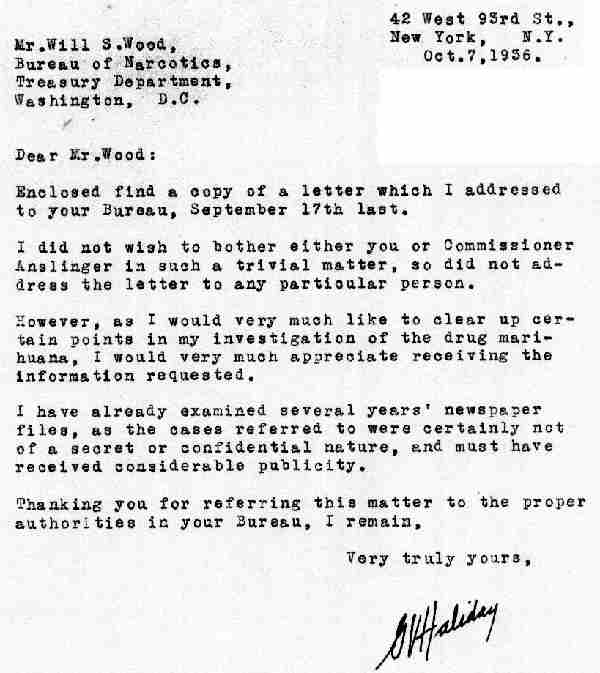 Oct. 7, 1936.
Mr. Will S. Wood,
Bureau of Narcotics;
Treasury Department,
Washington, D.C.

Enclosed find a copy of a letter which I addressed to your Bureau, September 17th last.

I did not wish to bother either you or Commissioner Anslinger in such a trivial matter so did not address the letter to any particular person.

However, as I would very much like to clear up certain points in my investigation of the drug marihuana, I would very much appreciate receiving the information requested.

I have already examined several years' newspaper files, as the cases referred to were certainly not of a secret or confidential nature, and must have received considerable publicity.

Thanking you for referring this matter to the proper authorities in your Bureau, I remain,
Very truly yours,
(Signed) G V Haliday
Now Anslinger had to take action – Which he quickly did with the following scurry of letters being sent out to his field agents. [Note that of and by themselves, these letters establish that Anslinger simply didn't know anything about his own Gore File Cases at the time]: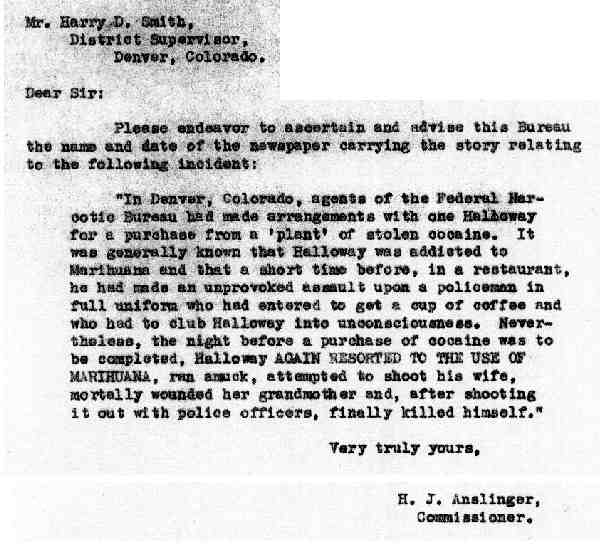 Oct 30, 1936
Mr. Harry D. Smith,
District Supervisor,
Denver, Colorado

Please endeavor to ascertain and advise this Bureau the name and date of the newspaper carrying the story relating to the following incident:

"In Denver, Colorado, agents of the Federal Narcotic Bureau had made arrangements with one Halloway for a purchase from a 'plant' of stolen cocaine. It was generally known that Halloway was addicted to Marihuana and that a short time before, in a restaurant, he had made an unprovoked assault upon a policeman in full uniform who had entered to get a cup of coffee and who had to club Halloway into unconsciousness. Nevertheless, the night before a purchase of cocaine was to be completed, Halloway AGAIN RESORTED TO THE USE OF MARIHUANA, ran amuck, attempted to shoot his wife, mortally wounded her grandmother and, after shooting it out with police officers, finally killed himself."

Very truly yours,
H.J. Anslinger,
Commissioner.

---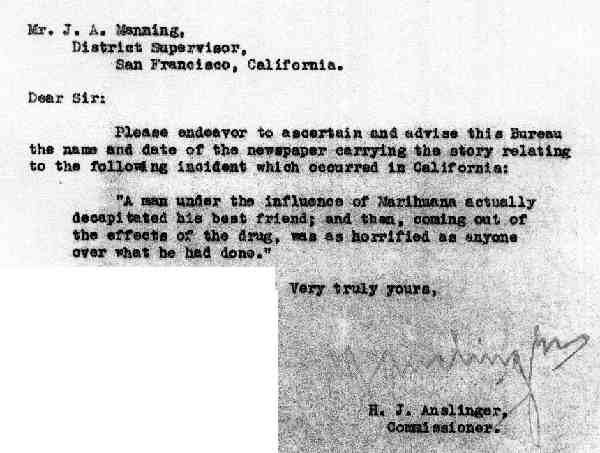 (about) Oct 30, 1936
Mr. J.A. Manning,
District Supervisor,
San Francisco, California

Dear Sir:
Please endeavor to ascertain and advise this Bureau the name and date of the newspaper carrying the story relating to the following incident which occurred in California.

"A Man under the influence of Marihuana actually decapitated his best friend; and then, coming out of the effects of the drug, was as horrified as anyone over what he had done."

Very truly yours,
H.J. Anslinger,
Commissioner
---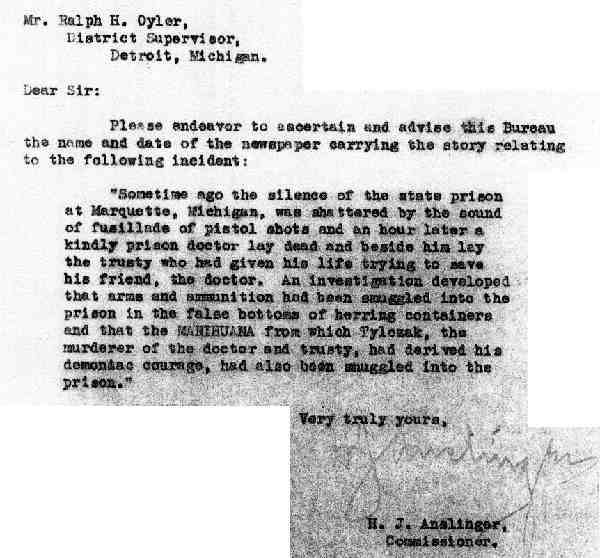 Oct 30, 1936
Mr. Ralph H. Oyler,
District Supervisor,
Detroit, Michigan

Dear sir
Please endeavor to ascertain and advise this Bureau the name and date of the newspaper carrying the story relating to the following incident:

"Sometime ago the silence of the state prison at Marquette, Michigan, was shattered by the sound of fusillade of pistol shots and an hour later a kindly prison doctor lay dead and beside him lay the trusty who had given his life trying to save his friend, the doctor. An investigation developed that arms and ammunition had been smuggled into the prison in the false bottom of herring containers and that the MARIHUANA from which Tylezak, the murderer of the doctor and trusty, had derived his demonic courage, had also been smuggled into the prison."

Very truly yours,
H.J. Anslinger,
Commissioner

Additionally, he also sent out a reply letter to Mr. Haliday, which is as follows: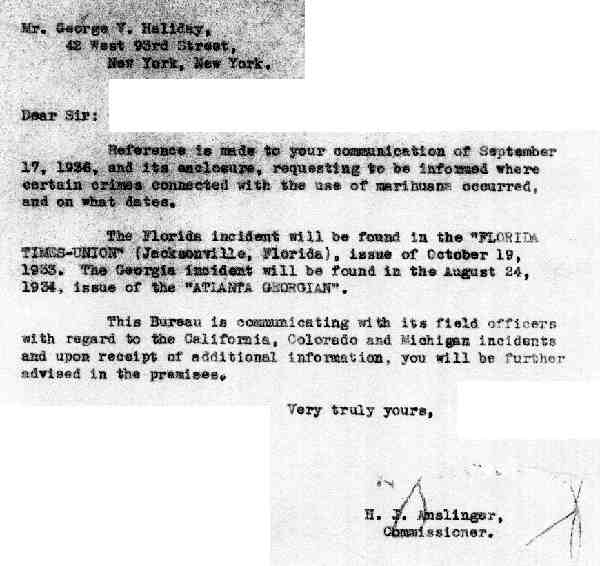 Oct 8, 1936
Mr. George V. Haliday,
42 West 93rd Street,
New York, New York

Dear Sir:
Reference is made to your communication of September 17, 1936, and its enclosure, requesting to be informed where certain crimes connected with the use of marihuana occurred, and on what dates.

The Florida incident will be found in the "FLORIDA TIMES-UNION" (Jacksonville, Florida), issue of October 19, 1933. The Georgia incident will be found in the August 24, 1934, issue of the "ATLANTA GEORGIAN".

This Bureau is communicating with its field officers with regard to the California, Colorado and Michigan incidents and upon receipt of additional information, you will be further advised in the premises.
Very truly yours,
H.J. Anslinger
Commissioner
---

BACK

[DUE TO LONG DOWNLOAD TIMES]
[THIS WEBPAGE HAS BEEN SUBDIVIDED INTO VARIOUS SUBSECTIONS]


NEXT
---





WANT TO KNOW MORE:
=====================
Due to space / download time considerations, only selected materials are displayed. If you would like to obtain more information, feel free to contact the museum. All our material is available (at cost) on CD-Rom format.
CONTACT PAGE
---
---