REEFER MADNESS

ANSLINGER'S GORE FILE
HARRY ANSLINGER'S HOLIDAY OF HORROR:
PART III
---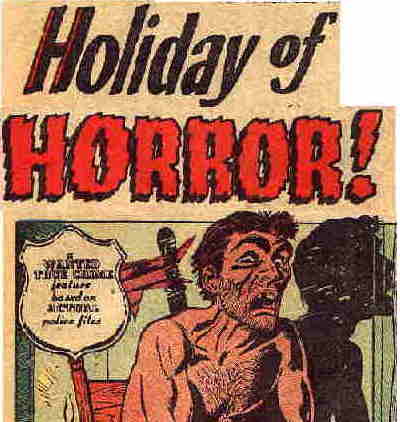 [ Imagine your worst Nightmare has just come TRUE ]
---
THE AGONY AND THE HORROR
----- WHAT THE INVESTIGATIONS REVIEWED
Strictly from a mechanical standpoint, Mr. Haliday's inquiry brings into question the very efficiency, not to mention the professionalism of the whole of the Bureau of Narcotics at the time. HOW, one must ask, could any governmental agency (Bureau or Narcotics or not), have been quoting cases of crimes (allegedly committed while under the influence of Medical Marihuana), without even knowing if these cases actually even existed or not? Without even knowing the most of basic facts behind them?

One can only imagine the HORROR that must have been flowing through Anslinger's mind at this point. Was it ALL over for his Reefer Madness campaign? Were ALL his lies now going to be exposed? . . . How was he going to cover up this one? Again, one can only imagine his horror. ---Especially as the investigation reports started to filter back in from his field agents.



---
THE CALIFORNIA CASE
"A Man under the influence of Marihuana actually decapitated his best friend; and then, coming out of the effects of the drug, was as horrified as anyone over what he had done."
All right, for those of you who have not gone to our website yet [ http://reefermadnessmuseum.org/chap03B/Eureka/EurekaAxeMurder.htm ] , this might be a good time to deviate – There you will see proof that the Eureka Axe Murderer was a total hoax; --- It simply didn't happen. And to add insult to injury, the author of this hoax was none other than William G. Walker (head of California's Bureau of Narcotics) himself. Note here in this letter (reporting on the investigation back to Anslinger) that Walker is quoted as NOT KNOWING ANYTHING ABOUT THE CASE!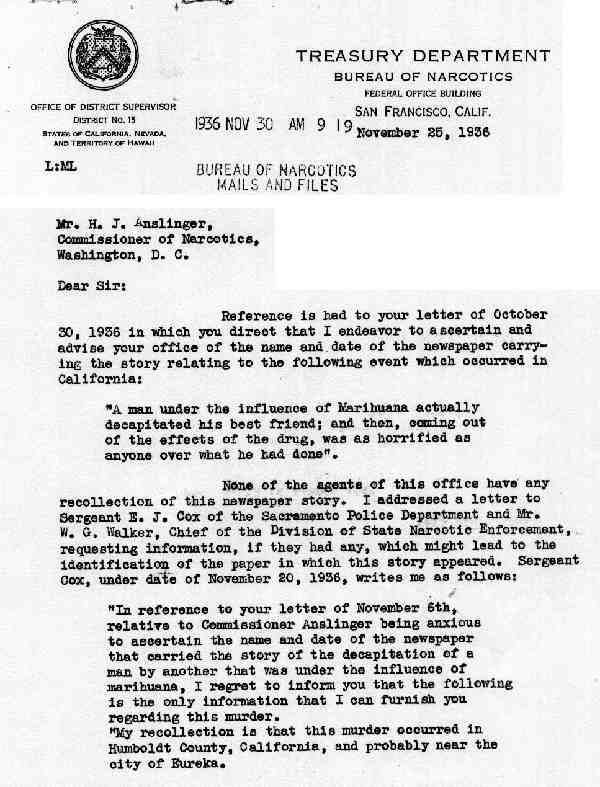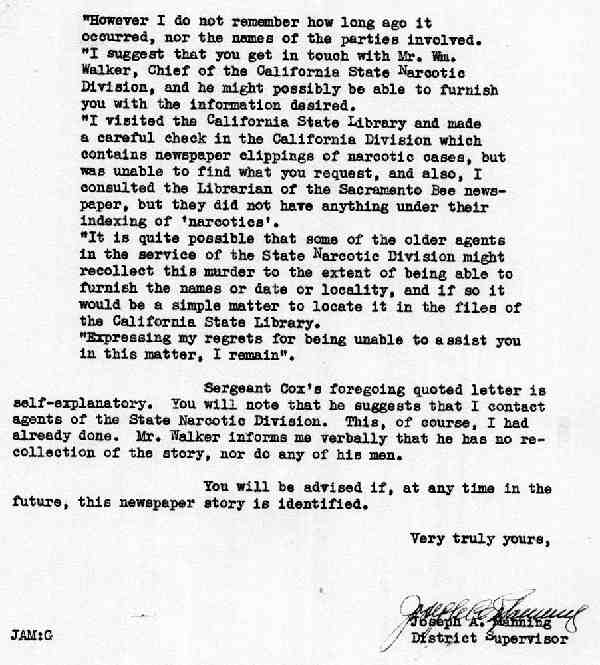 TREASURY DEPARTMENT
BUREAU OF NARCOTICS
FEDERAL OFFICE BUILDING
SAN FRANCISCO, CALIF.
November 25, 1936
OFFICE OF DISTRICT SUPERVISOR
DISTRICT No. 15

Mr. H. J. Anslinger,
Commissioner or Narcotics,
Washington, D. C.
Dear Sir:
Reference is had to your letter of October 30. 1936 in which you direct that I endeavor to ascertain and advise your office of the name and date of the newspaper carrying the story relating to the following event which occurred in California:

"A man under the influence of Marihuana actually decapitated his best friend; and then, coming out of the effects of the drug, was as horrified as anyone over what he had done".

None of the agents of this office have any recollection of this newspaper story. I addressed a letter to Sergeant E. J. Cox of the Sacramento Police Department and Mr. W. G. Walker, Chief of the Division of state Narcotic Enforcement, requesting information, if they had any, which might lead to the identification of the paper in which this story appeared. Sergeant Cox, under date of November 20, 1936, writes me as follows:

"In reference to your letter of November 6th, relative to Commissioner Anslinger being anxious to ascertain the name and date of the newspaper that carried the story of the decapitation of a man by another that was under the influence of marihuana, I regret to inform you that the following is the only information that I can furnish you regarding this murder.

My recollection is that this murder occurred in Humboldt County. California, and probably near the city of Eureka.

"However I do not remember how long ago it occurred, nor the names of the parties involved. "I suggest that you get in touch with Mr. Wm. Walker, Chief of the California State Narcotic Division, and he might possibly be able to furnish you with the information desired.

"I visited the California State Library and made a careful check in the California Division which contains newspaper clippings of narcotic cases, but was unable to find what you request, and also, I consulted the Librarian of the Sacramento Bee newspaper, but they did not have anything under their indexing of 'narcotics'.

"It is quite possible that some of the older agents in the service of the State Narcotic Division might recollect this murder to the extent of being able to furnish the names or date or locality, and if so it would be a simple matter to locate it in the files of the California State Library.

"Expressing my regrets for being unable to assist you in this matter, I remain".

Sergeant Cox's foregoing quoted letter is self-explanatory. You will note that he suggests that I contact agents of the State Narcotic Division. This, of course, I had already done. Mr. Walker informs me verbally that he has no recollection of the story, nor do any of his men.

You will be advised if, at any time in the future, this newspaper story is identified.
Very truly yours,
Joseph A. Manning
District supervisor

Again, one can only imagine what was going through Anslinger's mind at the time – his Gore File had been brought into question and now it was falling apart on him.



---
THE MICHIGAN CASE
"Sometime ago the silence of the state prison at Marquette, Michigan, was shattered by the sound of fusillade of pistol shots and an hour later a kindly prison doctor lay dead and beside him lay the trusty who had given his life trying to save his friend, the doctor. An investigation developed that arms and ammunition had been smuggled into the prison in the false bottom of herring containers and that the MARIHUANA from which Tylezak, the murderer of the doctor and trusty, had derived his demonic courage, had also been smuggled into the prison."
Here without comment is the feedback given back to Anslinger regarding the investigation.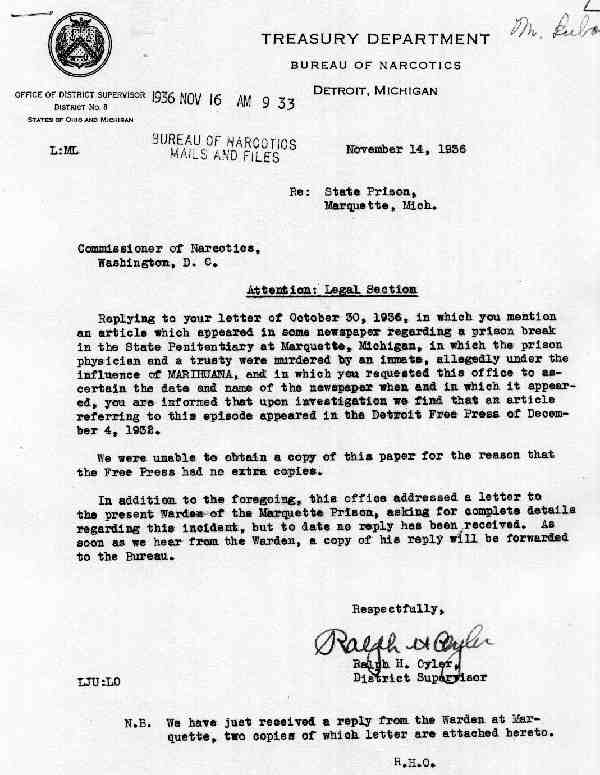 TREASURY DEPARTMENT
BUREAU OF NARCOTICS
DETROIT, MICHIGAN
OFFICE OF DISTRICT SUPERVISOR
DISTRICT NO.8
November 14, 1936
Re: State Prison,
Marquette, Mich.

Commissioner of Narcotics,
Washington., D. C.
Attention: Legal Section
Replying to your letter of October 30, 1936, in which you mention an article which appeared in some newspaper regarding a prison break in the State Penitentiary at Marquette Michigan, in which the prison physician and a trusty were murdered by an inmate, allegedly under the influence of: MARIHUANA, and in which you requested this office to ascertain. The date and name of the newspaper when and in which it appeared, you are informed that upon investigation we find that an article referring to this episode appeared in the Detroit Free Press of December 4, 1932.

We were unable to obtain a copy of this paper for the reason that the Free Press had no extra copies.

In addition to the foregoing, this office addressed a letter to the present, Warden of the Marquette Prison, asking for complete details regarding this incident, but to date no reply has been received. As soon as we hear from the Warden, a copy of his reply will be forwarded to the Bureau.
Respectfully,
Ralph H. Oyler,
District supervisor

N.B. We have just received a reply from the Warden at Marrquette, two copies of which letter are attached hereto.
R.H.O.
---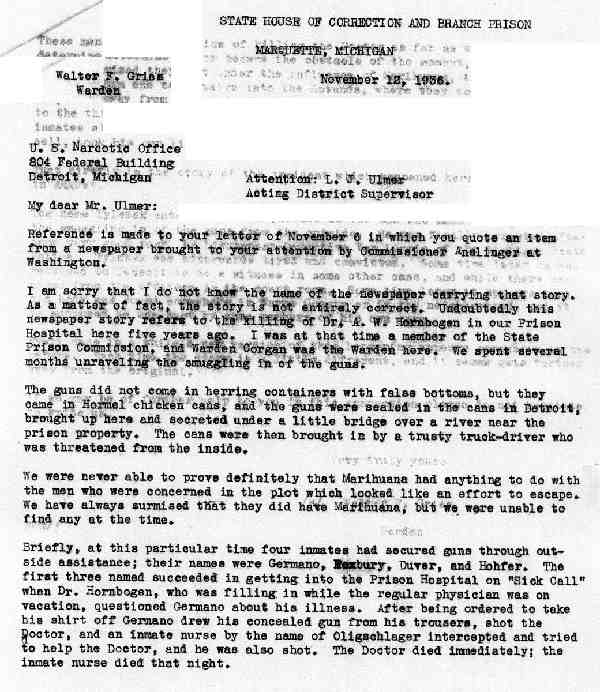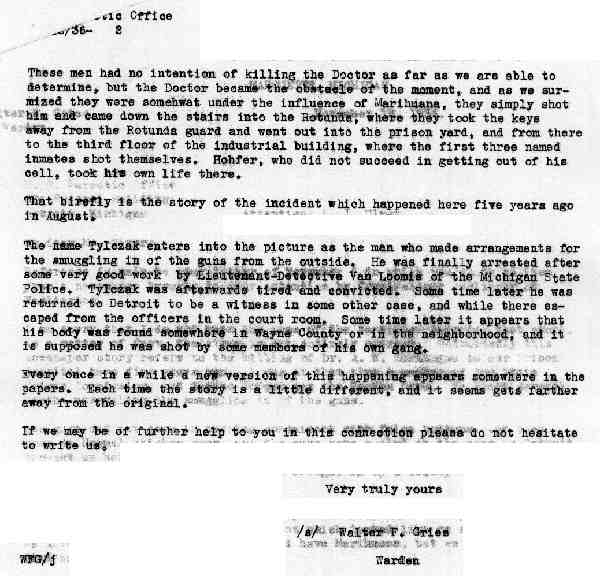 STATE HOUSE OF CORRECTION AND BRANCH PRISON
MARQUETTE, MICHIGAN
November 12, 1936
Walter F. Gries
Warden

U.S. Narcotic Office
804 Federal Building
Detroit, Michigan
Attention: L.J. Ulmer
Acting district Supervisor

My Dear Mr. Ulmer:
Reference is made to your letter of November 6 in which you quote an item from a newspaper brought to your attention by Commissioner Anslinger at Washington.

I am sorry that I do not know the name of the newspaper carrying that story. As a matter of fact, the story is not entirely correct. Undoubtedly this newspaper story refers to the killing of Dr. A. W. Hornbogen in our Prison Hospital here five years ago. I was at that time a member of the State Prison Commission, and Warden Corgan was the Warden here. We spent several months unraveling the smuggling in of the guns.

The guns did not come in herring containers with false bottoms, but they came in Hormel chicken cans, and the guns were sealed in the cans in Detroit, brought up here and secreted under a little bridge over a river near the prison property. The cans were then brought in by a trusty truck-driver who was threatened from the inside.

We were never able to prove definitely that Marihuana had anything to do with the men who were concerned in the plot which looked like an effort to escape. We have always surmised that they did have Marihuana, but we were unable to find any at the time.

Briefly, at this particular time four inmates had secured guns through outside assistance; their names were Germano, Roxbury, Buver, and Hohfer. The first three named succeeded in getting into the Prison Hospital on "Sick Call" when Dr. Hornbogen, who was filling in while the regular physician was on vacation, questioned Germano about his illness. After being ordered to take his shirt off Germano drew his concealed gun from his trousers, shot the Doctor, and an inmate nurse by the name of Oligschlager intercepted and tried to help the Doctor, and he was also shot. The Doctor died immediately; the inmate nurse died that night.

These men had no intention of killing the Doctor as far as we are able to determine, but the Doctor became the obstacle of the moment, and as we surmized(sic) they were somehwat(sic) under the influence of Marihuana, they simply shot him and came down the stairs into the Rotunda, where they took the keys away from the Rotunda guard and went out into the prison yard, and from there to the third floor of the industrial building, where the first three named inmates shot themselves. Hohferm who did not succeed in getting out of his cell, took his own life there.

That birefly(sic) is the story of the incident which happened here five years ago in August.

The name Tylczak enters into the picture as the man who made arrangements for the smuggling in of the guns from the outside. He was finally arrested after some very good work by Lieutenant-Detective Van Loomis of the Michigan State Police. Tylczak was afterwards tried and convicted. Some time later he was returned to Detroit to be a witness in some other case, and while there escaped from the officers in the court room. Some time later it appears that his body was found somewhere in Wayne county or in the neighborhood, and it is supposed he was shot by some members of his own gang.

Every once in a while a new version of this happening appears somewhere in the papers. Each time the story is a little different, and it seems gets farther away from the original.

If we may be of further help to you in this connection please do not hesitate to write us.
Very truly yours
Walter F. Gries
Warden
In other words, yet another one of Anslinger's (much prized) gore file cases had just been dis-proven. And Anslinger must have been quite worried by this point.



---
THE COLORADO CASE
"In Denver, Colorado, agents of the Federal Narcotic Bureau had made arrangements with one Halloway for a purchase from a 'plant' of stolen cocaine. It was generally known that Halloway was addicted to Marihuana and that a short time before, in a restaurant, he had made an unprovoked assault upon a policeman in full uniform who had entered to get a cup of coffee and who had to club Halloway into unconsciousness. Nevertheless, the night before a purchase of cocaine was to be completed, Halloway AGAIN RESORTED TO THE USE OF MARIHUANA, ran amuck, attempted to shoot his wife, mortally wounded her grandmother and, after shooting it out with police officers, finally killed himself."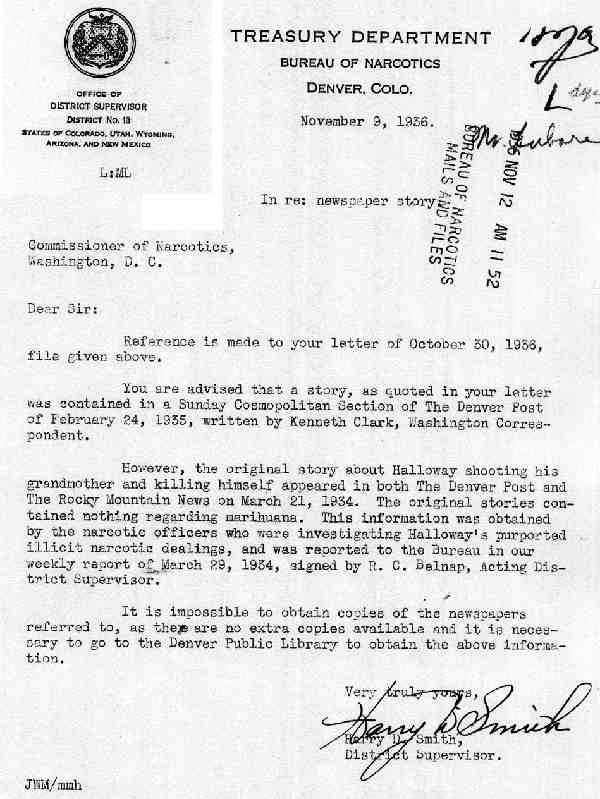 TREASURY DEPARTMENT
BUREAU OF NARCOTICS, DENVER, COLO.
OFFICE OF DISTRICT SUPERVISOR
DISTRICT No. 13
Nov. 9, 1936
In re: newspaper story

Commissioner of Narcotics,
Washington, D.C.

Dear Sir:
Reference is made to your letter of October 30, 1936, file given above.

You are advised that a story, as quoted in your letter was contained in a Sunday Cosmopolitan Section of the Denver Post of February 24, 1935, written by Kenneth Clark, Washington correspondent.

However, the original story about Halloway shooting his grandmother and killing himself appeared in both The Denver Post and The Rocky Mountain News on March 21, 1934. The original stories contained nothing regarding marihuana. This information was obtained by the narcotic officers who were investigating Halloway's purported illicit narcotic dealings, and was reported to the Bureau in our weekly report of March 29, 1934, signed by R.C. Belnap, Acting District supervisor.

It is impossible to obtain copies of the newspapers referred to, as there are no extra copies available and it is necessary to go to the Denver Public Library to obtain the above information.
Very truly yours,
Harry D. smith,
District Supervisor
All in all this (at least on the surface) must have given Anslinger some hope, at least one of his much touted Gore Cases ACTUALLY DID have something to do with a Medical Marihuana user.


---

BACK

[DUE TO LONG DOWNLOAD TIMES]
[THIS WEBPAGE HAS BEEN SUBDIVIDED INTO VARIOUS SUBSECTIONS]


NEXT
---





WANT TO KNOW MORE:
=====================
Due to space / download time considerations, only selected materials are displayed. If you would like to obtain more information, feel free to contact the museum. All our material is available (at cost) on CD-Rom format.
CONTACT PAGE
---
---