THE REEFER MADNESS ERA


ENCYCLOPEDIA'S OF EVIL
---
THE MYTH OF THE
OLD MAN OF THE MOUNTAIN
---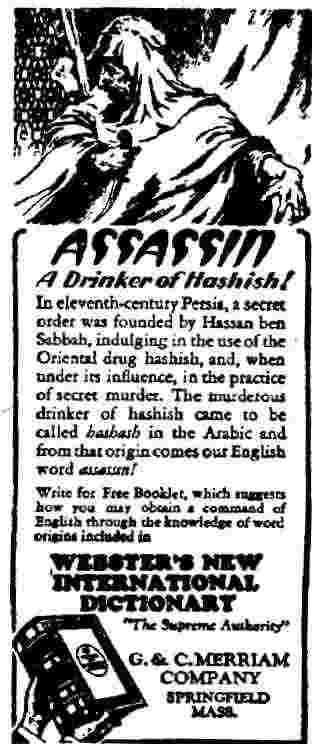 The Myth of the "OLD MAN OF THE MOUNTAIN," usually runs as follows: In about the year 1090 A. D., the military and religious order or sect of the Assassins was founded in Persia by Hassan ben Sabbat (aka "The Old man of the Mountain"). This diabolical, fanatical, cruel and murderous tribe, became remarkable for its secret murders committed in blind obedience to the will of their chief, and the heinousness of its crimes was bruited the world over. Their numerous acts of cruelty . . .

This branch of the shiite sect, known as Ismalites, was called Hashishan, derived from Hashish, a confection of hemp leaves, cannabis indica. From the Arabic "hashishan" we have the English word "Assassin".

Emphasis was always placed on the fact that it was the Medical Marihuana that made them into cold blooded murderers. But the greatest part of the myth had to do with the garden of paradise and its use as an initiation rite, which is as follows: According to Marco Polo, Medical Marihuana was used to drug young boys who were taken to a secret garden. There the boys would be tricked into thinking that they were in paradise, but after a few days they were once again drugged (with Medical Marihuana) and sent back. Whereupon the young boys thinking that they had been in paradise, would do anything for the Old Man of the Mountain, even kill in order to be allowed to return.

Always the myth quotes Marco Polo as the source but as can be seen from the following, Marco Polo NEVER SAID IT. In fact he clearly stated that the drug in question is OPIUM and NOT Medical Marihuana.

"The Marihuana Menace" By A. E. Fossier extensively quoted.


---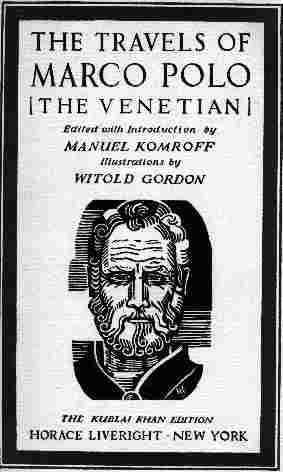 Chapter 24
Of the Old Man of the Mountain - Of His Palace and Gardens . . . In a beautiful valley enclosed between two lofty mountains, he had formed a luxurious garden, stored with every delicious fruit and every fragrant shrub that could be procured. Places of various sizes and forms were erected in different parts of the grounds, ornamented with works in gold, with paintings, and with furniture of rich silks. By means of small conduits contrived in these buildings, streams of wine, milk, honey, and some of pure water, were seen to flow in every direction.

The inhabitants of these places were elegant and beautiful damsels, accomplished in the arts of singing, playing upon all sorts of musical instruments, dancing, and especially those of dalliance and amorous allurement. Clothed in rich dresses they were seen continually sporting and amusing themselves in the garden and pavilions, their female guardians being confined within doors and never suffered to appear. The object which the chief had in view in forming a garden of this fascinating kind, was this: that Mahomet having promised to those who should obey his will the enjoyments of Paradise, where every species of sensual gratification should be found, in the society of beautiful nymphs, he was desirous of its being understood by his followers that he also was a prophet and the compeer of Mahomet, and had the power of admitting to Paradise such as he should choose to favor.

In order that none without his license might find their way into this delicious valley, he caused a strong and inexpugnable castle to be erected at the opening of it, through which the entry was by a secret passage. At his court, likewise, this chief entertained a number of youths, from the age of twelve to twenty years, selected from the inhabitants of the surrounding mountains, who showed a disposition for martial exercises, and appeared to possess the quality of daring courage. To them he was in the daily practice of discoursing on the subject of the paradise announced by the prophet, and of his own power of granting admission. And at certain times he caused opium to be administered to ten or a dozen of the youths; and when half dead with sleep he had them conveyed to the several apartments of the palaces in the garden.

Chapter 24
How the Old man used to Train His Assassins
Upon awakening from the state of stupor, their senses were struck with all the delightful objects that have been described, and each perceived himself surrounded by lovely damsels, singing, playing, and attracting his regards by the most fascinating caresses, serving him also with delicate foods and exquisite wines; until intoxicated with excess of enjoyment amidst actual rivulets of milk and wine, he believed himself assuredly in Paradise, and felt an unwillingness to relinquish its delights.

When four or five days had thus been passed, they were thrown once more into a drugged state, and carried out of the garden. Upon their being introduced to his presence, and questioned by him as to where they had been, their answer was, "In Paradise, through the favor of your highness"; and then before the whole court, who listened to them with eager curiosity and astonishment, they gave a circumstantial account of the scenes to which they and been witnesses.

The chief thereupon addressing them, said: "We have the assurances of our prophet that he who defends his lord shall inherit paradise . . .

How the myth got started no one knows. The museum has collected numerous articles and books stating that the drug was Medical Marihuana, and they all quote Marco Polo as their source. Oh well some myths die hard.




ON TO THE NEXT SECTION
ENCYCLOPEDIA'S OF EVIL




---

WANT TO KNOW MORE:
=====================
Due to space / download time considerations, only selected materials are displayed. If you would like to obtain more information, feel free to contact the museum. All our material is available (at cost) on CD-Rom format.
CONTACT PAGE


---
---