REEFER MADNESS ERA
COMIC BOOKS


[Last update: Oct 31 2012]

---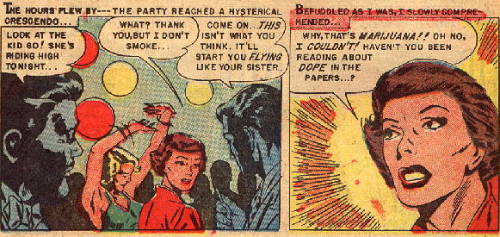 ---
WHY THIS WEBSITE?


When I was a young boy, my father would hold me on his knee and tell me about those evil Marihuana Drug Peddlers.

"You see son, the first cigarette . . . well that's for free . . . that's to get you started. But the second, well that's going to cost you a dollar. And the third cigarette, well boy, by that time, it's too late, you're addicted."

At the time, I believed him totally and completely. And looking back at it, to this day I believe that he was telling me what he himself thought was the truth. But where did he hear such things? Who was it that had lied to him?

Looking back at history (with 20/20 hindsight), the question is easy to answer. And comic books (like many other media) were not spared. In fact, many of the horror stories that he told me seem to jump right out of their pages.

Starting in Oct of 1937 with a Johnny Law Adventure story about a Gang of Marihuana peddlers, the comic book industry kept a steady barrage of propaganda against the medical marihuana plant. Only the inadvertent creation of the Comic Book Code in 1954 finally put an end to it.


---
---

ALPHABETICAL INDEX OF REEFER MADNESS ERA COMICS
[A] [B-C] [D-F] [G-J] [K-N]

[O-Q] [R] [S] [T-U] [W-Y]
---
---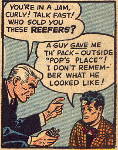 [CHRONOLOGICAL]
[INDEX OF REEFER MADNESS ERA COMICS]


The museums list of Reefer Madness Comic Books, displayed in chronological order. It is recommended solely as a finding aid to historians and a few selected comic book collectors.

---
---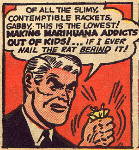 [Modern Day Reefer Madness comics]


The comic-book-code (1955) among other things, disallowed any mention of Medical Marihuana and thus effectively brought to an end, the "Golden Age of Reefer Madness". Thank God, but unfortunately it didn't last long. . . and by 1970 the code was finally modified to allow for (negative) mentions of Medical Marihuana. Needless to say that the narc's were quick to capitalize on this and thus a whole new age of Reefer Madness has been re-born.

---
---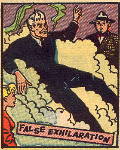 [Modern Day (paid) Reefer Madness]


Recruiting America's Superheroes For A Comic Battle. In 1998 President Clinton Introduced A Five-Year, $ 1 Billion Program Aimed At Keeping Kids Off Drugs. . . .

---
---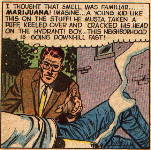 [Non-Reefer Madness Comics]


An index of Golden Age comic books (1937-1955), that while reputed by many to contain Drug or Drug related stories in them. Either do not have a drug story at all or the drug in question is something other than Medical Marihuana. Of interest to historians.
---

WANT TO KNOW MORE:
=====================
Due to space / download time considerations, only selected materials are displayed. If you would like to obtain more information, feel free to contact the museum. All our material is available (at cost) on CD-Rom format.

---
---