Post-REEFER MADNESS ERA
COMIC BOOKS
---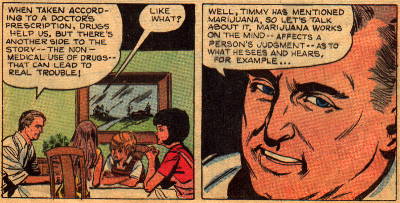 ---



COMIC BOOKS
As Modern-day Tools of
Anti-Medical Marihuana propaganda


The imposition of the comic-book-code (which is a story all-of-and-by itself), in 1955 among other things, disallowed any mention of Medical Marihuana and thus effectively brought to an end, the "Golden Age of Reefer Madness". Thank God, but unfortunately it didn't last long. Some publishers, most notably Dell Publications, didn't subscribe to the code, and additionally there were no controls placed on Government publications, none at all.

But be that as it may, the code did (of and by itself), create a sort of donut hole between the Golden Age (1937-1955) and the modern age (1970) when the comic book code was finally modified to allow for negative mentions of Medical Marihuana. Needless to say that the narc's were quick to capitalize on this and thus a whole new age of Reefer Madness has been re-born.


---
BEN CASEY #4 [SEE MORE]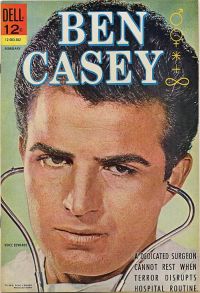 DATE: Feb 1963
STORY TITLE: "Terror at 59 West"
STORY PLOT: A criminal punk (for lack of a better word for him), addicted to Marihuana and Heroin, named "Creep Canova" (the character's real name), causes a lot of trouble. And although the story only mentions Marihuana, still, how can one forget one of the panels, which reads: -- "I thought that smell was familiar. 'MARIJUANA!' Imagine. A young kid like this on the stuff!".
CHARACTURES: Ben Casey
FOOTNOTES: [1]-Three star reefer madness rating
Publisher: Dell Publishing Co., 750 3d Ave., New York 17, N.Y.


---
---
DARING ADVENTURES #11 [SEE MORE]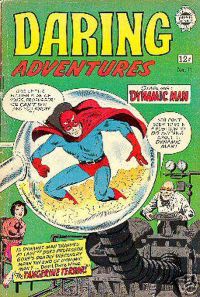 DATE: 1964 - Reprint
STORY TITLE: "Sorry, No Cigarette Today"
STORY PLOT: Teen-age crime fighter "Yankee Boy" battles the "Reefer King" in a story titled "Sorry - No Cigarettes Today." The plot involves:
-- A Cigarette salesman, talked into using his shop to sell reefers.
-- A young boy (after smoking a reefer) becomes a robber.
-- A kindly police officer (the kind that gives candy to lost children) guards over a schoolyard. OK, one gets the picture. Must reading.
CHARACTURES: Yankee Boy
FOOTNOTES: [1]- reprint (1964) of DYNAMIC COMICS #16-(different cover).
Publisher: Super Comics, Inc., 62 West 47 St., New York 36, N.Y.


---
---
HOOKED! [SEE MORE]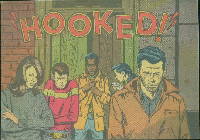 DATE: 1966
STORY PLOT: U.S. Government printed anti-drug propaganda comic. This is a very well done half size comic featuring the evils of Marijuana, Heroin, Sniffing, Popping and Shooting up of illegal and controlled substances. The art is excellent and it does a good job getting its message across.
FOOTNOTES: [1]- Government anti-drug propaganda comic!


---
---
THE MOD SQUAD #2 [SEE MORE]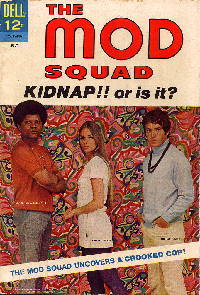 DATE: JULY 1969
STORY TITLE:
STORY PLOT: Meet THE MOD SQUAD , an all-too-Odd squad of TV hippies-turned-cops - Pete, Linc and Julie -- who are out to bust a million-dollar marijuana-smuggling racket at the local drag strip -- Scott Shaw
Publisher: Dell Publishing Co., Inc., 750 3d Ave, New York


---
---
ROOM 222 #3 [SEE MORE]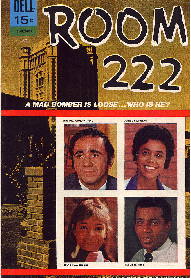 DATE: JULY 1970
STORY TITLE: "In Spring A Young Man's Fancy"
STORY PLOT: -- Something about a good athletic that starts to mess up, Why?"
Publisher: Dell Publishing Co., Inc., 750 3d Ave, New York


---
---
What if They Call Me "Chicken"? [SEE MORE]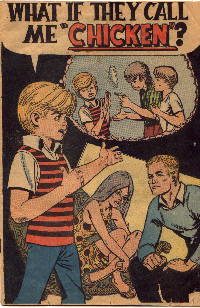 DATE: 1970
STORY PLOT: By Malcolm Atar - The start page reads: "This comic book has been given to you in the hope that the story of Timmy will keep you from taking or using any drug which has not been . . . .If anyone tries to give or sell marijuana or any other . . . etc. The story starts out (believe it or not) in a grammar school, school-yard, where a 13 year old marihuana peddler tries to entice young Timmy into . . . .


---
---
TEEN-AGE BOOBY TRAP [SEE MORE]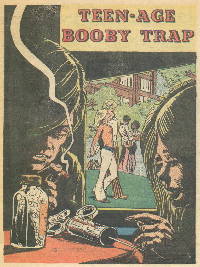 DATE: 1970
STORY PLOT: This is an incredible anti-drug comic book giveaway produced by the now defunct bureau of narcotics & dangerous drugs (later the DEA) in 1970. This 32 page small-size booklet is full of propaganda and some far out "facts". all the drugs are discussed and the history of drug use and abuse is discussed in some depth. drugs are shown being used an abused on almost every page. marijuana (classified as a hallucinogen) and how it is a a gateway drug is shown in detail, lsd and bad tripping, amphetamines, metamphetamines and cocaine, the problem of overdosing on amphetamines causing the sensation of bugs crawling all over you (see pic from comic), barbiturates and the convulsions they bring are discussed and of course opium, morphine, heroin and the horrors of opiate withdrawal are fully shown in great comic book detail. this is a very cool comic book with its detailed drawings of the horrors of drug abuse and the consequences like suicide, involvement in organized crime, withdrawal and jail. the book is done in the style of the informational premium comics done in the 50s and 60s without word balloons but most definitely comic book in style. done in the psychedelic art motif that many love comics by dc used back in this period, the book is full of factual as well as exaggerated information for your favorite troubled teen.FONT>


---
---
MARIJUANA : THE INSIDE STORY [SEE MORE]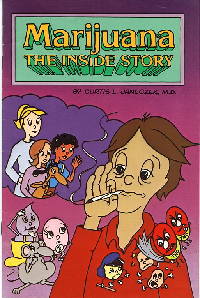 DATE: 1982
STORY PLOT: by Curtis L. Janeczek, M.D. Columbus : Healthstar, 1982. -- 32 p. : col. ill. ; 26 cm. -- Educational comic book. -- Call no.: PN6728.25.H38M3
Publisher:


---
---
The INSIDERS #2 [SEE MORE]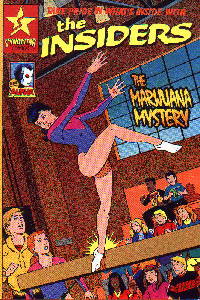 DATE: 1991
STORY TITLE: "The Marijuana Mystery"
STORY PLOT: The story is about a gymnast troubled with the choice of marijuana. This comic is copyright 1991 and is a real pack of lies about Medical Marihuana.
FOOTNOTES: [1]-none
Publisher: Syndistar Inc., 125 Mallard Street, St. Rosa, LA 70087-9471


---
---
---

WANT TO KNOW MORE:
=====================
Due to space / download time considerations, only selected materials are displayed. If you would like to obtain more information, feel free to contact the museum. All our material is available (at cost) on CD-Rom format.

---
---