THE REEFER MADNESS ERA


MAGAZINES AND THEIR ROLE
---
REEFER MADNESS ERA MAGAZINE
---

Marijuana I sold Hollywood Stars




FROM
THE
REEFER
MADNESS
ERA




Torture Death of the Reefer Queen
---
TRUE DETECTIVE - TRUE CRIME MAGAZINES
---

For those involved with the "True Crime/Detective" magazine genre, the reefer madness campaign must have seemed like paradise. Just think of it: Naked girls jumping out of windows; All kinds of wild sex parties (the kind you'll never get invited to); sex fiends galore, axe murderers and much, much more. What more could a True Crime magazine writer conceivably ask for?

And best of all, no need to worry about the public censors. No, in fact the Fed's were actually pushing the stuff along. A problem with local/State public morals police: But, Sirs, we are only quoting the Federal Narcotics Bureau. And in addition, we are doing a great public service by warning our readers about the evil weed. Why look at what the Fed's are saying:
"…The unfortunate boy at Eureka, Ca. who, insane from the drug, seized a butcher's cleaver and cut off the head of his best friend. They found him---or rather he found himself--when he regained his senses, with the decapitated face staring up at him from the floor of his blood-smeared room!" -- Real Detective - April 1935


"In Newark two girls, one the daughter of a highly respected policeman, held up and murdered a bus driver for some small change. "It was marihuana," they pleaded." -- Detective World - Dec 1947


"It is believed that Steve Halloway the Denver youth who ran amuck some months ago, had actually been drinking the drug, to get a bigger kick out of it, by mixing a marijuana cigarette with water and sugar. He beat a policeman almost to death, painfully wounded his grandmother and killed himself when trapped by police. Real Detective Magazine - April 1935


"Holloway ran amuck, attempted to shoot his wife, missed her and mortally wounded her grandmother. Police and Holloway shot it out for more than an hour. Then the addict turned his gun on himself, dying almost instantly." Inside detective - Nov 1937


"Suddenly, under the influence of this deadly drug, she walked to and through an open window." -- Detective World - Dec 1947


In Inglewood, California, a crazed sailor attacked three girls, each under twelve years of age. -- True Story - Dec 1948


A few years ago a young marihuana addict was hung in Baltimore for criminal assault on a ten-year-old girl. Detective World - Dec 1947


A boy in Tampa, Florida, smoked two cigarettes one afternoon. That night he got an axe and crushed the skulls of his father, mother, sister, and two brothers, as they lay in their beds -- True Story - Dec 1948
No question about it, while to some the origin of the anti-Medical Marihuana laws may bring memories of horror, to others reefer madness was just another name for heaven.


---
THE REEFER MADNESS ERA
---

Marijuana Madness


FROM
THE
REEFER
MADNESS
ERA


Marijuana the Weed of Sin


JUST HOW INTERESTED WERE THE CONSPIRATORS IN THESE TRUE DETECTIVE MAGAZINES?
As can be seen from the following memo, the answer seems to be; --- Quite a Lot.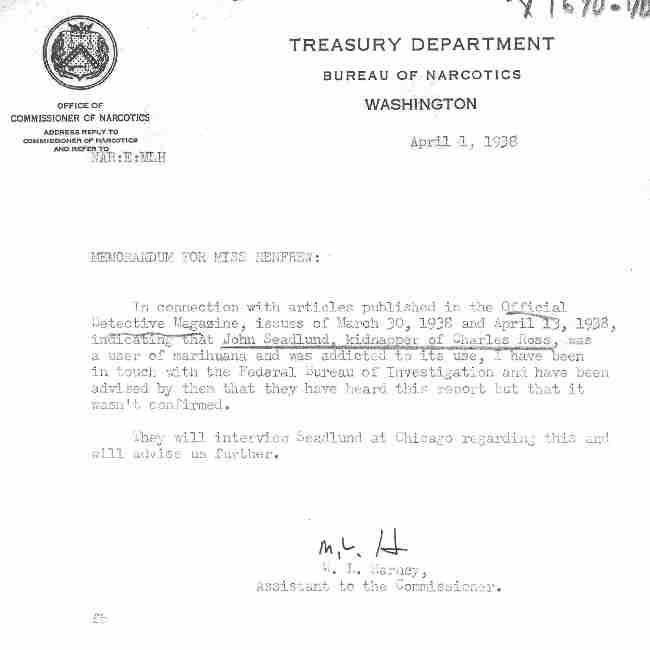 BUREAU OF NARCOTICS
APRIL 1, 1938
MEMORANDUM FOR MISS RENFREN:

In connection with articles published in the Official Detective Magazine, issues of March 30, 1938 and April 13, 1938, indicating that John Seadlund, kidnapper of Charles Ross, was a user of marihuana and was addicted to its use, I have been in touch with the Federal Bureau of Investigation and have been advised by them that they have heard this report but that it wasn't confirmed.

They will interview Seadlund at Chicago regarding this and will advise us further.

M. L. Harney,
Assistant to the commissioner.
---
"You can FOOL SOME of the people, ALL of the time."
"And you Can FOOL ALL of the people, SOME of the time."
Good enough for government work; just pass the law during that time. ----- Somebody at the DEA
---
---

WANT TO KNOW MORE:
=====================
Due to space / download time considerations, only selected materials are displayed. If you would like to obtain more information, feel free to contact the museum. All our material is available (at cost) on CD-Rom format.
CONTACT PAGE


---
---