THE REEFER MADNESS ERA


MAGAZINES AND THEIR ROLE
---
PULP FICTION MAGAZINES
---







FROM
THE
REEFER
MADNESS
ERA






---
PULP FICTION MAGAZINES
---

THE PULP FICTION MAGAZINES
(An Editorial Opinion)

Unlike their closest cousins, the true Detective Magazines, Pulp Fiction mags were all fictional right from the start. This kind of magazine, being a cross somewhere between a pulp fiction book and a regular magazine (with some comic book thrown if for good measure) seemed to form a genre all to themselves. Most of them (at least back in the 1930's) specialize in Western, Fantasy or Detective stories, which made them an ideal media for Reefer Madness tales. Just think of it, a naked girl jumps out a window during a reefer party, or how about, "while under the influence of Medical Marihuana that individual grabbed an axe and chopped that poor women's head off." Or better yet, the story of the evil High School Janitor, leading young students into a life of debauchery.

One doesn't have to think long about how a mag with a title like, Spicy Detective Stories, could do with such material. And in addition, it made for great sales. Welcome to the world of Pulp Fiction Magazines.



---
PULP FICTION - ODD'S AND END'S

---
Although Pulp Fiction mag's contained mostly written stories, today they are also well noted for their illustrations which accompanied each of their stories.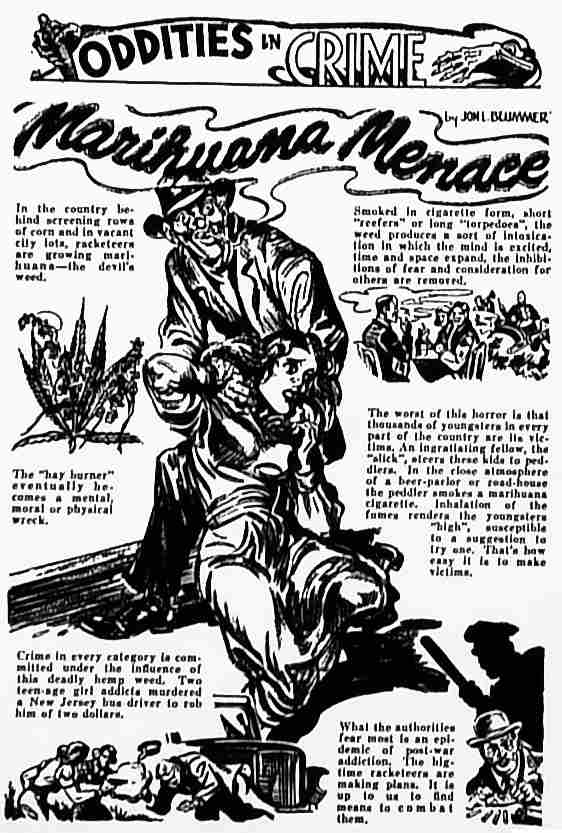 ---
---

WANT TO KNOW MORE:
=====================
Due to space / download time considerations, only selected materials are displayed. If you would like to obtain more information, feel free to contact the museum. All our material is available (at cost) on CD-Rom format.
CONTACT PAGE


---
---