THE REEFER MADNESS ERA


MAGAZINES AND THEIR ROLE
---
MUSIC AND JAZZ TITLES
---

Musicians are not Dope Fiends





FROM
THE
REEFER
MADNESS
ERA






---
MUSIC AND JAZZ TITLES
---

EDITORIAL OPINION:
Some of these old Reefer Madness era articles border on sheer Horror. In fact, they would have done the scriptwriters of 'Buffy the Vampire Slayer' proud. Take a look at the following golden tidbit taken from THE KEYNOTE: (Monthly publication of the Detroit Federation of musicians)
"Marijuana causes far more than mere moral degeneration-it breaks down the mentality of its slaves. Some of the so-call 'jazz hounds' who think that their talents show off the best when 'high' should take a trip to Eloise Hospital and see the wrecked human beings there…" [The Keynote Jan/Feb 1941]
What possible excuse could an editor (presumably) exposed to medical marihuana users, possibly have for such statements? Perhaps the following warning (taken from our sister web site for Old Time Radio programs) best explains what many of us now feel is the only plausible explanation we've been able to come up with so far. Let us hope we are wrong.


DOWN BEAT -- CONSPIRACY WATCH


Isn't it odd that the management of Down Beat Magazine obtained a nice juicy government contract to produce a set of WW2 victory programs just at about the same time that the magazine started printing up some juicy reefer madness articles? Isn't it even odder that these articles should have appeared at all? I mean the editors had access to the likes of Cab (do you know the reefer man) Calloway et al, and most assuredly must have known the truth. -- Coincidence or conspiracy?





See the Magazine Index Section for lists of Reefer Madness era articles. Also see our newspaper Index for related stories.


---
DOWNBEAT
– Tea Scandal Stirs Musicdom" – Jan. 15, 1943
---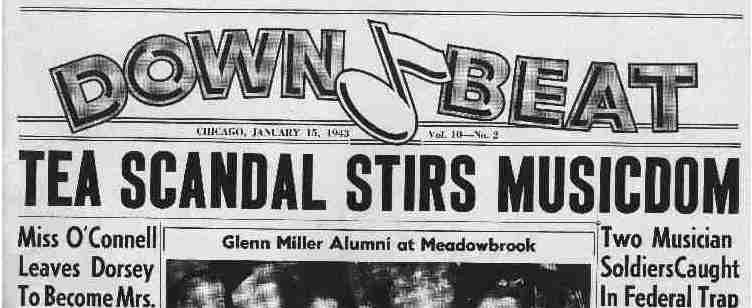 ---

What follows is probably the most (ah) "Infamous" publication to come out of the Reefer Madness era. We present it here without comment.

DOWN BEAT - A newspaper/magazine for the music industry.
TEA SCANDAL STIRS MUSICDOM - Jan 15, 1943 page 1.
TWO MUSICIAN SOLDIERS CAUGHT IN FEDERAL TRAP
Ex-Guitar Player's Florida Interlude Exposes Nasty Mess

(The editors of Down Beat don't like to print this story. We've killed several like it in previous months, believing that they could cause only harm and aid no one. Parts of this story, which we previously suppressed, we were not only given permission to use by the Army, but unofficially requested to do so. The facts, obtained from unimpeachable sources, are given below for reasons you will find on our editorial page.)

By MIKE LEVIN
NEW YORK.-Two weeks ago, the country's newspapers broke one of the nastiest scandals that has involved musicdom in some time. Press associations all over the country carried a story that said in part:

"A 'reefer parlor' in a New York entertainer's midtown hotel room, where soldiers from nearby camps have been smoking marijuana cigarettes, was exposed yesterday by U. S. Attorney Hollinger.

"This came as a sequel to the recent escapade of author Ursula Parrott, charged with spiriting a soldier from a Miami guardhouse to be her companion for an evening. Hollinger intimated that before the investigation is finished, it may involve dozens of well-known entertainers and musicians.

"Miss Parrott's friend, Pvt. Michael Bryan, formerly guitarist in Benny Goodman's orchestra; Pvt. John Altwerger, bandsman at Camp Kilmer (N. J.); Theodore Reig, alias Teddy Reede, a nightclub master of ceremonies; Thomas Allison, an entertainer, and Rose Reynolds, another entertainer whose hotel room allegedly was the 'reefer parlor,' were charged with conspiring to violate the 1937 marijuana tax law. All except Altwerger also were charged with illegal sale or possession of marijuana. Miss Parrott was not named a defendant, though Hollinger said she will be an important witness."

This is part of the story that caused near panic in some music [modulate to Page 3] [Jumped from Page 1] circles in NYC. Rather than have vicious rumors circulate unchecked, and for further reasons to be found in our editorial, the full story of what actually happened is printed here.

Both in BG band
Last year Pvt. Byran and Pvt. Altwerger (whose professional name is Georgie Auid) were working in Benny Goodman's band. There was trouble at that time, Bryan and Auid claiming they quit because Goodman was a bad guy, BG starting that he had fired them for "constant gross misbehavior."

At any rate, Auid went on with his musical activities, while Bryan later went to the coast, joining the Santa Ana Air Corps band. After a short time there, he was transferred to an Arizona camp, being dismissed from the band, along with two other well known musicians, with the preferred charged mentioning the use of marijuana. Around the same time, Bryan was found playing with a civilian band in civvies. Later when he was stationed in Arizona he got into further trouble for being AWOL, he being at the Trianon at the time to hear a famous colored band.

Meets Ursula's Friend
Shortly after this Bryan was transferred to Miami, where his real troubles started. While there he met 40-year-old Ursula Parrott, four-times-married fiction writer, who, according to acquaintances, "was infatuated with Bryan." She provided him with a ticket, and late in November, Bryan flew from Miami to New York, staying at a suite which she allegedly got for him in the Pennsylvania Hotel, after a civilian outfit had been purchased for him.

During this time, Miss Parrott introduced Bryan to a friend of hers, saying that she had known him a long while. This "friend" later turned out to be Roy Anderson, agent of the federal narcotic bureau.

During this time Bryan told several persons, including a friend of his, Rose Reynolds, a singer who closed at a 52nd St. night club two weeks ago, that he was very brought do down, and that he wanted to get hold of some "tea" to take back down to Miami with him. Miss Reynolds, trying to do Bryan a favor, went to several places in town, along with Anderson and Miss Parrott, attempting to purchase some of the drug in loose weed state, but was unable to obtain any.

Raised the Price
Bumping into Auld in the Forrest lobby, she asked him if he had any ideas as to where any might be purchased, and they both decided to try Teddy Reig, a mutual friend who had been around the business for years and knew everyone connected with it. Reig didn't want to do it, but was finally persuaded, with the additional proviso that he raise the price to Miss Parrott $25 so that Auld, who was broke, could purchase a gift for a friend.

Reig went upstairs to Miss Reynolds' room in the Forrest, where in the presence of Miss Reynolds, Anderson, Miss.Parrott, and Bryan, he called a friend of his, named Pork Chops, uptown and arranged to purchase a half pound of marijuana for $75, adequate for several hundred cigarettes. Reig then left for uptown with the money and cab fare, and returned, giving the $25 on the q.t. to Auld and the half pound to Anderson. Bryan in the meantime had left, having to catch his plane for Miami. So the "tea" was split, half the amount being given to Anderson who "happened" to be going to Floirda(sic) on business, and the other half being kept for Bryan. Reig made no profit, merely obliging Miss Reynolds and Bryan.

Bryan Comes Back
When Anderson arrived in Florida, Bryan was already on his way back to New York by plane. This time he let it be known that he wanted enough to last him in Florida and also if he should be transferred to Camp Kilmer. It was agreed that a full pound would be needed ($100 worth). Once more Reig climbed in a taxi, and hunted around, this time not without protest from Anderson, who claimed that the last amount had been short-weight and that $100 was a lot to pay. The pound was purchased from a character named Zombi, and was split, a quarter of a pound being kept by Miss Reynolds for Bryan, Anderson purchasing a quarter pound from Bryan, and Bryan taking a half pound with him on the plane to Florida.

While Bryan was on the plane, Anderson began making arrests in New York, and the guitarist received a wire in Atlanta telling him to get rid of "the stuff he was carrying in his phonograph" (a $200 portable which had just been purchased for him). Bryan evidently did this at the next stop, because when he arrived at Miami and was searched, there was nothing incriminating in his possession.

Case Breaks in Florida
"What broke the case to the newspapers generally were the incidents that followed. Confined to the stockade for 20 days for being AWOL, Bryan was visited by Miss Parrott, who had flown down in the meantime. For some unknown reason, she concealed Bryan in the back of her car, drove him to her 88th St. Miami home, where she gave him civilian clothes, and then took him to a hotel, only to turn him over to the authorities 24 hours later."

Auld meanwhile had returned to his post at Camp Kilmer where he had been put on post probation for taking part in a scuffle in which several people were injured at the 2 O'Clock Club in New York, later closed by the police. News of this was suppressed at army request, fearing that since it involved several service men in a rather nasty offense, might prove of harm to Camp Kilmer's relations with the town of New Brunswick.

Civil Action on Two
At press-time, both Auld and Bryan are being turned over to the civil authorities for their action, while Reynolds, Reig, and Tom Allison are all out on $500 bail, pending grand jury action and the return of bills of complaint. Allison was not directly involved in the action, but was picked up when Reig came to his room to get his overcoat and operatives found sticks of "tea" on his dresser. He played trumpet just recently with a Hotel Lincoln dance band, quitting because of lack of a No. 802 card, Miss Parrott is out on $1,000 bail for her alleged action in aiding Bryan to desert.

Robert Artis, district superintendent of the narcotic bureau, is quoted as saying "quite a number of soldiers went to Miss Reynolds' room"; however she pointed out that when friends of hers used her room, absolutely nothing untoward occurred as far as she knows.

Auld, unlike the others, is charged only once, since at no time did he have anything directly to do with the purchase of the marijuana, but merely knew of the action and participated by utilizing the extra $25.




---
---

WANT TO KNOW MORE:
=====================
Due to space / download time considerations, only selected materials are displayed. If you would like to obtain more information, feel free to contact the museum. All our material is available (at cost) on CD-Rom format.
CONTACT PAGE


---
---